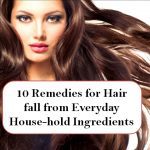 Gone are the days when your hair felt like the model of a leading shampoo brand. If they now feel like the scrubbing pad, this article is just for you! We are going to talk about about "10 Remedies for hair fall from Everyday House-hold Ingredients"!
Hair fall is one nasty problem that never leaves your side! Sometimes it is because of pregnancy, or weather, or  pollution and sometimes, Just like that!! With copious amounts of smothering pollution around us, leaving our locks to naturally be is one big mistake we have been making.
Lovely tresses need  care to look their best. Failing to do so is exactly what causes all the harm.
With several cosmetic products claiming to be natural products dominate the markets, I decided to try some 'Dadi Ma ke Nuskhe' for taking good care of my tresses. In my collaboration with Mrigaa, I decided to pen down some of the most effective hair care remedies with ingredients available easily at Indian homes.
Read my article here to know what these Hair fall remedies are.
You can shop for some of those ingredients by clicking on the link here. On shopping by these links, you help me earn a small amount without any additional expenses on you:-
*Dried Amla  *Amla Powder  *Amla – Reetha – Shikakai Mix
*Aloe Vera Gel *Dried Reetha *Dried Shikakai *Fenugreek Seeds
If you liked this article, don't forget to hit the share button. If you have an awesome hair-fall remedy, please do share it in the comments section below.