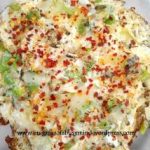 Always wanted to make some Pizza but the other Keto diet recipes seemed too tedious?
Here's an easy peasy solution for you! If you are craving some awesome Pizza, are already on the LCD or Keto diet, and don't have much time (or culinary skills) to spare?? Then this is the answer to all your troubles!Tried this
I tried this eggizza recipe this morning, and I swear I'm not going back to boiled eggs anymore! So kill boredom and offer a feast for your taste buds in one shot- 2 in 1.
Here is a quick Keto Recipe with eggs, Keto recipe for Egg Pizza:-
Ingredients:
3 eggs
half a capsicum, finely chopped
few thin slices of onion, tomatoes and mushrooms
Any other Pizza veggie that you are fond of, and is allowed in your diet.
10 g Butter/ghee
One cheese cube/30 g of Mozzarella Cheese
Salt to taste
1 tsp Chilly flakes
2 tsp Pizza Seasoning
P.S.: Use a non-stick skillet or tava for this preparation as the cheese might stick to it and ruin it for you.
Procedure:
Simply heat the ghee in the skillet or a frying pan. Next, crack open your eggs one by one, next to each other, so they form one large base, making it easy to sprinkle the toppings, without burning them.
Keep the flame medium-high as you do not want the eggs to completely cook before you are finished with the toppings.
Add your choice (and availability of) veggies, salt and a generous sprinkle of the pizza mix. Eventually, add the cheese on top and flip the eggs. Do it gently as you do not want it all to splatter. After a few seconds, remove the eggs and garnish with chilly flakes. Enjoy your Eggizza while it's still warm. If you have still left the yolks oozy, you are just going to step in heaven.
Though it takes about 5-7 minutes to make it, it barely takes half the time to finish it!!
Do try the recipe and let me know how it turned out to be!
You would also like to read about my Quick Keto Chicken-Do-Pyaaja Recipe to satisfy your cravings when on the Keto – Diet