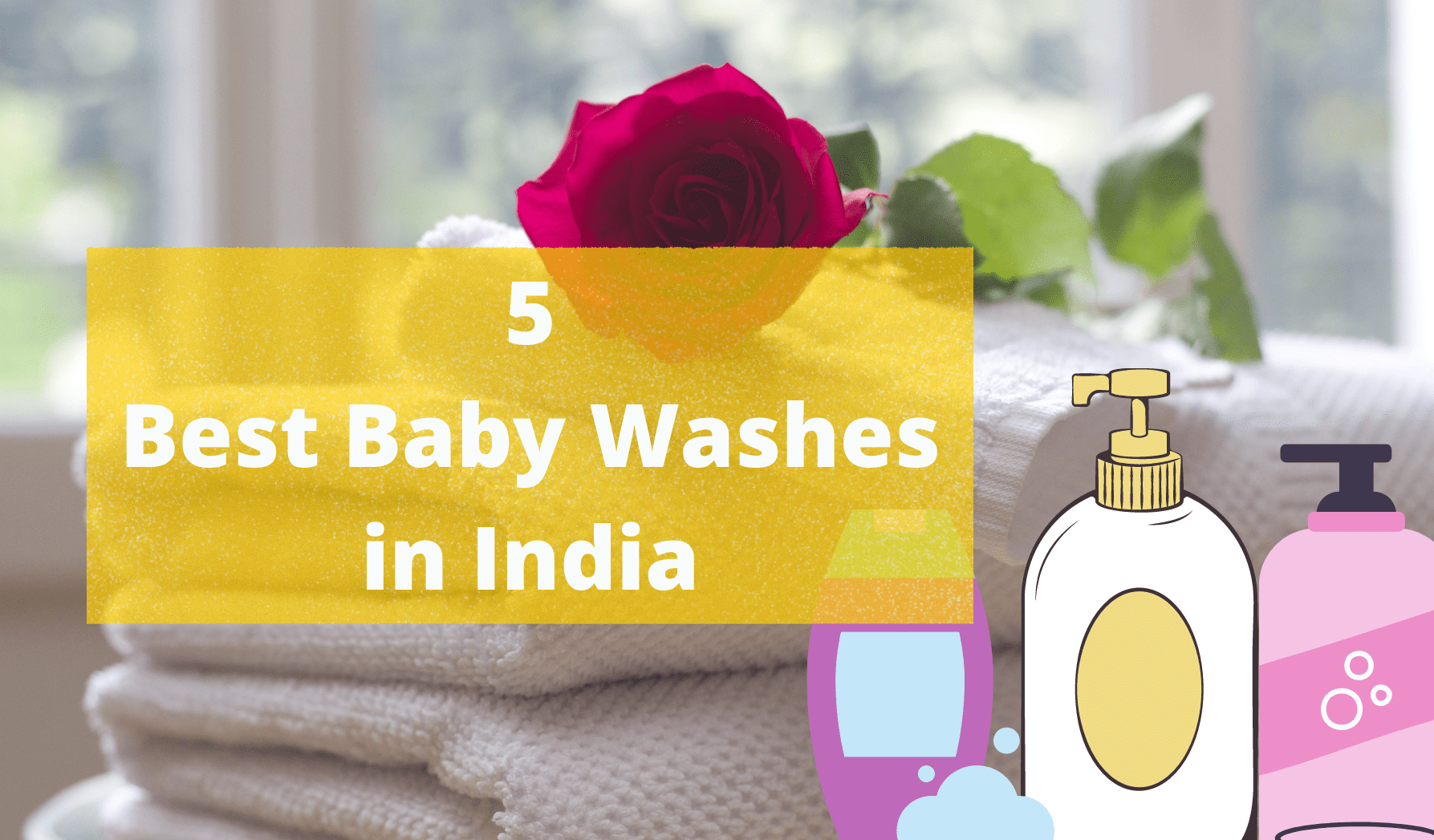 It is a well-known fact that baby skin is much softer than grown-up skin. It is far more sensitive, often dry, and needs a lot of care. Moreover, any product being used for babies needs to be very gentle yet effective at the same time. As soon as we talk about being gentle, the fact is that most popular brands have chemicals loaded even in their baby products. That is when the newest generation of moms have well equipped themselves with a good amount of valid and well-researched information. This information helps them choose better and choose products that have been derived from natural products. Moisturizers, diapers, wipes, baby oils, and even baby washes, are all available in natural ingredient versions and have been pleasing concerned moms for a while now. So here today on my blog, compiling a list of 5 of the best baby washes in India. The most popular, gentle, and effective baby washes in India to make the right choice for your little precious.
5 of the Best Baby Washes in India
1. Mother Sparsh Plant-Powered Baby Wash
Loved for its blend of natural herbs and plants, Mother Sparsh Plant-powered baby wash is quite popular. It has calming and soothing properties, thanks to natural and essential oils like chamomile, olive oil, and coconut oils. While chamomile has soothing properties, olive oil and coconut oil work together to nourish the dry and sensitive skin of the baby and encourage better skin cell production. Unlike soaps, it makes the skin feel clean, refreshed, yet nourished and moisturized at the same time. The blend is gentle and calming, aiding a better mood and better sleep after a bath.
Mother Sparsh Plant powered baby wash for babies has many benefits, like:
It is made of natural ingredients like herbs and essential oils
It is non-toxic
Mother Sparsh is calming and soothing
The Grapeseed oil in the wash protects little ones from UV exposure
The Shea butter, coconut oil, and olive oil ensure soft, supple, and nourished skin
The chamomile extract ensures a soothing experience for the baby
It is free from all kinds of harmful chemicals like Silicon, Paraben, Dyes, SLS/SLES, and Formaldehyde
It does not contain any artificial fragrance
Mother Sparsh baby wash is priced at Rs. 385 for 200 ml. Buy it here: Mother Sparsh Plant-Powered Baby Wash
2. Baby Organics Baby Wash and Shampoo
The Baby organics Shampoo and Body Wash is a 2-in-1 formula that is gentle and nourishing for baby skin. It lathers well and provides a good cleanse. Most of their ingredients are certified organic, and safe to use on all kinds of skin, even the most delicate types.
The baby wash contains natural ingredients like raspberry fruit, sunflower seeds, cranberry, black cumin, and tomato. The product also smells great. However, that clearly implies their use of fragrances which may not always be preferable by all parents. It also makes a nice thick foam that babies above 6 months may truly enjoy playing with.
So, if you do not mind artificial fragrances in an otherwise gentle product, this one is for you.
You can purchase the Baby Organics Shampoo & Baby wash here. It is priced at INR 1405 PER 500 ML.
3. Mom & World Baby Wash
Mom & World Baby Wash is an ideal product in many ways that it contains natural ingredients. It is also a well-known product for the fact that it does not leave any soapy feeling after the wash has been rinsed. It has enriching and softening ingredients like almond oil, Moroccan argan oil, and Aloe Vera. These key products help in gently cleaning as well as nourishing baby skin. The after-feel of baby skin after this wash is also very smooth, without any residue of the wash.
As a parent, I am quite concerned about how well the product rinses off my baby's skin. So if that is something that heavily concerns you, then this is your pick! It is indeed one of the best baby washes in India.
You can purchase the Mom & World Baby Wash here. It is priced at INR 349 for a 200 ml bottle.
4. Mustela Gentle Cleansing gel
Mustela is a well-known international brand that is a common name well known in the parenting community. Their baby wash comes in a gel format which is easy to manage during hurried bath times. It comes with a convenient pump bottle that yields a medium-sized dollop of the gel. The pearly gel contains avocado and Vitamin E which are enriching and soothing to the baby's skin.
It also has a nice fragrance but also contains sulfates. It provides a deep yet gentle cleanse and provides enrichment and nourishment to your previous one's skin. Hence it makes it way to the list of best baby washes in India.
You can purchase the Mustela Cleansing gel here. It is available at a price of INR 719 for 500 ml.
5. Eucerin Baby wash and shampoo
Eucerin Baby wash & shampoo is free from all kinds of irritants. It is a lovely blend of nourishing ingredients that are free from many harmful chemicals. Eucerin Baby Wash contains Shea butter which is great for its nourishing and skin-enriching properties. It also includes pro-vitamin b5 which soothes and nourishes baby skin from deep within. It has no drying or coloring agent which is a big plus for baby skin. Eucerin also does not have any 'soap' or alcohol, deeming it great for the soft and gentle skin of babies. The wash is dermatologically safe and gentle on baby skin. However, not all of the ingredients are natural.
You can buy the Eucerin Baby wash and shampoo here. It is priced at INR 2899 FOR 400 ml.
Conclusion
Buying skincare products, especially a baby wash seems like a very easy task, but just that it isn't really. It can be tedious looking at all the permutations, combinations, trying to find a baby wash that really works for your principles, beliefs as well as your baby's skin. However, products with natural ingredients can be very effective and helpful as well as safe and gentle on a baby's skin. Hopefully, this compilation of the 5 best natural baby wash in India is helpful to you in making the right choice for your little one.