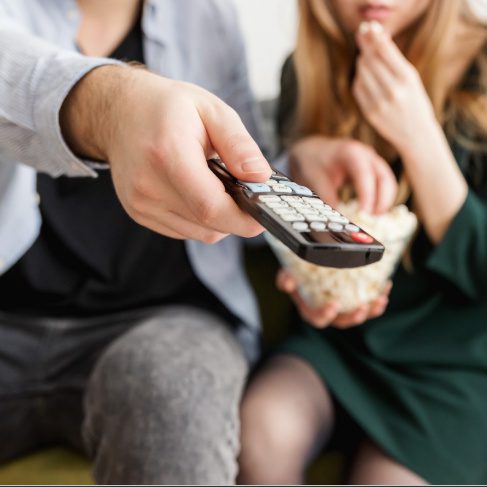 It's been 8 years since I have been married, and this would be my 9th Valentine's Day with him. If you have spent these many years with your partner, you already know that Valentine's day is most likely going to convert to 'just another day'. We as a couple, always ensure that even if we are not doing massive things, and buying tons of gifts for each other, we spend quality time together. We often like to have some sweet treats. I make some nice food that we both love – or a takeaway and watch movies all evening. With ZEE5, we can add them to our list and watch back to back with ease. Here are 5 movies that are forever on my watch list and we usually watch one or two from these on Valentines Day.
1. Rocky (1981)
Rocky was the launchpad for the young Sanjay Dutt. His boyish charm and Tina Munim's innocent girl look, take you to a world that is long forgotten in today's times. How both of them look at each other, secretly meet and have a whole different interpretation of Love! The song – 'Kya Yahi Pyaar Hai" gives you goosebumps even today! We often start our Valentine's Day celebrations with this movie and are often smiling ear to ear with the innocent love of yesteryears.
Dhadak (2018)
Love knows no language; I wish the same could be said about romantic flicks. When Sairat became an acclaimed movie and was celebrated among movie lovers, I so wanted to watch it. The only reason I didn't is that I couldn't understand the language. So I watched the Dhadak as soon as it hit the theatre. Dahak shows how love, in the remote areas of India, is confined to caste and religion? With a fresh and innocent lead, the movie stood on its promise to deliver one of the best romantic films of this decade.
source: NDTV.COM
The song 'Zingaat' was remade in Hindi. Though people prefer the original ones, over the Hindi one, but think about it. Original will always hold a special place in our heart.  I am not going to lie, and I think the song is catchy enough for me.
Dhadak makes for a fantastic watch during this valentines eve, and you can watch Dhadak full movie online at ZEE5.
 Raja Hindustani (1996)
Raja Hindustani was a super duper hit movie of its time – starring Karishma Kapoor and Aamir Khan. The film revolved around the forbidden fruit of love, showing the strong desires of being with each other, the role of money and all the things in between. How Karishma fights her family for her love is worthy of watching. I still remember the lyrics of the iconic song – "Pardesi, Pardesi, Jana Nahin… Mujhe chod ke, Mujhe chod ke" by heart.  And the song "pucho zara pucho" still makes my feet tap.
It makes for a perfect watch for Valentines Day as you sit and enjoy your time with your partner.
Pardes (1997)
When Shahrukh Khan and Mahima Chaudhary starrer movie Pardes was released, I was a teen. I still remember the days when songs weren't simply available to download. You had to wait for the cassette to come out, then you would either buy the whole cassette or wait for the person to record some of the songs for you on a different tape. I remember waiting 4.5 months before the Pardes cassette reached my town.
The song – "Ye Dil, Deewana, Deewana hai ye dil…" was such a super hit song!! For 4.5 months, I sang wrong versions of it (as of what I heard in the theatre). It was a rage! The song "London Dekha, Paris Dekha" was a song I performed on, for a school Independence Day event.
I still remember all the lyrics of the song " Do Dil Mil Rahe Hai ". These songs take you back to those innocent crushes we had in school, and Shahrukh Khan and Mahima Chaudhary very beautifully portray the feelings.
Mahima played a gorgeous young girl as Ganga and how an innocent Indian girl copes up with the "modern" judgments of people in the US. You will love every bit of this movie as it gives you the romantic feels, the tug of war within Shahrukh Khan. Just amazing! Just what you need to see on Valentine's Day!
Jab We Met (2007)
I was in college when Jab We Met was released. Shahid Kapoor as Aditya and Kareena Kapoor as Geet were roles everyone could identify with. I always felt I was very much like Geet (Kareena) in the movie – a chatterbox and an absolute "Mai Apni favourite hu".
How she loses her love, and how Shahid falls in love with her liveliness within a few hours is worth watching. The comic chemistry between them, especially the scene where she helps him get over his ex is phenomenal.
Songs like "Mauja hi Mauha" make you dance to the tunes, whereas songs like "Aoge jab tum o Saajana" will make you tear up looking at what love and betrayal make out of a chirpy, happy Geet.
It takes you back to the time when you meet someone so chirpy and happy, someone, who takes all your woes away!! Someone who understands you, without having known you for much time! The love chemistry between them is sure to make you fall in love with your spouse all over again!
Toilet – Ek Prem Katha (2017)
One of the most contemporary movies is Toilet – Ek Prem Katha, starring Bhumi Pednekar and Akshay Kumar, who are both very strong on their performances. How Akshay Kumar spends a lot of effort in wooing Bhumi Pednekar is a fun watch. But their struggle of Love doesn't end there. Something as insignificant as a toilet comes in between them. The actress does not let go of her basic principles despite many taunts and insults from people around them. The actor makes sure he provides the necessities to the love of his life and fights the whole world about it. The story was based on actual events, and it causes you to swell with pride that people in India are willing to take all these necessary steps to bring about change and comfort in the lives of their loved ones.
The super, super, super cute songs " Has mat pagli, pyaar ho jayega" is bound to make you chuckle at its cuteness!! And when the song " Gori tu lath maar" plays, it makes you want to throw out all the angst you have held back from your spouse and makes you want to let it all go!! After all, it is only when all the anger has been let out that you begin to feel the tickles of love again!
So that was my list of romantic movies to catch this Valentine's Day. With all these movies available on ZEE5, my plans are sorted. Which movies would you add to this list? Let me know in the comments.