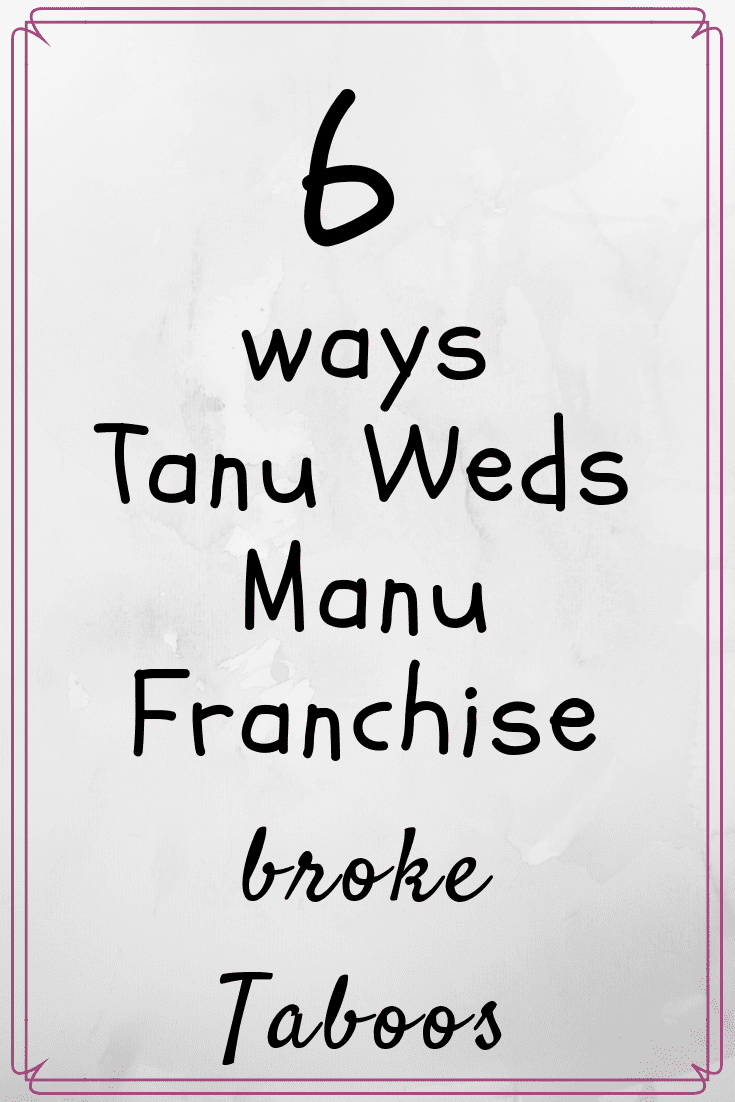 Its been 3 years since Tanu Weds Manu returns was released, but there's a certain level of fun that the movie promises. Kangana Ranaut's unique sense of humor sticks with you for a long time to come. Her ravishing, fearless and bold avatar in Tanu Weds Manu, followed by her simplistic, girl-next-door look in Queen. With Tanu Weds Manu Returns, she outperformed both her top rating movies of the time. Her role as Datto and Tanu, both, showcased her versatility in acting and her ability to switch between two different personalities in the blink of an eye. While the Tanu Weds Manu Franchise is a humor that leaves you in splits, Tanu and Datto broke some serious taboos that weren't noticed while we were busy laughing over the consequences! They broke taboos with such excellence and tact that I'm sure this blog will make you think about those scenes in a very different way. Here are 6 ways in which Tanu Weds Manu Franchise broke stereotypes while they also made us laugh hysterically!
1. Compliance and rebel
A girl who is struggling to spring out of the clutches of her parents, is forced to meet a guy to get married. She loves someone else and instead of succumbing to the pressure, she deals with the situation as a complete rebel. Quite the opposite of what is seen in the movies usually isn't it?!
Source: www.wikipedia.com
2. Family Support
In Tanu Weds Manu Franchise, Datto is fixed to marry a cousin of her sister in law. but falls in love with Manu instead.  It comes across as a pleasant surprise that her brother is willing to thoroughly support not just her sports career but also her love choice.
3. Standing up for the one she loves
She loves Manu Sharma, and Datto is not afraid to show it. When Datto, her brother, along with Manu Sharma and his friend go to Datto's village, they are anything but welcome! But Datto and her brother deal with the situation with all fierceness and give it back to the head of the family. The results are just the same, they are still thrown away in locked rooms and their relationship is considered unacceptable. Yet, how Manu Sharma being the "hero" of the movie, is actually protected and taken care of by the "heroine" is quite a taboo breaker. This heroine definitely doesn't waste time singing and dancing in glamorous clothes.
Source: NDTV movies
4. Drinking, and Dancing
Tanu is a drinker, an outrageous character that took the audiences by storm. She drinks but is not a negative or depressed person. She drinks but pretty much knows her limits and does not lose her senses. Tanu is a dancer, a performer, a wooer, and all of that even after she has taken a few gulps is alcohol directly from the bottle. Unlike the usual portrayal of a Female lead to either be drinking in aggression or vengeance or in depression and eventually not being able to handle any liquor, Tanu weds Manu franchise exhibited the undertow of the female personality going through at that point in time.
5. Not thinking about the society
Well, there is no bigger taboo than for a girl to speak her mind. Datto is waiting to get married, looking funny and absolutely not caring about it. She is waiting for her groom, who's face is plastered with the fact that he doesn't love her. Datto is not coy, or ashamed, she calls off the marriage without an ounce of embarrassment. Even Tanu does not worry about what 'others would say'. She is far more bothered about her happiness and her 'supposed to be' husband. That was a bold move for sure!
Source: RVCJ Media
6. Marrying a Divorcee
Throughout the plot in Tanu Weds Manu Returns, Manu Sharma is a divorcee, a chubby man who isn't doing too well for himself. He is not just the every-other-guy kind of character in the movie, but also way older than Datto. In fact, it is phenomenal how her brother supports Datto's decisions. She opts for a career in sports, wearing boyish clothes, and wants to marry a man who is divorced and quite older than her. What her family or members of her village think, did not matter to them. Tanu weds Manu franchise dealt with that taboo quite conveniently, as if it was no big deal!
Watching Tanu Weds Manu Returns on ZEE5 is a great way to spend the weekend. Download the ZEE5 app and watch umpteen movies of your choice
Are you a fan of the Tanu Weds Manu Franchise? Let me know in the comments below.