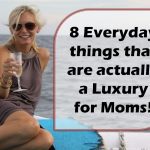 Parenting is a day-in-day-out contest for survival… every day brings in new challenges and changes your life in ways you never imagined. We, as a Mom, tend to take things for granted, only to respect them as luxuries in the time to come. Talking about those little-big things today, read on to know about things I took for granted but they seem like big benefits now!!!
To get a chance to use a recently cleaned toilet
Before you laugh, consider a morning when you wake up and no matter the magnanimous pressure you are in, you have to offer the seat to your toddler first, who ensures that his body, the seat and his clothes are all soiled. You hurriedly clean all of that and 'let go'.
All of that vis-a-vis a recently cleaned pot seat, squeaking clean, available at your 'disposal'. It's a luxury!!
source:- http://lomabeat.com 
2. Discovering a big fat box of chocolates you hid for a special day
Well, honestly I do sneak out some chocolates and snack on them at 3:30 AM, but discovering a big box of chocolates that you hid for a special day, is just PRICELESS!!
source:- https://s-media-cache-ak0.pinimg.com/
3. Getting to cut the cake and eat it too – literally!!
Be it your anniversary or your birthday, somehow, the toddler is the first one to get to eat the cake. Just in case someone does consider to let you cut the cake and feeds you the first bite, it's just heavenly!
4. Getting your favorite brew on an exhausted day
Nothing beats a warm dose of your favorite cuppa on a day when things have taken the best of you… Getting your beverage made exactly like you prefer it, while you rest on the couch reading your favorite book- is eternal bliss!Being told u look amazing in an everyday dress, without being asked about.
source:- http://xoxoafterdark.com
5. Getting a compliment
It may seem like no biggie – but being told that you look amazing in an everyday dress can effortlessly take your happiness to a different level. After all who does not like compliments?!
source:- http://elleuk.cdnds.net
6. Still being able to do you signature dance step
To still be able to do that dance step you mastered decades and a ton of weight ago is a luxury in its own sense… if you love to dance, you know what I mean!
source: https://68.media.tumblr.com
7. Waking up at 12:30 in the afternoon
…and you can't recall what day or dimension it is!
source: www.tumblr.com
8. Going to a 'drink-all-you-can' party and having someone to take care of the little ones at home
Under-rate-this-not… but this luxury is one hell of a thing! Several drinks down, when you get back home and totally want to crash on the bed like there's no tomorrow, while the kids are taken care of – is just heaven! Be prepared with hangover remedies though 😉
source:- www.collegecandy.com
While we do get to experience these benefits on some days, some of us could really catch a break and bask in the beauty of these sweet little nothings.
Share this article if you liked what I wrote, or if a friend could relate to it. Don't forget to subscribe for more of such awesome posts from me.
Till we meet again, Happy Parenting, Friends!