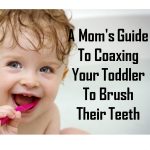 "Once upon a time, a well – behaved, still sitting, agreeable toddler loved to brush his teeth and never had issues with brushing".
If this story looks nothing like yours, then come here dear, let me give you a hug!
Even if they set out to be obedient and pretty much co-operate (D'oh!) with brushing, they eventually realize that they've made our lives undeserving-ly easy. Hence, conveniently they give up, and start the non-cooperation movement, leading us to a pile of everyday struggles.
But worry not – Managing my twinadoes sometimes gives me an upper hand, because I get to try more tips & tricks (Two kids, dude!!) So my hit and Miss ratio turns out better on some days – rest of the days I'm worse than devastated!
Sharing with you today is A Mom's Guide To Coaxing Your Toddler To Brush Their Teeth
Get colorful toothbrushes
Stores are flooded with amazing toothbrushes – Talk about favorite cartoon characters, toy-like brushes and what not. It adds to the fun quotient of brushing. It may also make sense to keep a few of them, so baby can pick and choose the 'BOTD' (Brush of the Day 😉 )
Here are some of my favorite brushes:-
2. Make Sure the Tooth Paste is Yummy!!
Even if that means that you may need to take a pea-sized drop and taste it! If the toothpaste is yummy, kids may want to put some of that in their mouths. You may need to tr a few before you find your perfect toothpaste.
Here are some of my favorites:
3. The Play Way
Use Games that explain the reasons we brush nd the consequences. This one below is our favorite:
Simply take a print out of a jaw with teeth (or draw it on a sheet of paper). Laminate the sheet. Then draw some germs on the teeth with a sketch pen and let your toddler clean them with his spare tooth-brush.
4. Use Screen Time for better reasons
We all spare some screen time to our kids – so might as well play some interesting songs that help them learn as well. Once your toddler (& You) have those rhymes by heart, you can sing them in the morning and motivate your little one to brush their teeth!
Here are some songs my twinadoes love:
5. Appreciate their efforts
Compliments (even the fake ones) go a long way!! Compliment them on their achievement – lap your hands and scream – make it a big deal! (even though you still struggle to figure out how he got that toothpaste on his bumms!)
6. Join Them
It adds on to the fun and excitement if Mumma and Papa join in too! So grab your brush, make your baby apply some toothpaste on it and you're good to go! (Err, be careful and don't end up like this:-)
Do try these tips and let me know how they worked out for you. If you have a tip to share, please write to me in the comments section below.
If you enjoyed reading this article, make sure to share it with your friends, because sharing is caring!!