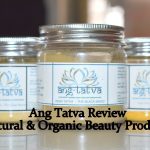 It's pretty much over 4 years since i ever got to take care of me or my skin. Since the time i got pregnant with the twinadoes, it has been one hell of a ride. From emotional to physical well being, from internal to external aesthetics – everything went for a toss. It really takes a fellow twin mom to understand what you go through… and guess what, one of them did!! A friend, a fellow twin Mom and now also the Founder and creator of Ang Tatva, got us beauty products customized to our needs. What else would you want to ask for?!
Ang Tatva
Ang Tatva was founded by Kanika Jain, also fondly known as Misha, who has an entirely different background than getting in to Ayurveda. Misha first started this as a simple recipe gift for her friends. That is when it clicked and on insistence, she started to pack products some times on a commercial basis. That picked up very soon, and that is how Ang Tatva was born. Ang Tatva uses all organic and pure natural Ayurveda herbs, spices and condiments to bring you recipes for not just flawless skin, but a skin that is healthy even from the inside.
I truly want to thank Misha for sharing her awesome products for me, which I review hereafter.
Kaya Tatva – Scrub Off
Kaya Tatva Scrub off is made up of all natural ingredients like gram flour, sugar and the like, but the most prominent constituent was turmeric. The product is a powder base, coarsely grounded, giving it the perfect texture for a gentle exfoliate. As pr pack instructions, i added aloe vera gel to about a tsp of the product, to make a thick paste. I applied it on to my face and left it for 15-20 mins, until it was slightly dry.
Then i wet my palms and gently scrubbed my face in circular motions, then eventually washed it off completely from my face.
Experience: The pack did have a slightly eminent odor of the natural ingredients and that worked like assurance that everything that is in the pack is all natural and good for my skin. Some granules kept falling of while application because of the coarse nature of the ang tatva scrub.
Results: I loved the look on my face after the scrub was washed off. It had immediate bright glow. The skin felt soft and supple and no oily residuals. Despite no oil, it did not dry out my skin completely. That's a big plus.
It is your perfect fix if you have a nice event to attend but did not find time for a facial or any beauty treatments.
However, the product left a lot of yellowish stains in the wash basin and everywhere that the water splattered, that stayed a while before they went out completely.
Kaya Tatva – Glow Worm
The product is a face pack, meant to provide nourishment. It has natural ingredients like oats, rice flour, fenugreek, white poppy, and the like. The Ang tatva pack is a fine powder, where the pack needs to be mixed with a Small quantity of milk to form a paste. I applied the Kaya Tatva Glow Worm face pack and let it dry completely, which took me about 20 minutes. Then I simply rinsed it and Voila! Beauty session done.
Experience: The pack did have a slightly eminent odor of the natural ingredients and that worked like assurance that everything that is in the pack is all natural and good for my skin.
Results: The pack made my skin soft and nourished in one single use. It did not phenomenal, skin changing results but it felt like my skin would actually breathe after the session. No oil residue, no difficulties at all.
Kesh Tatva – Black Magic
Kesh Tatva Black Magic by Ang Tatva is meant to reverse the adverse effects of pollution and correct hair issues like premature graying of the hair, thinning of the hairline, nourishing dull, dry & damaged hair, and the like. The pack is usually a ready to use product, however, since my hair cannot sustain oil or oily products, this product was CUSTOMIZED to my needs. I received a pack in the powder form, which I mixed with  curd to make a hair pack. I let it stay for about an hour before I washed it thoroughly. The product is a granulated powder and seeds of certain ingredients could be felt. The product may take some bit of a time to thoroughly come out of your hair, so you may need a rigid rinse.
Experience: The pack did have a slightly eminent odor of the natural ingredients. The product was granulated and did not bind well with the curd and other products. As a result, a lot of the product kept falling during application. The product cannot be evenly applied due to its texture.
Results: The hair pack did not exhibit any phenomenal results. However, if used persistently, it promises to be able to reverse even graying of hair. For now, I have not witnessed any such results.
Coffee Bean Scrub Soap
If there is a sin in indulgence of beauty products, this devil is that sin!! A coffee bean scrub, double colored, with scrubbing and exfoliating particles in the soap make it pure luxury. It also has nourishing goat milk as one of the ingredients. The soap has a wonderful aroma and instantly transforms your bath time in to a  micro-spa session. The scrub soap is safe for skin of the body as well as of the face. I used the soap on wet skin and then gently rubbed the scrub like particles onto it. After that, i simply washed it with water.
I also tried the scrub for the face and to my surprise, it is a very gentle scrub and does not harm the face of the skin in any way.
Experience:  The soap looks extremely pretty, makes you want to try it the minute you get it.The aroma of the soap is to die for. With a bath time that works as time away for yourself, this soap is to bring about the best in your skin and your mood. Just be careful to not use warm water to rinse after scrubbing, as scrubbing opens up the pores that do not tolerate warm water too well.
Results: The soap gave me soft skin without the drying up of skin feature of even the best of soaps in the market. Double thumbs up for this gorgeous!
Ang Tatva Range of Products – Mummasaurus' Overall Observation
The Ang Tatva range of products is very promising. They are an organic range of products for Moms and some of the things I liked about the brand are:
They can customize the products as per your requirements
Organic & natural ingredients used
Instructions and directions on how to use the product are mentioned clearly.
The smell, the feel, everything indicates that no chemicals, perfumes, colors, textures have been added. Given that a lot of brands add those to increase the aesthetic value of the products
The products are aesthetically appealing
Ang Tatva makes very down to earth and genuine claims about the performance of their products. The probable results to be obtained from the range are very genuine. There are no dramatic promises, and no drastic changes like a 6 tone fairness enhancing product. The changes are good and believable, an enhancement of your available goodness.
Products mostly deliver as they promise, unless one or two that may be due to individual skin and hair type as well.
I personally feel that the packaging was just average and nothing very great. We could hope for a better packing in the near future, as the brand is still in its nascent stage.
You may have to add an ingredient or two, like aloe vera gel, honey, rose water or curd. You may or may not have them available at home at all times, so a substitute of these items or a premix, ready to use kind of jars could be ideal.
Mummasaurus' Verdict
I give Ang Tatva a High recommendation!! The products are awesome and humble. They deliver as promised and that's what makes them my favorite!
If you loved reading this, do SHARE it with your friends.
You may also like to read the inside story of How Ang Tatva was born.
If you want to read a review of other products, you may also like to check out the Ang Tatva range here.