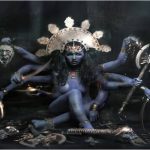 It brings me immense pleasure to share that I, along with 24 other WOMEN bloggers are celebrating #9daysofwomanhood throughout Navratri. I thank my friend and co-blogger Preetjyot Kaur Mehra for introducing me. I am a huge fan of her blog My Little Muffin where she talks about breaking stereotypes and raising her girls with power and strength!
The Prompt for today is "Which Goddess do you Identify With/ or Consider yourself as an Avatar".
---
Ever since I was a kid, I loved the idea of the Goddess Kaali. I call it an 'idea' because I'm not sure if it's folklore, a reality or a figment of someone's imagination. But one look at Maa Kaali and I was swooning all over her. She looked and felt like the ultimate power, the one no one could take over, the prfect symbol of a powerful woman!It is for that reason that If I ever have to identify my self with a Goddess, it would be her.
Here is a general picture of What Maa Kaali Looks like.
My observations of her, and how I relate to them:
She is considered the Destroyer. When nothing else seemed to work, the Gods and Goddesses summoned her to eradicate evil. But she was so charged up that she didn't stop there. She went on slaying and destroying everything in her way.
That does happen to me sometimes. When things are great, I'm just a calm, loving, dear wife and mother. But if something instigates me to this extent, I get onto my destructive mode and it gets difficult for me to stop my own self. Not that I slay people or objects, but my wrath is unfathomable.
2. To stop Kaali's wrath, the God's and Goddesses requested Lord Shiv to intervene and control the havoc she had wrecked.
For me, it is usually my husband, and often my father as well, who can stop me or put some sense into me while I'm into the wrath mode.
3. Maa Kaali is an ultimate epitome of a powerful woman
There's nothing Kaali couldn't do (well, except putting a stop to her wrath) She is the form of Parvati who is a doting mother and an ever-supportive wife. As Kaali, she was all set to manage any danger coming her way. She left her home to kill and killing, she did! With her hair let down and tongue sticking out, from the garland of heads to the skirt of arms – there's just no messing with her.
I may not depict myself like her in any of her characteristic appearances (well, that won't be quite an appropriate dressing in today's times) but when I leave home, I'm all set to face whatever comes my way.
Image Courtesy: www.Boldsky.com
This Image of Kaali is my favorite and I closely relate to it as a being 🙂
Maybe it's a little too big a mouth to be comparing myself to the goddess but if there is an Idol I can relate to, or visualize myself in the form of one, it has to be none other than Maa Kaali!
---
If you liked this article, don't forget to share it with your friends, especially your girl gang!
You may also like to read Are You Happy being a Woman in today's times
I would like to introduce my readers to my friend & co-blogger Jasmeet Kaur. Her blog talks about interesting parenting mantras and simple DIY activities for toddlers, making parenting a breeze! You can read her blog on the prompt for today at  Mommy Voyage.
This blog is a part of the #9daysofwomanhood blogathon where 25 bloggers have joined hands to celebrate the essence and strength of Being a Woman
Hosted By :
#MyLittleMuffin
#TheMomSagas
#Mummasaurus
#TheReadingMomster
Featured Image Courtesy: www.Boldsky.com