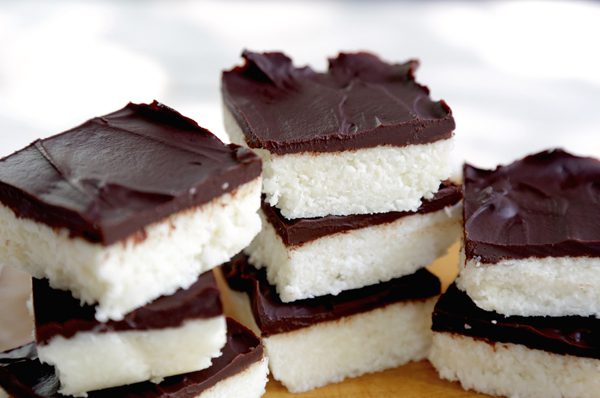 I have been on the ketogenic diet on and off for over 2 years. I have done multiple cycles and then taken a break. One can't do long cycles of the keto diet because the food range permissible is quite limited. So boredom and frustration are two of the major reasons why people quit keto. But worry not, this time around I have been experimenting a lot more with homemade keto recipes so as to bring forwards some of the best keto recipes to you, especially in the Indian context. It's been a while since I shared the super-easy keto cheesy chicken kebab recipe, so I thought it would be a great idea to share the Best keto bounty bar recipe.
Why is this the Best Keto Bounty Bar Recipe?
This keto bounty bar recipe is very easy to make. Apart from the cooling & setting time, it barely takes 15 minutes. The keto bounty bar recipe does not need many ingredients either. It is quick to make with stuff that is mostly around the house of a person who is on the ketogenic diet. 
The Keto bounty bar recipes is going to become your favorite for it does not use any major equipment like ovens or microwaves, or doesn't need specific molds. 
If that isn't enough to make it the Best Keto Bounty Bar Recipe, then let me tell you that this can double as a fat bomb. This means that you can take a piece that is quick and easy to make, can be stored for a decent amount of time, and is absolutely filling. Also, if on a certain day, you take an extra bite, it does no harm! 
So, let's get on to the Best Keto Bounty Bar Recipe
Ingredients for the Keto Bounty Bar:
I always have my jar of keto bounty bars filled up at home. It serves as an anytime snack, a filling snack, and a sweet treat that complies with the ketogenic diet regime. Here are the ingredients required to make the best keto bounty bar recipe.
Ingredient List:
For the Coconut Bar
2 Cups of Shredded Coconut (Nariyal Boora) Unsweetened. 
1/3 cup of Erythritol Granules, or a sweetener of choice. You can use erythritol, stevia or a mix of both. (You can also use sugar, honey, or other sweeteners if not making the ketogenic version.)
3/4 cup of Extra Virgin Coconut Oil ( I used Coco Soul)
150 ml of coconut milk ( I used packaged coconut milk)
50-70 ml of Fresh cream (I used Amul cream)
For the Chocolate Layer
140 g of dark, keto chocolate. You can use sweetened or unsweetened chocolate. ( I used 99% Cacao Amul Chocolate)
40 g of Coconut oil
If you have coconut cream available, ditch the coconut milk & milk cream, and use 1 cup of coconut cream instead. 
If using unsweetened keto chocolate (like I used Amul 99% cacao and it is very bitter), You can add 2 tbsp erythritol or sweetener of choice.
The procedure of preparing Homemade Keto Bounty Bars
In a Huge wok, dry roast the coconut. I like the flavor of well-roasted coconut. However, this step is optional. You may use untoasted, mildly toasted, or well-toasted shredded coconut. Toasted shredded coconut gives out a very rich taste and aroma. Carefully toast the shredded coconut in a kadhai on slow flame so as to bring out the colour slowly and avoid burning. Stir continuously. 
Once toasted, move the toasted coconut in a container. Add the erythritol and coconut oil in warm coconut.
Mix well so as to incorporate it. The erythritol may take a while to get incorporated as it does not blend and mix quickly like sugar. 
Now add the other ingredients – milk cream and coconut milk. You can also optionally add a teaspoon of vanilla essence. Though, I prefer without the essence to retain the beautiful aroma and flavor of coconut. 
Level this mixture into a mould and set it aside in the fridge to set. 
Making the Chocolate Layer
Making the chocolate layer can be done in 2 ways. 
The classic method includes heating chocolate so as to melt it. You may use the double boiling method or the microwave. Then add the coconut oil, give it a good mix. If you want to mix erythritol, do it while the mix is still hot and mix it all well. 
The second method (which I believe I have invented for myself :-P) is the ganache method. The keto bounty bar is not a basic Indian recipe. In India, coconut oil is mostly in the liquid state because of the temperature. So it is likely that the chocolate layer will begin to melt the moment you touch a bar and take it out of the fridge. That's precious chocolate getting wasted 😀
So I like to make a ganache out of the chocolate mix. For the ganache, You can melt the keto chocolate (with some erythritol if you are using a bar of unsweetened chocolate) and mix some fresh Amul cream into it. With 100g of chocolate, a 200 ml carton of cream is sufficient. However, sometimes the cream reacts with the erythritol and begins to thicken very quickly. Don't worry, just don't over mix the mix, spread it on the coconut layer, and put it back to chill in the fridge. 
Set the Keto Bounty bars in the fridge 
Once the mix has rested in the fridge for a while, they are ready for you. Cut the bars after they have chilled a little bit and then remove them from the mould and place them in a jar or a container. You can take a piece as and when you like it!
Did you know, if you are running out of some ingredients, you can also make just the coconut bars and have a great time? But what good is anything without some chocolate! 
This blog is a part of the 8th blog in the #LetsBlogWithPri Season 2. 

Hosted By :
Prisha Lalwani Mummasaurus.com
IG: @mummasauruss
FB: /mummasaurus1