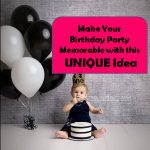 For instance, let's consider that you have been planning a grand Birthday Party. You already kind of know what is going to happen. There will be pretty invites being sent to friends and colleagues, a beautiful and yummy cake, those typical balloon decorations, a buffet spread and a lot of chitter chatter. But that's what everybody does, and it's too routine and mundane too, isn't it? Don't you wish you could do something different that makes your child's birthday party an event that everyone remembers? An event that is talked about for Months???
Worry not, Mummasaurus' got you covered.
I recently stumbled upon this wonderful website that sorts it for us – and all it takes is 5 minutes!
BirthdaySongsWithNames.com is your solution to hosting a unique birthday party that is spoken about for months! The website allows you to generate a birthday song with the name in it. So when you are singing the birthday song for your child, and the cake is being cut, the song is customized to sing with your child's name in it.
The personalized song is one real Fun thing to have in the Birthday Party – and that is done with just a few clicks. Let Mummasaurus tell you how to go about with it.
Process for Generating your own Birthday Party Song:
Step 1: Search the Name: Once you reach the website, the navigation is really simple. You can search for the name you want from their archives – from A TO Z. You can, alternatively, choose a relation-name to be in it. Chirag, Chitransh, Vinod, Prisha – they had all our names present in their archives already.
They also had Ammi, fufaji, Biji, Bade Papa and the like in their relation archives.
Step 2: Click on the Name: Once you have found the name you want, click on it. It will open a list of songs that are available for that particular name. Some names have one choice, and some have up to 5 different songs with the name. You can preview the audio to know how the song will sound. The songs have a watermark on them, which goes away once you download the song.
You can also hop on to the next tab and generate a video of your choice.
Keep your favorite pictures handy to insert them in the preset video template. Once the Audio has been downloaded, making the video becomes an easy task. This turns out to be a great gift for soeone you love, or can be played on the day of the event for all your party attendees.
You can also choose to make an e-card with an image of choice. Simply choose the image, select your favorite frame and add the to, from and message details. Revisit the times of e-cards and deliver a personalized message!
Step 3: Choose Your Favourite Tune: You may listen to the listed tunes and choose one or more. Add them to the cart. Proceed to checkout, Pay and Download your version!! Your song can be used multiple times, and at any place you like.
You may insert them in your videos or e-cards, easily made with the help of birthdaysongswithnames.com
Pros:
Certain things about this service make me absolutely positive about it:
The unique nature of the service makes your Birthday party fantastic.
Innumerable list of names, including Relationships listings which include English, Hindu, Muslim and Punjabi listings
They have multiple songs, and they have lyrics for them enlisted on the site! Isn't that awesome!!
Pocket-Friendly – so you can add them to the birthday party celebration of every member of the house
Once you download the song, you can use it innumerable times.
They request site visitors to connect with them in case they don't find the name they have been searching for. So, customized solutions also available.
Cons:
Certain Things I would love to  see in their next website Upgrade:
Multiple name songs for twins, triplets, or more than one person sharing the birthday.
A Cart where in one can keep adding songs and bill them all at once.
Price
Rs. 75 for a single song. With More than one song, the deal becomes even more economical. Onwards
The videos can be made at Rs 200, after the song has been downloaded.
The WOW Factor
Premium & Unique services re expected to burn a Hole in your pocket. But Birthdaysongswithnames.com is very cost effective. One song costs Rs.75 and it goes as low as Rs. 45 each song, if you buy 4 songs in one go.
Mummasaurus' Final Verdict:
Must Try Service!! I loved it!!
I truly hope you enjoyed my review for BirthdaySongsWithNames.com
In case there are any more services that you may want to be reviewed, write to me at the Contact Me Page.
You may also like to read:- Everyday Tea- Your Best Friend or Not
Don't forget to SHARE about this unique service with your friends, and show me some love!
Disclaimer: This post is a Sponsored post. However, the views & opinions of the service are of the author alone.
Picture Credits for the Featured Image:- Kerri Myers Photography, obtained Via Pinterest.
This post is a link up with Amrita andDeepa for #MondayMommyMomments
(Follow on Twitter @DeepaGandhi1 and @misra_amrita )
Proud Blogger for