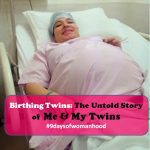 It brings me immense pleasure to share that I, along with 24 other WOMEN bloggers are celebrating #9daysofwomanhood throughout Navratri. I thank my friend and co-blogger Preetjyot Kaur Mehra for introducing me. I am a huge fan of her blog My Little Muffin where she talks about breaking stereotypes and raising her girls with power and strength!
The Prompt for today is "My Delivery & Birthing".
---
The Day of my delivery – 11.12.13
I was to be operated as soon as I finish my 8th month, on the 4th of December, 2013. But I requested to be able to keep my babies for another week. It was my birthday on the 11th of December that I shared with my 9 years younger brother.
I bought a brand new dress for the day. I asked my Mom to click some pictures of me (Maybe they'd need one to frame, so they could use a recent, good quality one). My mother accompanied a fully decked, heavily pregnant woman to the hospital where my husband dropped us while he and my MIL attended to the guests that had come home.
If you notice, I couldn't hold my own hands because of the vast circumference.
I was cracking jokes. Obviously being naked in front of a team of masked men and women is overwhelming. So, I cracked a joke saying, 'It's my birthday, but I'm the birthday cake. I'll be cut open today!'.
They all had a good laugh and that brought some consolation to my troubled self.
I kept praying for the kids to be alive. Wife, they'd find another 🙂
Amid giggles, they gave me local anesthesia and Began the procedure. But something began going wrong and one of my doctors kept patting my head – "Prisha, don't do this. Prisha calm down, we cant control your BP and your blood loss" and I don't remember when or how they gave me the full body anesthesia and I passed out. I think I was Crying.
Funny enough, I had been such a daredevil, such a confident person, and I saw my entirety lose control and maybe that bothered me.
"Hey Prisha, Dekh, tere ko Ladka hua hai"
My doctor said while I was maybe unconscious – not sure. So I asked her, "aur dusra??"
She said, "dekh, dusra bhi ladka hua hai" and I said "dusra bhi?? Dhatt!!"
This incident was narrated to me later by the doctors who attended to me during that hour. My pediatrician still makes fun of the "I am the birthday cake" joke and tells it to each and every soul present in the clinic during my visit.
I lay unconscious, semi-conscious for Hours!
I was missing my husband, who had more important things to manage back then. His brother & bhabhi wanted to leave on the same day, so they had to see off. In my bad situation, I kept calling for him. I wanted him to see me and maybe comfort me, maybe now express some happiness about the kids or express a will to see them. I was murmuring nonsense. Though I could hear myself speak, it wasn't in my control. I was in the ICU and no one was allowed to be with me. But seeing my condition, they let my mom be with me. I held her hand throughout. she held mine and did not let it go. It was such a state of vulnerability at that moment, that I felt I'm fighting my battle alone.
I was Full of questions about my twins
I asked her if my kids were alive. (As I did not know about the operation theatre incident).
She said, yes they are!
I asked her if they are pretty or look like 'them'?
She chuckled and assured me they are very pretty.
I asked her if she saw them & if they are 'fair' (Sorry but I really had that kind of a preference, for them to look more like me!)
But then, I asked her where are Ishu Mishu?
She told me they are with the doctors for now.
She said yes to all these things asking me to just be quiet and go to sleep.
Of course, I couldn't sleep. My MIL came to see a restless and blabbery me after some time and I don't know why I asked her if the atta in the house is over, and what will we do now. So she just made fun of it saying yeah its over, so now what? Giggled and moved on with other necessary work.
I don't know how many hours later I was moved into another room.
I heard the nurse ask if they have a wrap or they'd want us to provide one.
My husband responded that we will need one for some time, by the time someone from home gets the stuff. He came, and I held his hand. I cried saying 'why did you leave me and go. Now don't go anywhere'. 
He was restless as he did have other things on his mind. I could see it, but I just wanted him and only him around.
Ishu & Mishu
In some time Mishu was handed to Papa. Papa got him to me.
I knew Mishu's eyes would be like me because my grandma's genes regarding eyes are very strong. Our entire lineage has that specific kind of eyes. I exclaimed that immediately! He also looked like an exact copy of me!
I asked them about Ishu and they kept giving me stories. I was in too much of a bad state to ask or question much.
Ishu came to me on Day 2. One full day I did not know where he was. I was still quite unconscious.  Well, his eyes were like me too, and his color was like me too!! And I couldn't help but exclaim these similarities and my husband yelled, "haan sab tumhari tarah hain!! Ye meri tarah hai!! "
We took pictures with them. Then started another story.
I want My readers to Know
My narration is about How I Felt at that point in time, and not necessarily, how it actually was. I had a bad struggle with depression and that skewed my perception about things. I love my husband and I feel blessed to have him with me at every step in life. This is a very raw, and very honest confession of one of the most difficult phases of my life.
So this was my story. Somehow I still struggle with negativity and depressive episodes on and off and those days are very difficult. But I feel a lot more in control of my life today, and I'm so happy about it Now! My babies mean the world to me, but even Now, My husband tops my list, even though the kids top his 🙂
---
If you liked this article, don't forget to share it with your friends, especially your girl gang!
You may also like to read [[Twins]] The Story of My Pregnancy #9daysofwomanhood
I would like to introduce my readers to my friend & co-blogger Rupali. Her blog talks about interesting parenting mantras and simple DIY activities for toddlers, making parenting a breeze! You can read her blog on the prompt for today at  Thought Express
This blog is a part of the #9daysofwomanhood blogathon where 23 bloggers have joined hands to celebrate the essence and strength of Being a Woman!
Hosted By :
#MyLittleMuffin
#TheMomSagas
#Mummasaurus
#TheReadingMomster