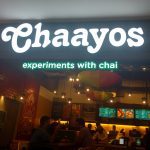 We visited the Chaayos outlet in Logix City Centre Mall gone Saturday as we wanted to grab a quick bite before we proceed to other parts of the mall. It is not in the food court, nor in the center of the Mall, which means very less noise!! Despite being in a non-prominent space, there was good occupancy in the seating area. We ordered the following dishes but before I proceed I want you to visit the place at least for the SHAAHI CHAI, the Chicken with Kulccha & the Jalebi!!
a
I also loved the Menu they gave us – practically a simple printed sheet of colored paper. But the Menu had mini descriptions,  nothing grand and fancy, had images of what the dish could look like and a very simple font. The menu was clear and un-chaotic. This helped decision making as you can easily identify what you'd love to have and how it would probably look. The tone of the menu was very conversational – as if someone was talking to you about the dishes. I loved the simple yet useful menu.
Drinks Ordered at Chaayos
Chaayos, as the name suggests, is a hub for tea lovers. Evidently, their range of teas is extravagant. They carry the tagline of – "Experiments with Chai" and totally live by it! I loved the concept of the "Meri Wali Chai" where you choose every aspect of your tea – the flavors, the strength, the quantity of water, milk, and sugar. But I wanted to get a bit more experimental with their offerings. This is what we ordered:
Shahi Chai
The flavor was similar to an elaichi wali chai from a vending machine. But the chai was thick, creamy and bombarded with almonds. The feel was very velvety, like that of a mango shake. The crunch of the almonds will win your heart if you already haven't fallen in love with it. They claim it to be the best thing on their menu and they are not wrong AT ALL!!
Modinagar Shikanji
I'm not a shikanji fan, but my husband is, and he loved the drink. A few sips made me fall in love with the balance of sweet and salty and fizz in the drink. The drink wasn't overly sweet, like most shikanjis are, which is what I loved most about the Chaayos Shikanji.
Chocolate Shake
I'll give this one a pass next time. Nothing interesting or fun about the chocolate shake. In fact, we asked for fruit shakes, which weren't available and then this was served, which again was disappointing.
Eats Ordered at Chaayos
Chicken Loaded Open Parantha
This invention is for people who go out and have a pizza everywhere (Like my son, who spotted a pizza-like thing on the menu and had to have it!!). It is a Malabar or lachha parantha, topped with gravy and chicken or paneer whatever is your pick and some cheese. The parantha is just moderately thick so the slice is not firm (It's a parantha anyway, not a pizza base!!) The taste was yumm. I loved the burst of Indian flavors in my mouth with every bite. 5 on 5 to this gorgeous!!
Kulhad Masala Chicken Kulcha
Surprisingly, they offered 2 kulchas and 2 cups of Chicken (Kulhad, precisely). The chicken tasted heavenly, I mean I hadn't had better Indian chicken gravy in Days!! The kulcha was seasoned with chili flakes and some bits of Italian seasoning and it looked damn gorgeous! The chili flakes added a mild crunch to your bite. The kulcha was more like bread though. I prefer Kulchas to be somewhat softer, something between a roti and a bread.
Spinach Corn & Cheese
Again, I would give this one a pass when I order next time. This was served in a croissant form. The croissant was moderately crunchy/dry and had the filling inside. The fillings were not quite spicy, so probably kids or people who like less spice may enjoy this one. This was served with garlic mayo, which I became an instant fan of. The garlic mayo was phenomenal. I couldn't have enough of it at all.
Vada Pav
They had the best Vada Pav available in NOIDA. Soft bread, really soft vadas, with the red and green chutneys layered in them. Heavenly is the word!! However, Mumbai vada pav cannot be replicated in the North of India somehow! This was served with an extra helping of green chutney, which again, made me love Chaayos even more!!
Desserts Ordered at Chaayos
Chocolate Factory Cake
This was a moist and spongy cake, topped with walnuts. The slice was not overly sweet, just like other Chaayos sweet serves. The kids swept this through in seconds and me managed to get a bite. The taste is average, but I love that one can eat the whole portion without feeling like they've eaten a jar of sugar.
Date & Fig Cake
I loved this cake. Again, not something overly sweet, the crunch of fig seeds is the best thing a cake can have. In between bits and nibbles of figs and dates make it a yummy affair. Must order this one!!
Kulhada wali Jalebi
Honestly, I'm a difficult to please Jalebi fan. The last awesome Jalebi I ate was at Haldiram's. But the Jalebi at Chaayos is the KING!! It is by far the BEST Jalebi I have ever had. I would like to mention that I hail from a city where Jalebi is had almost every day for breakfast. So you know what I mean when I call the Chaayos Jalebi the best!!
Overall Experience
I was in total love with the ambiance. It was not just pretty, but it branded the franchise well. If you are a tea lover, you would love the tea-related posts there, because frankly, enough of coffee shops.
There was a dire need of 'Apni chai ki Dukan'. The staff was very friendly and the service is prompt enough.
We had a bit of a takeaway, and I loved their take away bag as well!! (Which also gave me the Byline for this blog!)
 
Mummasaurus' Verdict
Refreshing, interesting Menu, Top Class Food!!
EXCELLENT Chai experiments!!
I would love to visit them time and again.
Highly Recommended!!!
source: Giphy
You may also like my review for Trends, Ansal Plaza
If you like what you read, don't forget to SHARE this post.
Do plan an evening at Chaayos and share your experience with me!!