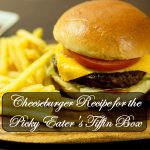 Picky eaters – We all have them at home. All day, all they want is something they have always been comfortable with. It's a different kind of a Nightmare if they don't have an affinity for any food at all!! Sending your fussy eater to school and then having him get his tiffin box absolutely unopened is every mom's nightmare. Today, we have some cheeseburger recipes that will appear so tempting, that your fussy eater may pretty much change his or her status. This simple cheeseburger recipe might just be your respite from the everyday frustrations of the 'untouched' tiffin box.
Matar Paneer Cheeseburger
Items Required:
3 Burger Bun, cut horizontally in two halves
150 g (3 tbsp) Dr. Oetker FunFoods Veg Mayonnaise Burger
1 medium Tomato, sliced
1 medium Onion, sliced
2 Medium Potatoes, boiled and grated
50 g cottage cheese, grated
a handful of peas, boiled
Salt to taste
Red Chilly Powder to taste
Some garam Masala powder
Corriander Chopped
One slice of Bread
Butter for shallow frying
Directions for making the cheeseburger
In a container mix the paneer, onion, masalas, peas and mix them well together.
Take the slice of bread and soak it thoroughly in water. Then squeeze out the water completely and mix it into the potato mix.
Make a patty of this mix and shallow fry in butter.
Spread 1 tbsp burger mayonnaise on each half of burger bun.
To assemble the cheeseburger recipe, apply butter on both parts of the bun. Next, place your burger patty, tomato slices and onion slices on top of it. Add a dollop of mayo and top it up with another half of the bun.
Give it a good press so it does not move much when your champ opens it in school.
Why Do I trust this Cheeseburger Recipe
This recipe is my ultimate go-to recipe. It has nutrients and is absolutely yummy.
The patty turns out to be crunchy and the "Dr. Oetker FunFoods Veg Mayonnaise Burger" adds more fun to the flavors of the yummy burger.
It is also not very time consuming if you have certain things like boiled and grated potatoes prepared in advance. Thus, saving the morning rush of preparing the tiffing in a hurry.
The burger is also filling enough, so one burger is more than sufficient for the baby. The serving size of the patty can be varied as per the child's diet.
---
Do let me know how you liked this Matar Paneer Cheeseburger Recipe. Do try it and share how it worked with your dear fussy eater.
If you liked this cheeseburger recipe, do SHARE it with your friends and family.
You may also like to read Festive Indo-western Fusion Recipes with Dr. Oetker FunFoods