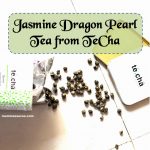 Did you know that there are far many types of teas than we normally know? Among the most popular teas is the black tea that finds it way in every Indian Household (Almost). We like our brews nice & strong and oblivious t o is effects or ill effects, continue to stay in an addiction of the same. Also catching up with the black tea, is the green tea in the Indian Market, claiming to be a lot more healthy than your everyday tea. But did you know there are several varieties to the 'green tea' category as well?? One such tea is the Jasmine Dragon Pearl Green Tea, shared with me by TeCha Teas. I shall attempt to pen down my honest opinions about the tea down here.
 
What is a Jasmine Dragon Pearl Tea?
Three leaves of the tea-plant, usually the tip are scented with the summery freshness of Jasmine flowers. Tea leaves are picked and rolled by hand in spring. They are then placed in a container where fresh jasmine flowers are mixed with the pearls. Once the jasmine dries, it is replaced with fresh flowers. This process is repeated to up to ten times. The jasmine flowers give some of the perfume to these leaves.
Jasmine Dragon Pearl teas are considered fragrant green teas with very low amounts of caffeine. They have a beautiful aroma to their taste that earns them the name.
TeCha Jasmine Dragon Pearls Tea
The Rendezvous
The tea came to me in an Off-white tin box with the brand's name and the product's name. It had a double lid to seal the freshness of the tea, once the inner pillow pack was opened.
The moment you open the box, there's a moderately mild fragrance of Jasmine that hits you. As I opened the pack, those tiny little pearls reeked of hard work – that was put into rolling each of those pearls. They are a pure beauty to look at and very aromatic.
The Brew
The brew needs just a few pearls, less than a teaspoon to brew a cup of about 200-250 ml. Simply drop a few pearls in your cup and add boiling hot water on top. Immediately cover your cup and let it stay for about 5-7 minutes. Then remove the lid and sieve out the leaves that have unfurled from the pearls.
The Flavour
The brew looks greenish in color, like a typical green tea. There is a mild aroma of jasmines that tickles your sense and is a wonderful experience. It feels like you are in a garden of jasmines. When you sip the tea, the brew is mostly sweet but somewhat bitter, like black tea. This slightly pungent tone of bitterness in the tea does not vanish with lemon or sugar. In fact adding any of those two will mess up the entire flavor of the tea.
The tea is strong in its effect as well. So if you are that tea lover who has a problem with green teas because they are not strong, and don't have that 'kick'? Then this is your answer. A fragrant tea with a kick, and low in caffeine, and benefits of green tea— So much in this beautiful looking pack of pearls.
The Aha! Experience
Brew the Jasmine Dragon Pearl tea in a glass container, and watch the pearls Unfurl — it's a heavenly experience. My husband is a coffee person but has switched to the Jasmine Dragon Pearl tea now. And even if it simply involves pouring boiling water in a cup,  I prefer doing it for him. I totally love watching the tea pearls unfurl one by one and open up into full fledged tea leaves. It's a beauty to watch.
One also needs a very small quantity of the tea to brew a nice, strong cup. About 6-8 pearls for a 200 – 250 ml cup is sufficient.
The Misses
The Jasmine Dragon Pearl Tea from TeCha Teas is priced at a whopping INR 1499 for a 100 g Pack. That is kind of expensive to make it an everyday beverage for an average family.
The strong and slightly bitter flavor of the tea may not be a fun aspect for some people and may put them off.
One may need to develop the taste for the tea because it is like none other. That is its Plus point and one of the most important minus points.
Mummasaurus' Verdict
If the budget is not an issue,  GO FOR IT! Excellent beverage – Refreshing, fragrant and healthy.
If you would like to visit the site and check this online tea Boutique, you can do so here.
To buy Jasmine Dragon Pearl Teas, you can click here.
If You liked what you read, don't forget to SHARE the blog with your friends, especially the Tea Lovers.
You may also like to read the review of Moms Co Tea.
You may also like to read about Mint Green Tea from Teha tea boutique, detailed by a lovely fellow blogger Dr. Bushra here. 
I am taking My Alexa rank to the next level with Blogchatter. As on the 1st of September, 2017, My blog Ranks were:
1,000,251 Global Rank
38,157 Indian Rank
Disclaimer: The above review has been written from my experience of consuming the Jasmine Dragon Pearl tea, sent as a sample by TeCha Teas. However, the review and opinions are of my own.