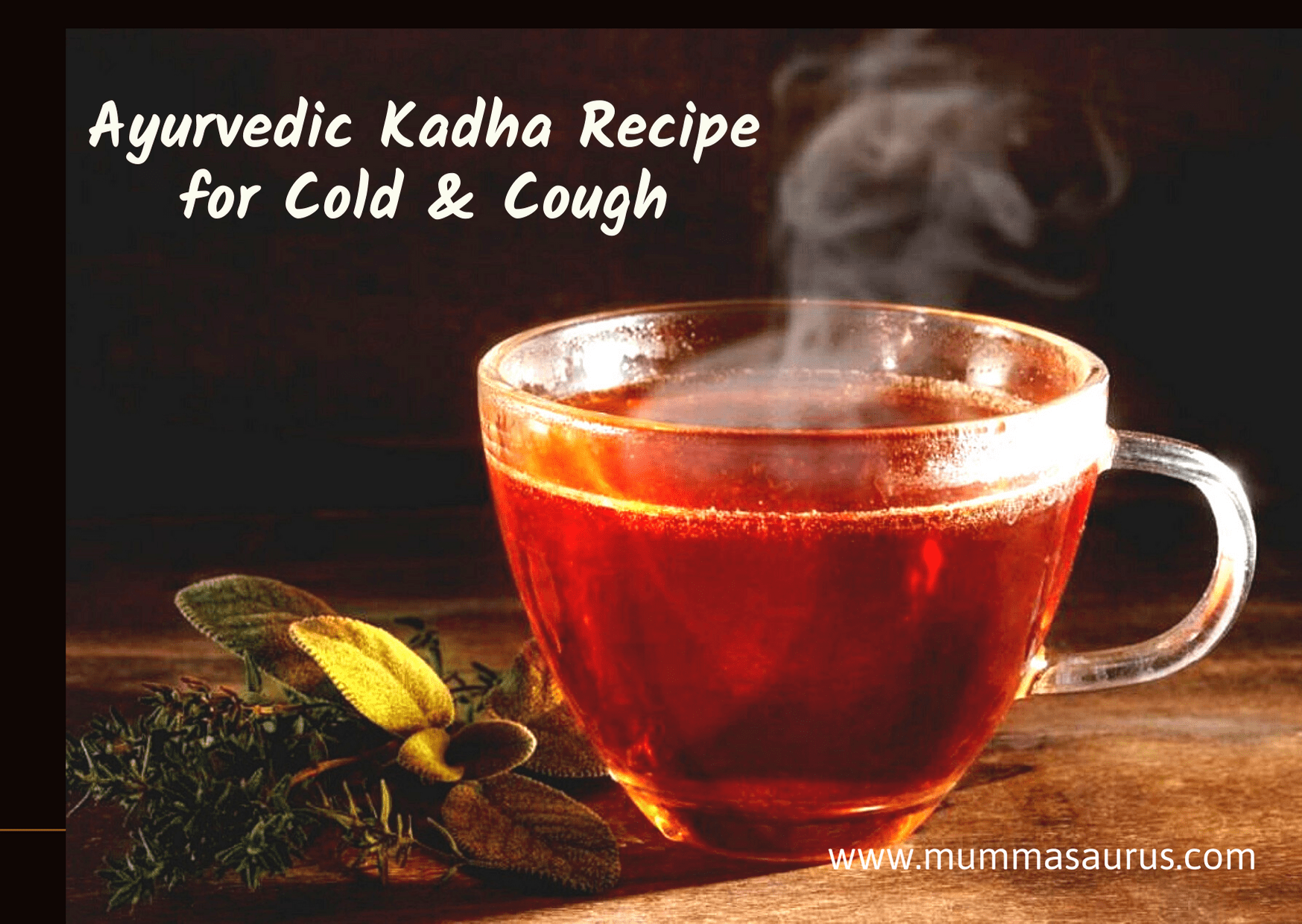 In the pandemic times, even the slightest of colds, fever, cough, breathlessness, or flu can make you really worried. An old times saying goes – Prevention is better than cure, and I completely believe in it. While it is really essential to keep high levels of hygiene and wash hands regularly, the upcoming weather can bring you unwanted cold & flu symptoms. For help with symptoms of flu, cold, cough, and fever, I am here to share an Ayurvedic kadha recipe for cold and cough, and any of the flu symptoms. It is also an immunity-boosting drink and relieves from gas & bloating. 
The best part about any authentic Ayurvedic kadha is that it is gluten-free, sugar-free, natural, and quite effective. 
What is an Ayurvedic Kadha?
If you are not aware of the Indian Ayurveda school of medicine, a Kadha is an Ayurvedic Immunity Booster Drink. It requires many Ayurvedic herbs and spices. These spices & herbs are sometimes soaked beforehand, then boiled in water to extract their nutrients and activate their medicinal properties. Then it is served hot as an herbal tea. It is considered to be the most effective remedy against cold, cough, flu, and other such symptoms.
Since Indians have been practicing Ayurveda for a very long time, many recipes for Kadha are available. Many families have their own list of basic ingredients with some variations. Mostly, turmeric root, ginger, cinnamon, cardamons – green and black both, black peppercorns, carrom seeds, are some of the common ingredients of a homemade kadha recipe, Some of those are highly effective, some are drinkable and some are not as effective or good to taste. Ayurvedic Kadha Recipe for Cold and Cough might seem simple, but it is all, but.
Ingredients of Kadha for Immunity
Some of the most common ingredients for making a homemade immunity boosting kadha are:
Adrak or Ginger root – dry or fresh
Haldi or Raw turmeric root- dr or fresh
Tulsi or Holy basil
Mulethi or Liquorice
Dalchini or Cinnamon
Kali Mirch or Black pepper
Laung or Cloves
Carrom Seeds
Choti Elaichi or green cardamom
Badi Elaichi or black Cardamom
Saunf or Fennel Seeds
Jeera or Cumin seeds
Water
Gudd or Jaggery
Shehad or Honey
A homemade kadha recipe may or may not include all of these ingredients. It may or may not use additional ingredients as well.
Where to Source Ingredients for Ayurvedic Kadha Recipe for Cold and Cough?
The most important aspect of a homemade kadha, is finding a potent recipe. Once that is done. the second mammoth of a task is to find all of the ingredients and ensuring that the outcome is potent. A lot of times, the quantities used may vary and highly affect the potency, taste, and effectiveness of the kadha recipe.
It is hard to find decent quality, rich and natural spices, even if you live in India.
I recently came across this kadha recipe in a jar. So we simply use the recipe to make a highly potent, effective and yummy tasting kadha that can be consumed by people of all ages. 
T99P Homemade Ayurvedic Naniji ka Kadha
The ayurvedic kadha from T99P is a bliss. Someone like me would find it really hard to source ingredients that would be good quality, authentic, or easily available. 
Naniji ka Kadha, a T99P product, is the magnificence of Ayurveda in a Jar! It has about 15+ ayurvedic ingredients that alleviate symptoms of:
cold
cough
fever
flu
bloating
enhances immunity
reduces symptoms of bacterial infections
reduces symptoms of viral infections
One single jar brings your whole family good health and wellness, with their specialized Ayurvedic Kadha Recipe for Cold and Cough. It is very simple to make and very budget-friendly. Hence it makes Ayurvedic Kadha Recipe for Cold and Cough a very easy one to prepare at home, anytime.
How to Prepare Naniji ka Kadha
The process of preparing Naniji Ka Kadha is simple.
This method makes 4+ cups of Kadha
Simply take 6 cups of water in a saucepan.
Add 1 tsp of Naniji Ka Kadha to it. Soak for a minimum of 30 minutes, preferably overnight.
Boil the concoction for about 10-5 minutes, or until it reduces to 2/3rds of the quantity.
Turn off the flame, and sieve the kadha into cups.
The kadha is mildly sweet and a little spicy on its own. However, you may add some jaggery or honey incase you prefer very sweet drinks. 
You can reuse the sieved herbs by soaking them again, adding a little fresh mix for your next batch. 
Check out this short video for a demonstration.
Kindly make sure that you do not add any sugar, as refined sugar tends to diminish the potency of any ayurvedic medicine. Using jaggery is ideal however, you may use honey, stevia, or erythritol as well. 
Where to Buy?
Naniji ka Kadha is available for order on the Instagram page of The99platter_T99P
You may connect with them on Instagram and place your order. 
The kadha is ready to use, natural, quite effective, and cost-effective. It is available in two kinds of packaging – Glass jars & refill pouches. 
How did you like this homemade Ayurvedic Kadha Recipe for Cold and Cough? Share with me in the comments.
This blog is a part of the #LetsBlogWithPri campaign, Season 2 and week 9. 

Hosted By: Prisha Lalwani Mummasaurus.com
IG: @mummasauruss
FB: /mummasaurus1
Link up your posts below: