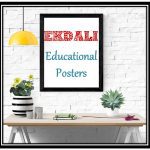 Remember the good ol' times… the times of our childhood?? No phones and no tabs, damn, we barely got to watch TV. We never had these magnanimous toys and partly our parents weren't as zealous in buying the most expensive of things. Even Barbie was a luxury and the entire group of friends played with one Barbie sometimes. I never read a book as a child, and read comics when I grew older.  All we had was big educational posters that Mom would hang on some spot and the entire clan of siblings and cousins would read from it. Revisiting old times and the beauty of educational posters, I 'd love to talk about Ekdali: Bringing Educational Posters back to life.
About Ekdali:
Ekdali Educational Posters are the brainchild of two friends, Roomana and Jagga. Roomana happened to take her Baby-in-chief to the Zoo where The Boss Baby definitely had tons of questions for his bedazzled parents. That is when she stumbled upon an area in the Zoo where she saw a poster with lots of information on it – at least enough to satisfy the Boss Baby. That is when the first poster about the Tiger came about to be – and thus the idea of Ekdali Educational Posters was born.
Educational Posters for learning & Spiking Interest
It is unlikely that people today think or consider buying educational posters, but it is actually a different way of learning. I'd love to share how.
With books, you need to be seated in one place. With posters that's not always the case. You can peek at information while moving around in the house.
Books cannot really add to decor – Posters sure can!! Put them on your walls or doors or even boards and they are sure to draw attention.
Its a quick reference source – get to the poster and refer to whatever information you want.
it is concise information, not as detailed as books. This gives you more scope to interact with kids. You get to do more talking and share more about is mentioned on the posters.
The child can read around it as and when they like
The information received is remembered well as the child views it frequently as they stroll around. The child learns well even unconsciously.
Our Experience with educational posters from Ekdali
I taped the posters on the doors in the area that we frequently use. These were single posters so we taped two on one single door. The Hindi posters were a set of 3 so I chose to stick it on our glass door and window in the room. But my husband came up with a brilliant improvisation by sticking it from the outside so as to make it clearly visible on the inside. This made it safe from my little monkeys without costing us on the clarity in view.  I dearly Thank Ekdali for sharing these posters with me.
The 3 sets of Educational Posters we received
WE Recieved 3 setsof educational posters:
The Solar System – Single Poster
The Map of India – Single Poster
The Hindi Varnamala or The Hindi Alphabet – Set of 3 educational  Posters
We introduced planets and my kids learned about them on day one. We read them out a couple of times and they remember the entire set thoroughly now.
It seems my twins are not fully enthusiastic about The Map of India poster. We could us eit a few months later, we are in no haste 🙂
It had been long since I wanted to introduce the Hindi Varnamala or the Hindi Alphabet to my kids. This set of 3 educational posters made it very convenient. We read it out in the typical Hindi Class way a few times for fun. The kids are already acquainted with some Hindi names of everyday items, which we usually speak about in English. They take interest and point out to some items randomly through the day, as and when they lay their eyes on it.
Observations about Ekdali Educational Posters
I have fallen in love with the idea of posters – the fact that you don't need to reserve a specified amount of time is a winner for me! The moment you lay your eyes no it, it's ready to read!
The scope of letting the parent discuss more about the information on the posters is fun. It stirs up a more interactive and fun learning session.
However, I feel the material could be something beyond paper, as one tear and the fun is gone.
Also, it is difficult to move the poster from one place to another after sticking it on a surface. The paper may tear or may leave tape marks on the door or walls.
The colors and graphics on these educational posters are interactive – thumbs up!!
It isn't a travel-friendly option.
It is suitable for children 3-4 years and older, as the probability of the child tearing it down for fun sakes is possible.
Ekdali educational posters can easily engage more than one child at a time. Excellent tool for people who like to engage more children at one point in time for games or for teaching.
There's a huge variety available, as per the child's interest.
Mummasaurus' Verdict
We Love these educational posters from Ekdali and highly recommend them!!
We truly hope Ekdali considers the option of more materials than just paper and innovates on methods of sticking it. This shall definitely add more value to the money spent on the product and enhance its longevity.
Where to Shop
Ekdali Educational Posters are available at Ekdali Website.
Most posters are 1 piece in a set, whereas some have 2 or more posters in one set. The description on the website states all specifications clearly.
Posters are available in 2 sizes, A2 and A3.
I personally love the website as well – as its very easy to use and very clear and clutter free.
If you liked reading this article, go ahead and SHARE it with your friends.
You may also like to read the review of Augmented Reality Card Game by PlayShifu.