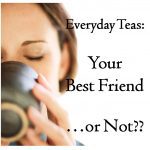 Wake up in the morning and the first thing we Indian Moms need is a  nice hot cup of (rather MUG of) tea! It's like your daily drug which takes away your headache and the fatigue that you feel right after you wake up. But have you ever wondered that it could be because of the tea, more precisely, the caffeine in it? May be it's the caffeine addiction that causes the headaches and fatigue, triggering you to brew a cup of the Elixir?
Have you ever wondered if your everyday tea is your best friend or not?
Regular teas are laden with Caffeine, which gives you the belief that you are getting rid of a headache, or feeling 'fresh' & 'active', whereas these are just withdrawal symptoms. These symptoms signal you to brew a cup to satisfy your craving for it.
Why should you avoid a Caffeine laden beverage?
It makes you wonder why we as a country are obsessed with tea as the first thing in the morning! It is because Caffeine is notorious for causing a subtle addiction, you will have withdrawal symptoms but they are not as adverse as drug abuse withdrawals. Nevertheless, if you ever try to quit it, it does get difficult to get off it completely. You can reduce the quantity you consume per day, but quitting it completely does pose a challenge for tea aficionados.
Not just the withdrawal, but drinking caffeinated tea on a regular basis also makes you suffer through a series of side effects that we put away unknowingly.
Some common side effects of your everyday tea are:
Headache, even migraine
dizziness
palpitations (heart beating too fast)
diarrhea
urinating often
emptying the body of water, as it acts as a diuretic
ringing in the ears
heartburn
cloudy thinking or confusion
tremor
sleep problems
If caffeinated teas are out of question, then how do you freshen yourself up?
Your answer is caffeine-free teas!
I recently stumbled upon caffeine-free teas from The Moms Co and that completely changed my morning habit.
Being a 'chahedi' or tea addict, green, unsweetened teas, without milk and those without that typical dark brown or tan color never appealed to me. But this tea is DEFINITELY different.
The Moms Co
The Moms Co. – the moment I read this name, I feel an immediate connection to it. I'm a mom, it's a company that's going to think of me!
The venture is owned by Malika & Mohit, parents to two daughters Myraah & Syna. Their journey comprised of searching for natural and effective products for their kids, leading them to start this venture. You can read more about them here.
Their motto is "Nature In, Toxins Out".
Their Caffeine-free tea range:
In this product category, they have two products:
I received a sample of the acidity tea relief, which I shall review below.
The Moms Co. Caffeine-Free Tea for Acidity relief
The tea for acidity relief comes in a jar and is very light weight. As I opened the pack, I loved the fragrance, the texture and beautiful looking ingredients of the potpourri. Here is a video of the same, popular on my Insta feed:
Ingredients: (What's In)
The tea consists of:
–Chamomile Flowers: have a Calming effect and are known for Reducing Heartburn.
– Lemon Balm: Phenomenally reduces Anxiety, Promotes Sleep & relaxation. It helps in improving Symptoms of Indigestion like gas and other symptoms
– Peppermint Leaves: These leaves help to soothe and calm the digestive system. They also help with issues like indigestion and nausea.
– Blackcurrant Leaves: Also a very rich source of Vitamin C, these leaves are known to Boost Immunity and Stimulate the Digestive system.
The Tea leaves out:
Caffeine
toxins
preservatives
synthetic flavors
stabilizers
Preparation:
Simply take a 150 ml of water and put it on a flame to boil. Add 1 tsp, or roughly 2 grams of the mix in a kettle, and top it with the boiling water. Let it infuse for 8-10 minutes before you serve it hot.
You may add sugar, lemon or any other ingredients that you prefer, but I loved the taste without any of these additions.
Price:
A Jar with 50 g of tea is available on the site for Rs. 699 (Includes Shipping)
Suitable for:
The product claims to be suitable for pregnant women as well as any other tea lover in general. When I tried this sample, I was not pregnant.
Where to Buy:
Currently, the product is only available on The Moms Co website. You can check the acidity relief tea here.
Mummasaurus's Verdict on The Mom's Co. Acidity Relief Caffeine Free Tea
In all honesty, I really loved the product. I did not add anyting except water to it, and did not miss any sugar. The tea may not be too sweet, but it does not taste bd without any. You don't feel the need to add any sugar in to the brew.
The taste is very soothing. It has a peppermint dominant flavor so the taste is quite appealing and actually Yummy!!
The blend actually relieved heart-burn, a common effect of the regular ones on me.
It did not cause any diarrhea, palpitations, heartburn or anxiety like symptoms that I always get from my regular brew.
I gas problem did get relieved and I felt a lot less bloated.
There was a cool feeling in the belly after I finished my warm cuppa
I felt quite relaxed and calm after consuming the beverage
I did not crave for food or more tea, which I usually feel after consuming my regular brew
Surprise Element:
One evening when I had my tea, I was really very stressed and tired. Drinking it made me quite drowsy and wanting to sleep. I had to lie down. To my surprise, I could sleep well even in the noise of my 4-year-old twinadoes jumping around the house and screaming like crazy.  So I must warn you that it can make you extremely sleepy if you are extremely tired already. It is a great feature unless it is your time for work. So I would recommend to have it when you in a mood to relax.
I must give it to the Mom's Co to come up with a tea so soothing, that I'd prefer having it before bed time and having a good night's sleep.
Cons:
I am so in love with this tea, that the only con I see is the Price, which makes it drinking every day a costly affair.
Final Verdict
Highly Recommended for pregnant women as well as any other tea lover or "chahedi" like me! This tea can definitely take over your everyday tea and give you a great substitute for it. During pregnancy when heartburn issues are at their peak, this tea can help alleivate the heart burn and improve digestion, without harming that teeny weeny wiggly bubbie inside you.
I hope you liked reading the information given in this article. Do drop me a comment on how you liked this post.
If you are still deciding on a purchase, you can also consider the honest review of my friend Charu here.
Don't forget to SHARE it with your friends and family who could use this review to change their tea-time habits.
You may also like to read:- Palmer's Cocoa Range for Babies Palmer's Baby Butter and Palmers Baby Wash