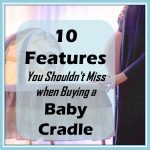 Talk about a Baby jhula, a baby bassinet or a baby cradle – it is definitely one of the most trusted baby gears since eternity. I have seen and known generations of parents using it for their children. It is one of the most convenient ways of rocking your baby back to sleep, especially in those first few months of life when the baby wakes up every couple of hours. Cut to times of today, Modern Moms know better than to just tug on to a string made of old dupattas and rock a hungry baby to sleep.  So compiling here today is a list of features you can consider when buying a baby cradle or a baby jhula.
Difference between a crib and a baby cradle
A crib or a cradle, are both separate spaces for your newborn to sleep in. Cribs basically are smaller beds with high risen borders to prevent little ones from rolling off. Cradles usually have more features to them, and often can be rocked.
Image Courtesy: Pixabay.com
Some Features to consider when Buying a baby Cradle
Certain baby gear can make the Life of struggling new mom a lot easier. And with more awareness and associated modifications in our favorite gears, things couldn't get better.
Self Rocking Baby Cradles
There are cradles that come with features of rocking the baby by themselves. It is a great feature for you can lay your baby in the cradle, while the cradle rocks it to sleep. Make sure to check that the rocking motion is really gentle. It is possible that the baby may roll on onto its belly. By rolling on the belly, it becomes very difficult for newborns, especially if they have been swaddled.
A self-rocking cradle saves you effort and soothes the baby to sleep. In any case, it is crucial to have constant supervision of the baby.
2. Pick Cradles with Firm Mattresses
When buying a baby cradles, ensure that it is fitted with a firm mattress. A loose or soft mattress can shift its position making it difficult to pick or lay the baby. The soft mattress can also roll up and cause irritation or difficulties to the newborn.
3.  Motor Operated Baby Cradles
When buying a baby cradle, check for the motor operation. How strong and effective is the motor, how noisy is the motor, does it cause some amount of unwanted vibration that is not comfortable for the baby? Consider these features before you zero down on a certain cradle.
4. Cradle with a Harness
The Cradle must have a harness to protect the child and keep them in place. A harness that is not very tightening is ideal for little babies. This is also one of the most missed aspects when parents consider buying a baby cradle.
5. Battery Operated VS Charger Operated
If the cradle is motor operated, it would require power. The two most common sources of power are battery or through a socket. It is any day more economical and convenient to use a charger operated baby cradle. batteries are exhaustible and can exhaust any minute. This may render the cradle useless. With a charger handy, it makes more sense to just plug in and use as per convenience.
Image Courtesy: rforrabbit.com
When buying a baby cradle, look for double operation so you can use the cradle with our without a power source nearby.
6. Cradles with Sounds
High-end cradles are also equipped with white noises now. From soothing sounds of water to other nature sounds, white sounds help babies sleep better and sooner.
7. Weight of the Cradle
Ensure that the cradle you buy is of manageable weight for you. Just in case you want to finish a chore while the little one is sleeping, tends to help a lot. If you can move the cradle to and fro conveniently, you will be able to manage a home and a baby more effectively.
8. Wheels on the cradle.
Always pick a cradle that is more compact. Eventually, the cradle is going to fit into your room. With something very bulky, it can get inconvenient to maneuver it around various locations, and will also occupy a lot of space in the house.  Having said that, smaller cradles are more convenient to move on wheels.
9.  Cradle with a cover
It helps to have a cradle that has a mosquito net or a cover to keep those nasty insects at bay. With a net or transparent cover, you can also take a quick look if the baby is awake or in difficulty.
10. Beauty
Remember to buy a baby cradle that looks pretty to YOU! Yes, to you!
At the end of the day, more than the child, you will be looking at the crib. So if it does not appeal to you, it is going to be a cause of unwanted irritation for you. At least, I would have loved to have a cradle that seemed pretty to me.
Image Courtesy: rforrabbit.com
Irrespective of how high end your baby cradle is, ensure that the cradle has some functions available even without battery/electrical operation.
R For Rabbit Lullabies – The Auto Swing Baby Cradle
If you are looking to buying a baby cradle with almost all of these features, then the R for Rabbit Lullabies Cradle is your best pick. From being adorably gorgeous to being sturdy with great features – R for Rabbit cradle is not something you can ignore. Very comfortable for the child, and very attractive to be in your room, it is the best combo of gorgeous and sturdy!
Some of the features of the R for Rabbit Lullabies Cradle are:
Automatic Swing feature – With a timer to control the duration of swinging
Soothing Music – it has 18 tunes and rhymes, and 6 nature based white sounds to calm a cranky baby and put them to sleep
3 Point Safety Harness: It gently secures the child in place without being very uncomfortable
Swing Lock: If you want to use the cradle as just a sleeping space, you can use the swing lock to disable the swinging feature
Dual Power Source: The cradle gets powered by batteries as well as by adapter
Canopy: The canopy is not just attractive but also helpful in keeping mosquitoes at bay
Weight of the Cradle: The product weighs about 7 kgs which is convenient for anyone to manage
Age: The cradle is ideal for 0 months to 18 months of age
Inclusions: The cradle includes a cushion and a mattress for the baby
Weight Capacity: The cradle can take up to 15 kgs of weight conveniently
Assembly: The product is really easy to assemble. Several simple tutorials are also available online
Image Courtesy: rforrabbit.com
Price & Availability
Lullabies – The Auto Swing Baby Cradle is available in two colors: Blue & Cream
Price: The Price of the Cradle is INR 8991. The product is often available at a discounted rate on online shopping websites.
R for Rabbit Lullabies – The Auto Swing Baby Cradle is available on all leading online shopping websites. Here are some of the links for you to consider:
---
If you liked reading this article, do SHARE it ahead.
You may also like to read: Rashes? It's not the Diaper, it's the Polyester baby wipes!
Disclaimer: This blog is a sponsored post.