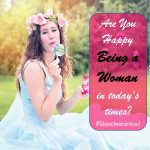 It brings me immense pleasure to share that I, along with 24 other WOMEN bloggers are celebrating #9daysofwomanhood throughout Navratri. I thank my friend and co-blogger Preetjyot Kaur Mehra for introducing me. I am a huge fan of her blog My Little Muffin where she talks about breaking stereotypes and raising her girls with power and strength!
I would like to introduce my readers to my friend & co-blogger Jasmeet Kaur. Her blog talks about interesting parenting mantras and simple DIY activities for toddlers, making parenting a breeze! You can read her blog on the prompt for today at  Mommy Voyage.
The Prompt for today is " Being a Woman in India in 2017 – a Positive take"
---
I don't know about you, but I am certainly done with the negativity in our lives. The rapes, the murders, the crimes on children — all just seem incessant. Acceptable to us or not, they continue to happen, all because none of it is in our control. But what is in our control, is to try to be positive and move on in life with hope. And if you really come to think of it, we should ideally be Happy being a woman in today's times!
What makes me Proud of being a woman in today's times?
The women of today are not like the cattle that have been just moved from one spot to another and yielded benefits for its "owners". We are well aware, well-groomed, confident individuals and know about our rights more than we did in the previous generation.
Source: Giphy
We are Not ashamed of speaking our mind or voicing our opinions. If we have something to say, we actually do and fear no consequences. The beauty is that we don't always have to scream because the men around us are equally aware. This was not a common possibility in the previous generation.
Women of today don't shy away from inviting our men for dinner before they make the move. We love you, and we don't shy away from telling you that!
Women are stereotyped for being obsessed with our looks, but that has changed drastically. We can choose to dress up like a fairy, or a tomboy, or even walk down in a comfortable set of clothes, not bothered about our "beauty" every minute of every day. There's more to us than just our VANITY!
Being a woman in 2017 means to drive your own cars… heck, we even buy our own cars!
And our own dresses, and our own jewelry, and everything there is. We are Independent today and don't rely on anyone to 'sponsor' us all of the time.
We gift luxuries to our partners on our way to work, to surprise them before we drop them. Don't think need to explain this 🙂
We don't obsess with the gol roti. We love to cook, we hate to cook, we do it on our own, we outsource it – To each her own!
Source: Tumblr
The women of 2017 are the Cinderellas who pick up our Prince from his Palace before we head to the ball together.
We are the fairy-tale princesses who gave it back to their stepmother for being unkind and unfair.
We don't depend on our guys to take us out for a vacation or a movie, we have loads of our own company and it takes minutes to come up with a plan. And if we really need a good break, we totally enjoy being by ourselves too.
Source: Tenor
We multitask more than anyone else when we step into the role of being a Mother. No one can challenge us there. Period.
We are confident, headstrong, spine-strong and we march ahead! We are proud of being a Woman in 2017, and nothing holds us back!!
I'm also specifically proud of the fact that being a woman in 2017 has its perks of having our "girl gang" coming to help every single time. We are not the "jealous" or the "Chitty-chatty" stereotype anymore. Be it your emotional journey, your professional journey or even your personal life – we have strong women surrounding us, ever willing to help. I am definitely proud of my girl clan because eventually, we have learned to support each other instead of pulling each other down. All because we know that together we fly, and alone, we fall.
CHEERS TO WOMANHOOD! CHEERS TO BEING A WOMAN!
---
If you liked this article, don't forget to share it with your friends, especially your girl gang!
You may also like to read 8 Things that ACTUALLY happened to me as a parent.
This blog is a part of the #9daysofwomanhood blogathon where 25 bloggers have joined hands to celebrate the essence and strength of Being a Woman!
Hosted By :
#MyLittleMuffin
#TheMomSagas
#Mummasaurus
#TheReadingMomster