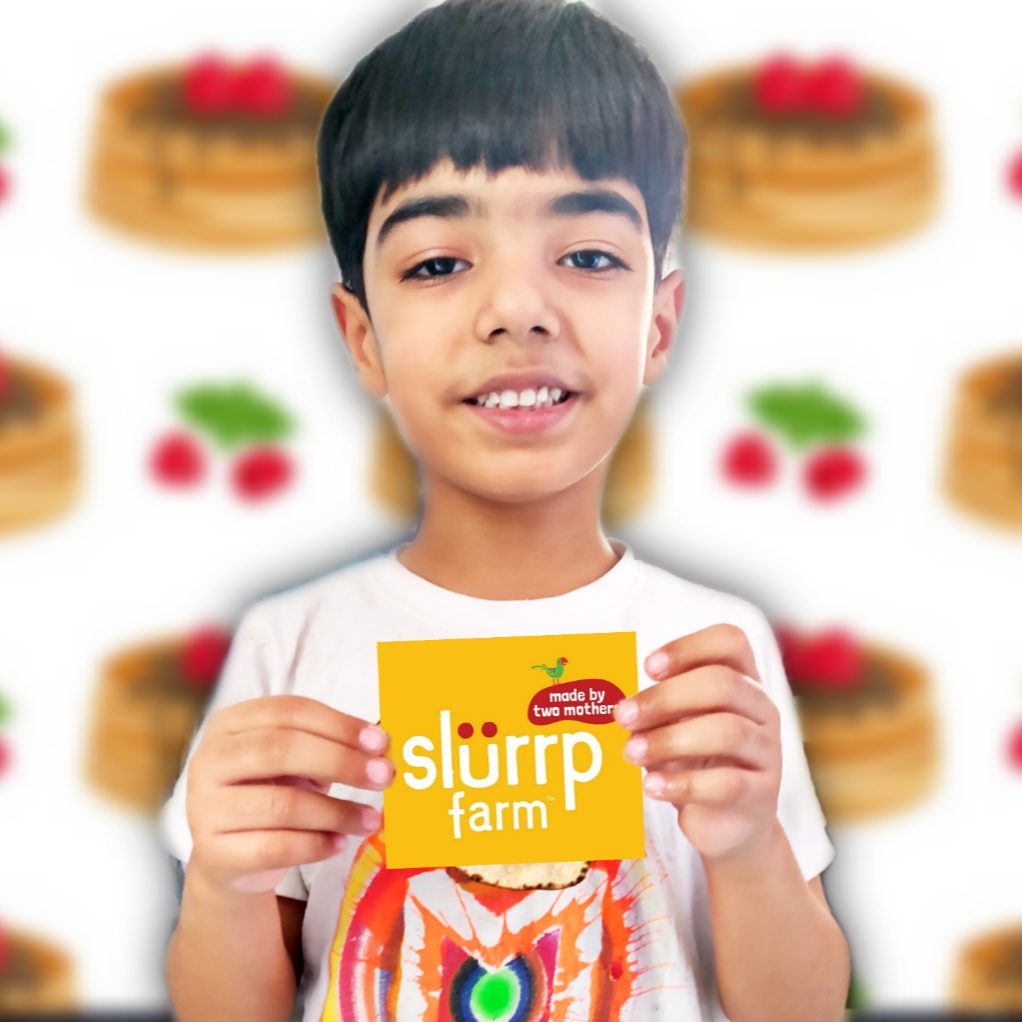 Slurrp farm, Made by 2 Mothers! The tagline is sure to touch your heart the moment you land on their page www.slurrpfarm.com But do their products actually live up to the "Made by Mothers" kind of claims? Stay tuned with me as we do a Slurrp farm review today, talking about the products they have in store.
What is Slurrp farm?
Before I write down a review for Slurrp farm , let me introduce you to the brand. Slurrp farm is the passion-child of Meghana Narayan, Umang Bhattacharryya, and Shauravi Malik. "My mum used to force a Ragi drink down my throat, I wish we could come up with a yummy way to eat Ragi", says Slurrp farm . "And in just over three years, what started as an experiment in our own home kitchens has now turned into a loved kids food brand; available serving its first 500,000 customers. We sell across several leading online platforms and our products are available in stores in India and the UAE."
Slurrp farm is a brand dedicated to bringing nutritional and healthy food in a palatable format for our kids. Their struggle started when they wanted to give yummy and healthy food to their kids and wanted to reinvent the process of introducing high nutrition millets like ragi. Thus, in October of 2016, Slurrp farm as a brand was born.
Slurrp farm Product Range
They have a vast range of products for children 6 months onwards. Here is a list of their products available in the Indian Market:
Millet Pancakes
Millet Dosas
Cereals
Natural Sweeteners
Daily Superfoods
They have multiple variants in most categories, offering a great variety in the healthy foods section.
Slurrp farm Core Values
Here is what makes Slurrp farm foods really special – their NO JUNK policy. As it is made by two mothers, they wanted to ensure that children today meet proper nutritional requirements without ingesting junk. This means a healthy, leaner body and an active mind, in a growing child's body.
Their foods are free from 'excessive refined sugar', refined flour, trans fats, preservatives, and more.
Their superfoods enlist powerful grains, cereals & pulses like
Ragi
Jowar
Amaranath
Lentils
Chia Seeds
Nuts
Oats
Bananas
Jaggery
Foxtail Millet
Slurrp farm Products I have Tried
I have tried the below-mentioned products by Slurrp farm :
Millet Pancake & Waffle Mixes ( Banana /7 Chocochip, Blueberry, Choco-ragi)
Millet Dosa (Spinach & Beetroot)
Cereals ( Ragi Rice & Strawberry, Ragi,rice & Banana)
In today's Slurrp farm review, I will be reviewing their Pancakes range.
Slurrp farm Pancake Recipe
The Slurrp farm pancake recipe is very easy to make. All of their packs have the recipe printed clearly. You can make it with or without egg, following the instructions on the pack. The below method is what I usually follow:
Simply crack and beat an egg in a large bowl.
Add around half a cup of milk and half a cup of the Slurrp farm Pancake Mix.
Give this batter a good mix and let it rest for 5 minutes to allow the ragi and other ingredients to soak up and make a good batter.
Heat a pan or a skillet.
Apply a thin layer of butter, pour a ladle full of the batter, and cook it on a medium flame for about 1.5 – 2 minutes.
Then you flip the pancake and repeat the process.
Once the pancake is made, serve it hot as it is.
You can also add toppings of your choice like berry compote, choco chips and cream, maple syrup, chocolate syrup, fruits, dry fruits, honey, nut butter, Nutella, and other toppings.
Slurrp farm Review
Slurrp farm Review for Choco-Ragi Pancake:
The first thing I would like to say is that I have been a patron of their ragi-chocolate pancake ever since it hit the market in 2016. I always have an open pack and a new pack at home, at all times. One of my sons is a very fussy eater. I constantly used to worry about his nutrition, also because he is very fond of sweet foods. In such a case, the ragi chocolate pancake from Slurrp farm seemed to be my best bet.
I've let my son have the pancake at all occasions – in the tiffin, as a portion of picnic food, as a weekend food, like lunch, or breakfast, or dinner, or as a snack. Since it is filled with great ingredients, I don't have to worry about him meeting nutritional values, or overindulging in food that is junk. He likes fruits as well, so I usually top his pancake with some chocolate syrup and add chopped bananas to them.
Slurrp farm Banana Choco-chip Pancake Review
The Banana choco-chip pancake did not quite suit us as the batter seemed to be mushy and sticky and did not cook thoroughly for me, even though I tried it many times. The taste & nutritional value are both amazing, but the pancakes would come out misshaped, or somewhat uncooked from the center. They do contain actual choco chips in them so they are fun to spot and eat.
Slurrp farm Blueberry Pancakes & Waffle Mix Review
Slurrp farm Blueberry Pancakes are their newest entrants. I personally am a huge fan of blueberry pancakes in general. So when I heard about these, I had to get it!
The first time I made a batch of these for the boys, I made small pancakes, around 1-2 inches in diameter. Then I drizzled them with some strawberry syrup and served it to the kids. In all honest words, I have never seen any other food vanish so quickly! I had to make the batter thrice!!! I snuck in a bite or two, too, and they are indeed one of the most heavenly foods that I have made at home.
The Slurrp farm blueberry pancake pack has actual blueberries that plump up/mush up while cooking and yield one of the most distinct blueberry flavors. It is a burst of yumminess in the mouth, without having too much or excess of sweetness.
Slurrp farm Original Pancakes & Waffle Mix Review
I have not yet tried these. I will update this section when I do.
Final Words on the Slurrp farm Review
As I share Slurrp farm review, I would recommend you to definitely go and try them for your little ones. I would rate the chocolate & blueberry pancakes a whole 5 on 5. I would rate the banana pancake mix as 3 out of 5 as it turned out gooey for me. But do give it a try too in case it works out great for you, as the taste is undoubtedly yummy.
The pancake mixes from Slurrp farm are versatile and can be used to make pancakes, waffles, as well as simple cupcakes. They upload many recipes on their site for you to enjoy making at home, with your kids.
It is a great meal cum snack for kids as well as adults. Indeed their pancakes are the best there are in the market. However, some may find the product to be slightly overpriced. But I prefer to buy these over junk and other poor ingredient mixes for my children.
KINDLY NOTE: ALL PICTURES HAVE BEEN TAKEN FROM THE SLURRP FARM WEBSITE WWW.SLURRPFARM.COM. NO COPYRIGHT INFRINGEMENT INTENDED.
Have you tried Slurrp farm Pancake Mixes? How did you like our Slurrp farm Review? Do share with me in the comments.
This blog is a part of the Lets Blog with Pri challenge, Season 2, week 7.
Hosted By :
Prisha Lalwani
Mummasaurus.com
IG: @mummasauruss
FB: /mummasaurus1
You are invited to the Inlinkz link party!