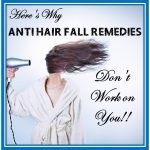 Tried this and tried that… what all do we not do for that crown full of hair! While some methods and remedies work like magic for some, they fall absolutely flat on their face with some others. "Individual differences may be" is the excuse we give to our self. But there's a lot more to hair fall than what appears to be. There are reasons why Anti hair fall remedies don't work for you.
Reasons why Hair fall Remedies don't work
The first step to identifying a remedy is to identify a problem in the first place. You cannot treat diabetes merely by cutting down sugar intake.
There can be several reasons why hair fall remedies are not as effective as they should be:
Hormonal issues like PCOD, Thyroid or phases of pregnancy or post pregnancy
Rough and dry hair that break and cause thinning of hair
Vitamin and other nutritional deficiencies
Ageing
Genetics
Most women identify a rapid loss of hair strands and a receding hairline after delivery. That point onward managing hair becomes a problem. That is why jumping on to hair fall remedies without identifying the actual problem makes them fall flat and are vain.
How to Stop Hairfall?
The Million dollar question – what Hair Fall remedies work?
The first step that anyone needs to take is to get a diagnosis done. Often, more than one factors come in to play. Remedies often involve medications, supplementations, and general care. Compiling for you today is a list of these steps that you can take, ALONG WITH medications recommended by your doctor.
Be regular with your medicines.

If you have medicines prescribed, ensure you consume them on a regular basis. Discontinuing any medicines on your own will only bring back your worries

Oiling your hair is good, but stepping out of your home with oiled hair is a disaster.

We live in polluted times, and any oil on the hair only attracts and settles dust and pollution particles. This dust and dirt ruin your hair. Shampooing your hair after 30 minutes of oiling it is ideal, but you may like to keep the oil overnight as well.

Shampoo your Hair frequently
If your hair is dry, oil your hair at night or half an hour before you shampoo your hair. If your hair is oily, you may not require to oil your hair as frequently. Either way, rid your hair of dirt and pollution by cleaning it with shampoo every day, or at least every alternate day.
Don't rely on Home remedies alone
Several hair oil recipes are doing the rounds online, and they are effective to some extent as the herbs mixed in the oil carry certain nutrients that weak and damaged hair can benefit from. But if these remedies do not help you much, don't rely on them to work 'one fine day'. Do seek a professional consultation.
Rid your hair of Dandruff
Dandruff is not just an annoying or embarrassing issue, but also causes extreme damage to the skin on the scalp and the hair roots. Dandruff is quite responsible for weakening the roots of hair, causing them to fall right from their root.
Use Chemical Free hair solutions
Your shampoo, conditioner, serums, hair packs and whatever you choose to put on your hair – try to have a chemical free option. Products free of SLES and products which are natural and organic are a boon to your hair.
Consume your Vitamins regularly
Whether prescribed or even if not, consuming vitamins is a good idea. Doing good for hair is Vitamin E and Biotin.
Zenith Nutrition's Biotin Capsules
Biotin is a part of the Vitamin B family, but is also known as Vitamin H. The vitamin is crucial for
Good health of hair
Reduce Hair fall
Goo health of nails
Regulating metabolism
Managing blood sugar levels
Supporting Cellular Energy Production
Promoting healthy and glowing skin
Dosage is 1 capsule, once a day. I also take my multivitamin supplements to ensure an overall balance of vitamins and nutrients, which we otherwise miss from our daily diet.

I Suggest Zenith Nutrition Biotin capsules because
No Animal Sources for their Nutrients
No Sugar or Salt
FSSAI approved
Free of Toxins
Free of Metals
No added Flavors and colors
No Gluten
Easily available
Price and Availability:
Zenith Nutrition Biotin ( Vitamin B7 for Hair, Skin & Nails) is available easily on Amazon.com and other leading medicinal stores.
The price for a bottle of 60 capsules is INR 820
Do SHARE this blog with your friends to spread awareness about why Hair Fall Remedies Don't work. Help them find better strategies to combat the demons of Hair Loss.
You may also like to read Winter Care for Your Bones: Easy Tips & Supplements
Disclaimer: This post is a Sponsored post, but the views expressed in the article are of the writer alone.