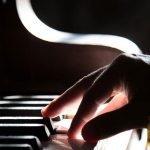 The prompt for this week's FridayFotoFition is a hand playing piano.
My story around the picture prompt is titled:
Hitting the keys of the Piano of their Soul, in Search of Music
"Music cuts through you, the emerging tunes are the reeking blood of your veins. But no one sees, no one knows … except for the one that's burning in the flames of agony… hitting the keys of the piano of their soul in search of music."
She couldn't stop his words from echoing in her ear, in her mind, in her soul…!
He taught her how to play the piano … he taught her how to rise in love. But all he never taught her was how to deal with betrayal. How to tell yourself that it's ok, that may be this is how it was meant to be or may be that she'll have to live with this forever.
The audience continued to clap for her, while she hit the keys of the piano in frustration. She kept telling herself, no matter what, the show must go on…
&, it did!
#FridayFotoFiction Challenge is hosted by two amazing bloggers Tina & Mayuri where they give out photo prompts and bloggers have to write a 100-150 word tiny fiction around it. It can be anything. Every week they pick up a Featured Blogger from all the participants of the week. At the end of the month a monthly winner who gets Cash prize!