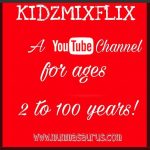 Every second day, news headlines with YouTube videos make it to out timelines… and none for a good reason. With horrible and aggressive content being shared with kids in the form of fun videos is an actual threat to our society. But one day, I stumbled upon KIDZMIXFLIX – A YouTube Channel for ages 2 to 100 years!
The channel is organized and managed by Sunroof Music, run by Grammy Award Nominee Frans Erkelens and Barrie Corbett.
Frans has written and produced children's songs for the likes of the Smurfs, Paddington Bear, Rupert Bear and Trolls. They have produced 12 catchy songs incorporating fun cartoons about evolution and different varieties of dinosaurs called DINOMIX. They're great to share with parents, grandparents, friends, for understanding the
history of the world and to get children moving!
So when the channel comes from such a promising house, who wouldn't fall in love with them?
Theme:-
The channel hosts a series of videos that explain how the earth came to be and how living beings were formed. It talks about how the Dinosaurs evolved and what were they like when these massive beings walked the earth. The video series begins with a tiny being, indicated as an alien, comes to visit earth and witnesses all that is happening here. This tiny flying alien becomes the guide throughout the series and is quite a cute character. Here's the trailer for the Dinomix series of videos:
Visuals:
The visuals mostly consist of cartoon characters that look rather goofy or funny. They move around in a hilarious fashion, adding to the humor quotient of the content.
Audio:-
The music is mellow and very soft on the ears. It is hum-able and within seconds you will realize that your head is gently swaying and your feet are tapping to the beats. It is striking because it has a 90's feel to it. This is one factor of being a sing-along channel makes it easy to connect with for all age groups.
Content:-
The content of the videos is rhyming, making it a song with the lovely tunes. This enables children to easily remember the sequence of events and the ever so difficult names of the Dinosaurs. The background voice is clear enough, which helps even little children understand the words clearly.
Language:-
KIDZMIXFLIX hosts a series of 12 videos in Spanish, English, Dutch, French, and German, each, catering to a worldwide audience.
Length:
The videos are moderately long, which ensures that sufficient information is shared before the viewer feels bored.
Countless Years Ago – 2:30 Minutes
2. Welcome to the World of Dinosaurs – 3:35 Minutes
3. Three Very Big Guys  – 3:56 Minutes
4. Pterodactylus Chaos – 2:50 Minutes
5. Call Us Stegosaurus – 2:29 Minutes
6. Just Call Him Archaeopteryx – 2:05 Minutes
7. Watch out for T-Rex – 2:54 Minutes
8. Tri Tri Triceratops – 2:59
9. Everyone Knows I'm Ornithomimus – 2:23 Minutes
10. Galloping Eohippus – 3:14 Minutes
11. BrontoTaxi – 2:31 Minutes
12. Give a Wave Goodbye – 3:12 Minutes
Click here  to get to the YouTube Channel of KIDZMIXFLIX
Hit the Subscribe button to get notified for newer uploads every 2 weeks.
Here are some of my favourite videos from their playlist:
Don't forget to share this article with your friends and family, and tell them bout this lovely YouTube Channel that the entire family can watch together. Do let me know how you liked this post in the comments below!
Disclaimer: – This post on KIDZMIXFLIX is a sponsored post. All the views and ideas expressed in this post are mine alone and honest.