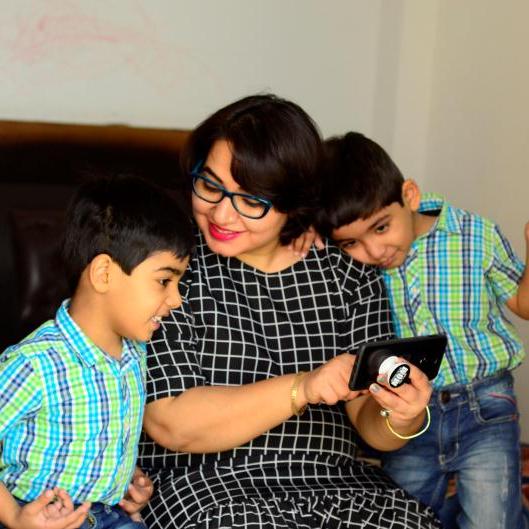 As a parent in a nuclear setup, I totally understand the plight of keeping your children engaged.Engaging children not only needs you to think on your toes, but also needs you to be present with them at all times. As a mother, we know that this is one Impossible situation – to forever be around your young ones. Ask children grow, they seek more and more stimulation in order to learn better and keep their ever growing minds busy. That is where the Lipa Land app comes to my rescue.
What is the Lipa Land App
You may think that this is just another app for children, but there is a lot about Lipa Land that is better and different from your everyday phone app. The app is a content and entertainment based app, developed towards making the most of the screen time for kids. The app helps children learn better and develop new skills. It encourages value reading and game playing, imparting important general life lessons in the game and story format. It is an app where you can let the kids play unattended because everything in the app is tested safe for the consumption of young minds.
Here are some key Factors that make Lipa Land an absolute Winner
1. Timer
Nothing works better than a times. You can create a timer for usage of the app and set a usage time limit. So when you hand over the phone to your kid and give them a time limit, Lipa Land makes sure they adhere to it.
2. Separate Profiles
The parent can create create separate profiles for separate individuals. I created separate profiles for Chirag and Chitransh, which helped me track and know the features they are using. Lipa Land helped me track their learning., usage and progress.
3. Varying Difficulty Levels
Lipa Land app has games and stories with easy, hard and medium difficulties. This helps children across age groups be able to utilize the app appropriately. From reading skills to game skills, children can choose based on their liking and capacity.
4. Relevant and Practical Material
Lipa Land Games and activities have strong relevance to everyday life. For example, one of the games needed players to collect trash from the ocean. I particularly love that game as indirectly, it tells kids to keep the oceans clean. It imparts an important lesson in keeping the environment healthy, without having to lectire them with complicated words and methods.
5. Go beyond reading stories
Lipa Land has stories that can be read by children, or by you, or you could even have the app read it for you.
The Stories give a book feel while reading as you get to swipe pages and see cute little illustrations that go with the story. Stories too have varying difficulty levels so you could read them or you could let the child read them on their own. Some stories are in chapters so you can keep the mystery alive and read a chapter everyday.
You can also do related activities or a simple question answer activity after reading out the story. This helps you understand the comprehension levels of children and is an interesting activity to engage in, after the reading is done.
6. Lullabies
Putting kids to sleep just became easier. If you constantly look for sweet little lullabies to sing to your children, Lipa Land has that sorted for you. You can play gentle lullabies that can be played as a tune for as long as you want to. You set a timer in the lullaby tab and the lullabies continue to play.
7. White Noise
Many parents like to use white noise instead of lullabies to help babies sleep. You can play white sounds on the app  and even incorporate some of those in the lullabies you are playing. I absolutely love using this feature at night for my twins. It helps them soothe and eventually fall asleep. On days that I feel very tired and can't sleep, I like to use the white noise for myself too.
8. Lipa Land is fun for the whole Family
From DIY activities, to games and experiments Lipa Land has engaging options for the whole family. The entire Family can sit together and plan out these activities or play games together, spending great time together.
So when we talk about Lipa Land, I never see my kids glued to the phone with their necks bent and eyes pretty much into the screen! With Lipa Land, the twins tend to laugh, giggle, and interact with the app and with me while using the app.
Lipa Land is a winner in our homes and whenever we use the screen, it has to be with Lipa Land. Fun, entertainment, engagement and learning all roped in to one!
How to Get the App
Have You tried the Lipa Land App yet? If no, then visit here and get it today!
Please do share this blog ahead.
You may also like to read: Let's Talk Nutrition in Children