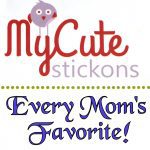 Even though my Twinadoes are fraternal, yet the confusion between them and their things is practically perpetual. Even when we buy the exact same thing in twos, there's a banter, a quarrel and sometimes a full-on battle between the two regarding that one particular object. The craze multiplied when we started school for them. Apart from just their arguments over "what's mine" is the never-ending labeling and writing everything with a permanent marker on TWO things! For sure that sucks up a lot of time and effort and yet, is very short-lived. I lived a life of a referee with my Twins unless we found out My Cute Stickons.
About My Cute Stickons
My Cute stickons is a venture determined to make your life easy. The brainchild of a Mompreneur, Romilla, came up with the concept of labels that would help keep your child's belongings from being lost or mixed up in school or other gatherings like swimming or football classes. She designed each label meticulously and came with the labels for everything that you may possess. From school bags to towels, to clothes, sports gear, tiffin and water bottles and what not!!
My Gift pack came with this adorable tag 🙂
My Cute stickons also makes labels for addresses, notebooks (Phew!), baby shower, restaurant items, and practically everything that you'd want a label for.
Made of Vinyl, these labels are heatproof, microwave safe, dishwasher safe, regular waterproof and actually quite durable.
How to Use My Cute Stickons
To be able to use these stickons you need to call for 3 astronauts who can then hold the item and carefully stick the labels with glue made of moon rocks. This is a crucial step as without these the labels won't be to the best of their use.
Ha!
Using the stickons couldn't get easier. All you have to do is remove the sticker from its sheet, neatly place it on a clean and dry surface and press well. Ensure that there are no large air bubbles stuck between the surface and the label. Also, ensure all 4 corners have stuck well onto the item to ensure the durability of the sticker.
For the Iron-on labels, peel off the sticker from its sheet and place it on the material. cover the label with a sheet of butter paper given with the pack. Now set the iron to wool or delicate cloth and place it on the butter paper and label. After a few seconds, remove the iron and let the fabric cool.  Repeat this procedure 3-4 times to get a good fix of the label on your items.
You can also view a video tutorial of the same here.
Mummasaurus's Experience
One look at the labels and I was swooning over them. Their designs were really very cute and I couldn't wait to share it with my KIds. Positives of the stickons, as per  my experience are:
Very convenient as You do not have to keep writing with a marker time and again
Very easy to use, just peel and stick
Durable and long-lasting
Super cute designs and tons of those to choose from
customizable to your child's liking
designs are really very cute
These are chirag & chitransh's sets.
My kids would peel them out from their items easily. So if your kids are still a bit young and would rather get into the peeling of stickers, then you could wait for some time before you order a gorgeous set of these.
Tips for twin parents: Please buy sets with the same designs if you want to avoid any fighting. I had a nightmare trying to convince them that both their designs are fun. They were both hung on to the superhero one, even though one really likes cars!
These are shoe lables:
Mummasaurus's Final Verdict
Would I buy them again – Definitely!!! Go ahead and make your purchase now by getting onto the site here.
If You liked the idea of the stickons, do spread the word by SHARING this article.
You may also like to read Softsens Baby Products Review