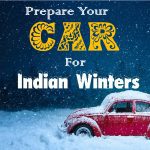 #sponsoredpost
India, just like its culture, has a diverse weather pattern. While winter in some parts of the country is just a more tolerable summer, some parts get to really low temperatures and feel the chills. In all the hullabaloo for these cities during winter, we often tend to ignore our cars. Cars are definitely one of the most crucial of the modern day equipment we use to get around our day-to-day lives.  From dropping the kids to school to managing the grocery or overall household, or even leaving to work, a woman's life is a lot sorted, thanks to cars. In such a case, it does become important to treat our machinery with utmost care – in order to lower the chances of damage or unexpected setbacks and give our machinery the care and love it definitely deserves. Talking about a Quick Guide on how to Prepare your car for Indian winters, we have a compilation of easy tips to take note of.
Service of the Car
Who knows better than a fellow mom that you never get enough time to get your regular chores done. Dropping your best friend, the car, at its beauty salon is a different thing altogether! But if you need your beast running fit and fine, get it it's due servicing done right when winters are beginning.  The best thing is to Prepare your car for Indian winters, so you don't have to deal with your car's tantrums.
The Temperature Gauge on your Dashboard
Sometimes … well Ok, a lot of times mothers tend to get late because of all the chores they have to manage before they leave home. On a chilly winter morning, it does appear that the temperature gauge on your Car's dashboard shows a "C" for cold. This does not mean that your car's engine is cold. You don't need to leave it on for a few seconds or rev up the engine like it's wolverine's machine.
All that means is that your engine oil has gone cold. The only way to get your car in the best of shape early morning is by simply driving it. Just take note that you don't drive too fast or your car will exhibit resistance or non-compliance. You'd want to avoid that as no one wants that on a cold chilly morning.
Your Battery feels the Chills too
Winters make it difficult for your car batteries to accept a charge. So if a change is due, Prepare your car for Indian winters way before the weather strikes an alarm.
The Car Wipers are your Angels
A lot of accidents happen because of car wipers. Surprising??
A lot of wipers do not completely erase the mist and can cause fog build up, leading to drastic situations. So having your wipers fixed or even changed is a good idea.
Car Lights
Use some car wax to clean your fog lights and your car lights for two reasons. One, it keeps the glass clean and two, it avoids any scratches that a simple rag may cause. Scratches can lower the efficacy of the light and we definitely don't want that.
Show some love to the Engine
Winters indicate that of all other things, the car's engine needs attention too. Flush and cool the engine when winters set in. This Prepares your car for Indian winters well enough for the coming season. Be sure not remove the cap of the radiator unless it has cooled down entirely.
Tad Bits here and there
Get the driving belts, clamps, hoses, leakages and other such things checked up by a mechanic well in advance.
The Oil de-freezer in order to Prepare your car for Indian winters
If your city tends to freeze up sometimes, keep a bottle of oil de-freezer handy. You can pour it into the engine to keep little icicles from forming inside the tube. It may be required to change regular tires with snow tires in case your city freezes for several days or runs really low temperatures.
Taking care of your car is as important as taking care of an accessory you own. Your car is a great help on most days so it becomes crucial to Prepare your car for Indian winters. Preparing your car for Indian winters is essential to prevent any sudden calamities or a breakdown at the wrong time. In case your car is really out of order and you are planning to sell it, or even want to buy a new one, head on to https://www.cars.com for the best of deals.
---
If you liked reading this article, you may also like to read: Solution for Pollution with Dr. Wafia Abbas
Don't forget to share this article with your friends.