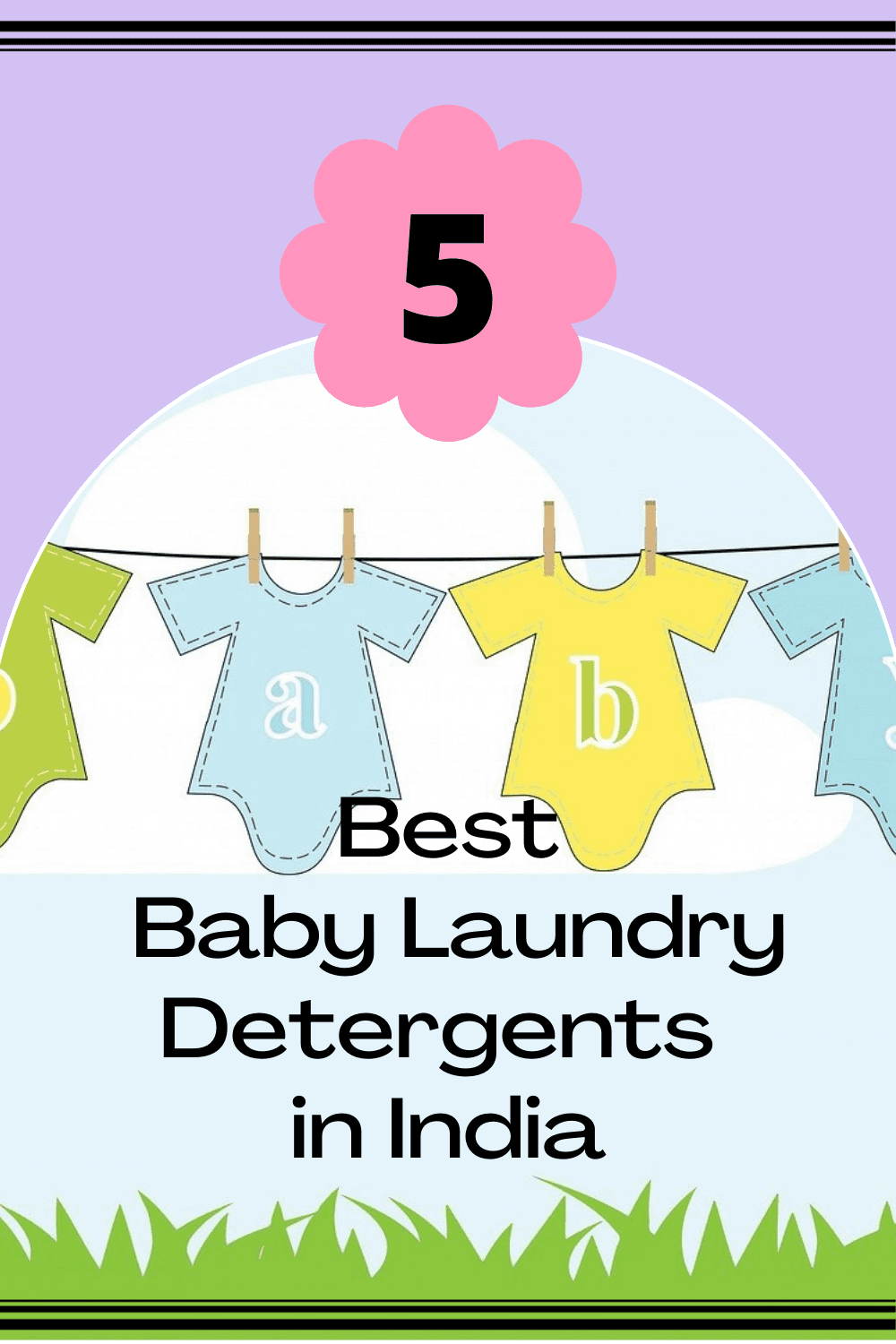 The moment we get the BIG NEWS that a newborn baby is on its way – life never remains the same. From having their own wardrobe space, to separate food choices, newborn babies need a new of it all! A majority of parents have also started using specific baby products for a newborn's skin and hair. Now, when it comes to laundry detergent, a lot of parents are opting for the best laundry detergent that is for babies. In today's blog, we would check all the popular and useful brands that baby laundry detergent in India
Laundry Detergents in India
The concept of a specific laundry detergent for babies is kind of new in India. Meaning, that when I was a new parent, 8 years ago, the concept wasn't quite commonly known. Fast forward to current times, parents are well aware of the advantages of having a separate laundry detergent for babies.
Everything about newborns is about purity, softness, free from harmful chemicals, and great with fine cleaning of their essential items. The same applies to laundry detergents. Laundry detergents are expected to be made of natural ingredients and smell nice, while they are free from harmful chemicals and make baby clothes germ-free. Not just that, baby laundry detergents should also be able to provide a sensitive cover to the baby's skin. Laundry detergents for children make sure that they keep the clothes fragrant and soft to provide the best comfort for babies.
Baby detergents are also tasked with the cleaning of specific stains better. Stains common to children like milk, baby purees, and the poo and pee stains are removed carefully, gently, and appropriately by baby laundry detergents.
Best Baby Laundry Detergents in India
1. Mother Sparsh Plant-Powered Baby Laundry Detergent
Mother Sparsh is one of my trusted brands when it comes to laundry detergents. It packs a plant-powered formula that is safe for babies. It has plant extracts and essential oils that make sure of appropriate cleaning and germ-fighting action. Mother Sparsh Baby Laundry Detergent in India is tough on stains of all kinds and very effective in stain removal. It takes a little bit of soaking and the stains come off very easily – whether washing baby clothes by hand or by washing machine. Its stain removal and antifungal and antibacterial action work with hand wash as well as machine wash.
It is made of natural ingredients
like aloe vera, neem and eucalyptus oil, which ensure protection from germs while also providing a gentle method of cleansing. It is free of all kinds of harmful chemicals like SLS/SLES, phosphate, parabens, sulfates & bleach.
Mother Sparsh Plant-Powered Laundry Detergent for Babies keeps clothes soft and tender, to be suitable even for newborn babies. It is also Biodegradable, natural and non-toxic and hence it is even a laundry detergent for babies with sensitive skin.
Mother Sparsh Plant-Powered Laundry Detergent
for Babies is available for INR 649 for 1 Litre and is often available at a good discount on eCommerce sites like Amazon, Flipkart and others.
2. Chicco Baby Laundry Detergent
Chicco was among the first few brands I had heard of when talking about laundry detergents. It is gentle and careful when dealing with baby clothes and fabric. Chicco laundry detergent could conveniently get rid of stains, smells and germs from baby clothing. It has an antibacterial and antifungal formula, which also packs a great fragrance. It is free of harmful chemicals like fluorescence, Phosphorus, colorants, and other brighteners and suitable for machine wash as well as hand wash.
Chicco baby laundry detergent is available in 'Spring Fresh', with 5X Stain & Germ fighter.
It is available for INR 499 for a 1-litre Jar
Himalaya Gentle Baby Laundry Wash
Himalaya is a brand known for using natural ingredients in its products. They have also quite recently launched their baby laundry wash and have been among the preferred brands for moms. Himalaya assures pure and gentle cleaning, with appropriate stain removal. They also get rid of odours from baby clothes, making babies and their clothes smell fresh and pure all day long.
They have many natural ingredients like neem, reetha, lemon peels, and geranium. These ensure great cleaning, powerful anti-microbial action, and a clean and fresh-smelling laundry load.
Himalaya Gentle Baby Laundry Wash is available for INR 495 for 1-litre Jar
The Better Home Laundry Liquid
The Better Home Laundry Liquid is made from natural ingredients that help loosen up stains and wash off from baby clothes quite conveniently. They break down stains, including those of grime and grease in case they get on to your favourite baby outfits. It is one of the best products that are safe for the baby and safe for the environment. The product easily washes off from clothes and when running down after wash, it does not harm the environment of any living beings. It is free from harmful chemicals and is also available in a 500 ml pack.
It is available for INR 165 for 500 ml.
5. MeeMee Mild Baby Liquid Laundry Detergent for Baby Clothes
MeeMee Mild Baby Liquid Laundry Detergent is a formulation that comes with a wonderful fragrance. It packs powerful ingredients that are a touch on stains, but gentle on baby skin and mommy's hands. The product is great for machine wash as well as hand wash and assures easy stain removal even for the hardest of stains.
The MeeMee Mild Baby Liquid Laundry Detergent also assures removal of odours and stains coming from milk, which, honestly, can be very hard to get rid of. The product is free of any harmful chemicals and provides a convenient wash with minimal effort while protecting the skin of your baby.
It is available for INR 799 for 1500 Ml.
My Experience
Laundry detergent for baby clothes, especially plant-powered ones, has been very helpful in not just rinsing clothes, but also getting rid of harsh smells and spots. I have been relying on them to treat any hard stains that stain clothes and also retain bacteria and germs on them. With this list I have collated, choosing a laundry detergent will now be easy with these comparison points handy. If you have any more questions regarding baby laundry detergents in India, do drop them in the comments below.