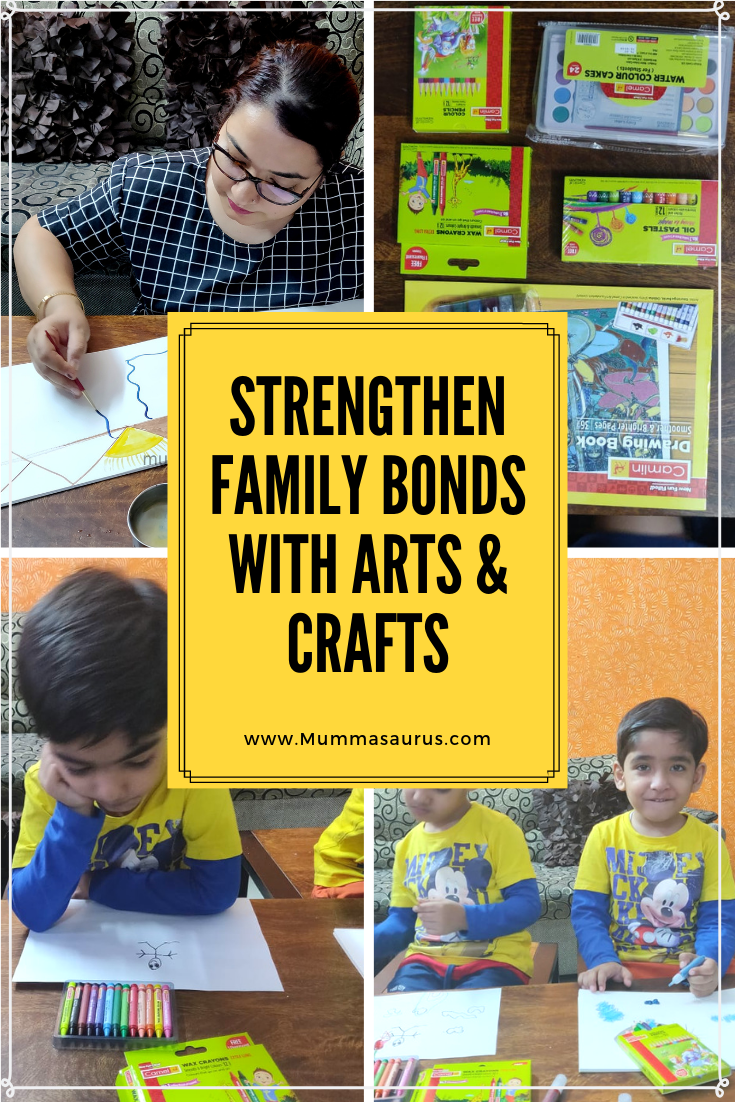 It's been 30 years since I learned to hold a pencil and use it. Back in the day, in our times, moms did not use colours, or any such activities, before school commenced. So, this is pretty much the age when I first started using Camlin colours too! I still remember having a favourite set of pencil design. We didn't have too many options, but the Flora pencils from Camlin were my must-have. The lovely pink flowers and mild green leaves on the white pencil still hold the favourite spot in my heart. Now when I have introduced stationery to my kids, we use many Camlin items, regularly – the Flora pencils, Fabrica 3D Glitter, Camlin Colour Pencils, Mechanical Pencils, Camlin Wax Crayons, Camlin Oil Pastels – you name it, we use it. And lovingly enough, Camlin continues to be our brand of utmost trust.
Weekend Art & Fun with Camlin
Weekends are full-on family time for us. We keep away from our screens as much as we can and do activities that build our bonding, as a family. One of our favourite activities is simply holding a painting competition among ourselves. It is crazy fun to see the kids go full-on with their father, who seems to have an artistic streak.
Daddy loves to use colour pencils and despite being this age, has a set of Camlin Colour Pen-Pencil set, all to himself. Nobody's allowed to touch it, not even me!
Chirag and Chitransh rather love the oil pastels and crayons more. They love to complete their drawings, still learning to colour within the lines. Chirag specifically loves to add glitter to his artwork – his favourite being the stick man drawing who is holding an ice cream. And guess what, the cherry in that ice-cream is always made of Camlin Red Glitter!
Camlin, because Art is also for the Non-artsy
When it comes to me, I'm not very gifted with art. But Camlin Students Water Colours cakes have to be my favourite. I love to use the brush and wet cake paint as it helps me work better with my imagination. And when nothing else works, I resort to hand-printing with Camlin Students Water Colours cakes.
Most days when I'm feeling very stressed managing my kids and my blogging career, I feel stuck in the situation. Just as the kids go to sleep, I pull out some paper and just scribble around with the paintbrush – all alone. It helps me relax and end the day on a positive note. I do not like to show those drawings and paintings to anyone as those artworks are for my eyes only!
Believe it or Not
Believe it or not, Flora pencils are something I hoard on to even today! Every time I use them, I feel like I have moved back to my time, the time of my childhood. I always keep one stuck behind my ear, because it is handy to find. And when I used to have longer hair, I'd always stick one in my hair bun.
Isn't it amazing how some brands become such an essential part of your past that you just never want to let go off them? I'm very happy that Camlin has made learning fun for many years, and that my generation used it, and so does my kids' generation.
In Camlin, we trust!
If You loved reading this article, you would also like to read: Can Learning Music affect a child's brain?