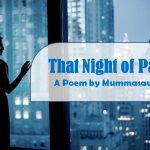 There was this one evening where I was particularly upset about someone very close to me being shattered. That pain, plus a few other things that also happened at pretty much the same time, was enough t take my sanity away from me.
I decided that should vent instead of carrying it all inside me. Certain words began to come up in my mind, and I  just penned them down that night. Later, it seemed to shape up in a poem and all my emotion, so strong, discovered an outlet through the poem.
So here is a short poem on That Night of Pain:
I shut my doors
& lock them up tight
no one could come in
no sound and no sight
I'll be on my own
till the break of dawn
and worry myself to a betterment
till they wake up with a yawn
I hate the noises that come in
but I wish someone did speak
but I have a pain of letting
my problems myself to keep
One friend two friends and a hundred
I'll keep not one for me
I'll weep, I'll write, I'll drink it through
for no one fathoms me
My pain makes me miserable
so does that of my love
though my misery multiplies
goes on to my heart
I'm sorry I wish I could say
that it hurts me to see you sore
I wish I was the sponge
your problems absorbed more
I'm sorry I can't take it
but I'll take to heal you so
for you mean the world to me
more than anything, myself so
They say the pain you have in
is what comes out in poetry
I wish I may, I wish I might
write away my misery!
If you liked this poem, you would also like to read Meri Maa, a tribute (in Hindi) to my Mother and our eternal bond.
Do leave me a comment on how you liked this emotional poem.