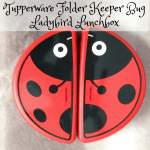 When you talk about a hygienic, durable and affordable range of containers and tiffins, there's just one name that resonates with every Indian Household – Of Tupperware!! Ever since I was a young girl, when Tupperware was launched in the country, I saw everyone raving about it. Slowly and Gradually, my home has something from Tupperware from every corner of the house! When my kids started school, my choice for their tiffin again had to be Tupperware. But I completely lost my heart over their latest Tiffin range. The Tupperware Folder Keeper Ladybug Lunchbox is a riot in your kid's bag!
Why is the Tupperware Folder Keeper Ladybug Lunchbox a riot in your kid's bag?
It comes from the trusted home of Tupperware – that is guarantee enough!
There are certain things about the Tupperware Folder Keeper Bug Ladybug Lunchbox that I was totally swooned by:
Tupperware's range of plastic products has usually been in a pastel color. But the Tupperware Folder Keeper Bug Ladybug Lunchbox is a bright Red in color, mimicking looks of an actual ladybug.
The shape, color, print and overall look of the lunch box is GORGEOUS!

It is an amazing choice because it can have two separate portions of food
It does not take humongous amounts of space in your baby's little bag. The Ladybug lunch box is compact and really lightweight
The tiffin lock is soft and very easy to maneuver, so even little kids can operate it easily and not go wrong with the locking. In some designs of their lunch boxes, the lids would not close completely if the kids are not careful, leading to spillage.

The Lids are attached, so there is less chance of the lid being lost after some time

The tiffin's height is more than it's width, which means that despite its compact design, it can store a decent amount of food in it. It can conveniently carry sufficient amounts of salads, fruits or parantha rolls despite their bloated size. A meal for one can easily fit into the ladybug lunch box.
The Tupperware Folder Keeper Bug Ladybug Lunchbox is a wonderful duo for giving two or more kinds of food like one can have paranthas while the other can have fruits or a salad. Perfect for mothers who want to provide a wholesome meal to their little ones even in school.
If on a certain day, you only want to give just one box, you can give it to the kid without having to necessarily give an entire big box of breakfast for your child.
The Tupperware Folder Keeper Ladybug Lunchbox is really well made and durable (It's Tupperware, of course!) I have been using it for a while and there is no sign of wear or the prints coming off. The hinges are strong and stubborn, the stickers on the box and the prints are good enough to last forever.
But just like there is never a perfect product, I felt just a tad bit of things that could have changed n the product.
The functionality of the Tupperware Folder Keeper Bug Ladybug Lunchbox would have enhanced if:
The two boxes do not join with each other. So even though they look really gorgeous, they don't look like one full ladybug. They are set in two halves

Using it as a lunchbox for kids, I miss having a small compartment or a smaller container. Small containers fit inside the lunchbox for ketchup, chutneys or yogurt.
The shape of the lunchbox curtails the usage of a regular small container fitting inside the lunchbox for dips or yogurt.
The Tupperware Folder Keeper Bug Ladybug Lunchbox is not a good option for varieties of bread. Uncut, only two slices of bread can fit into the lunchbox. So if you need to carry more than that, there is a space constraint.
The plastic of the product is soft hence it does tend to get scratches soon enough, with regular cleaning. But the color and quality of the product does not make it very visible, which is great.
Price & Availability:
The Tupperware Folder Keeper Bug Ladybug Lunchbox is priced at INR 600 (For a set of two pieces, making one Ladybug set). You can place your order through your local Tupperware Manager or through the Tupperware Website.
Mummasaurus's Final Verdict
So, if we tend to work our ways towards its usage, the Tupperware Folder Keeper Bug Ladybug Lunchbox is the best tiffin box there is for your little one. I highly recommend it for its beauty, for its functionality and for a quality product in this price range.
If you liked reading this article, DO SHARE it with your friends.
You may also like to read a review of My Cute Stickons – Every Mom's Favorite