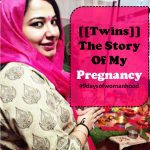 It brings me immense pleasure to share that I, along with 24 other WOMEN bloggers are celebrating #9daysofwomanhood throughout Navratri. I thank my friend and co-blogger Preetjyot Kaur Mehra for introducing me. I am a huge fan of her blog My Little Muffin where she talks about breaking stereotypes and raising her girls with power and strength!
The Prompt for today is "My Pregnancy".
---
24th May 2013.
I was waiting outside the operation theatre, in a total struggle to hold back my tears. All my beliefs about myself being a strong and 'not-the-one-who-cries-easily' finally saw the last test and failed. There was my husband and my SIL sitting next to me, not really bothered about it because to them it seemed baseless.  The doctor came out with a piece of cloud wrapped in a cloth. Some of them rushed to get a view and I stood there. "It's a Boy!" she exclaimed. My MIL called me and said, "hold it, he's yours, he's ours!" Everyone was cheerful, and of course, so was I, as I handed my Co-sister her newborn. But I had something else run in my mind too. As good an actor I have been, I masked my worries in no time. This is My Story of Pregnancy, Miracles & the struggle with Positivity.
Every morning I'd wake up, cry while making breakfast and lunch. Wipe my face, smile at my husband and push him to work, before I left for mine. I made sure I only had positive songs on my playlist because I couldn't afford to feed negativity to the demons that were gnawing at me from the insides.  I'd reach work, chirpy as I could ever be.
I'd reach work, chirpy as I could ever be. Those days you only liked a few pages from Facebook, and All day I'd wait for a page called "Positive Vibes" to post a positive quote. The only thing that kept me afloat those days.
The problem is that you don't talk about infertility to ANYONE! It's a crime.
You are supposed to burn yourself in agony and question why it isn't happening, while positivity is the only thing that can take you places but never comes in handy. I had only been trying for 3 months but it seemed like forever. Like a machine, I'd engage with my partner every night. Only to cry myself to sleep.
I wasn't interested in having babies, but I never wanted anyone to say that "They gave us a sick girl, who couldn't even give us an heir". Imagine, I was crying for someone I never wanted! That is when it became mandatory for me to visit my co-sister's delivery and all that happened.
One evening with all relatives there, we were all talking about pregnancies and when I'd have kids, while the infant and my co-sister were resting. I said, "I love twins!! I wish I had twins to myself". Everyone including me laughed.
30th of May, 2013
My dates were delayed by one day. But no biggie, PCOD gives you irregular ones, so…!! But I couldn't sleep. I was carrying a test with me in my bag and finally at 4:00 AM in the morning, I went to test it, while everyone else was in deep slumber.
IT WAS POSITIVE!
I came back, unable to contain y joy, but I told my husband. He said congratulations and rolled over and dozed off again. There on, he never told me how happy he was or how excited he was.
Early Symptoms of my Twin Pregnancy
Soon, I was asked to be on complete bed rest. Wasn't even allowed to sit. I went for my first checkup and my doctor saw a cyst in her old Ultrasound machine. She referred I should get an ultrasound done for my 6th week.
And so I did. Terrified of the cyst, when the doctor told me I have twins. I asked her twice and she showed me something on the screen I did not understand. I don't even think I could see anything for some time. The moment I stepped out, I excitedly told my husband, only to get the same blank reaction again.
I just told myself that a few days back, If I had asked for something else in that moment, I would have gotten that too. But what better could I ask for?!!
My Mom came to accompany me as I lived n a nuclear family. I remember feeling pukish and by the time I could confirm my feeling, I'd puke wherever I was. My Mom cleaned it for me because I always felt like I'll just die in minutes. I couldn't eat and I was losing weight at a rapid pace. I was always so hot, I'd sweat even under the AC. My mom would often just hold my hands and keep praying kyuki ladki to ajeeb type ki atheist hai.
In few days my MIL came to take care of me.
I was still totally unable to sit but somewhere she needed her own set of attention from me. Struggling with my own emotions and handling another emotional person was something I was incapable of at that point in time. I used to get such strong urges to puke that it used to be very loud. I remember being made fun of – that when others puked, even the person standing next to them wouldn't know. They were sophisticated women who'd puke 'softly' unlike the roars I made. FAIR ENOUGH 🙂
She spent 4 months with us, managing a DIL on bed rest which is a humongous feat in itself. She is suffering from several bone disorders, so managing the entire household and a DIL on bed rest, I can never thank her enough for that.
Every moment through my pregnancy, I was lonely and company-less. I had no hobbies I could pursue except some nail art I learned from my sister. I was depressed throughout because somehow my husband was going through a difficult state too and he was not there for me. Nope! I remember praying umpteen times about dying. Me and these two things.
The doctors & reality checks
My doctor with her ultrasound machine would everytime check the belly. "One of your kids will be a sports person – always turning and wriggling and doing something. Turning round and round and round and I can't read this naughty one properly. While the other one, I have to nudge a bit to see if he's ok! He seems rather calm, and more interested in sleeping", she'd giggle and tell me indirectly, that they are both alive for now.  (by the way, both my kids are still like that.)
On one session she gave me a reality check. "Twins seem to get delivered sooner than other pregnancies & I need you to be prepared for that." She said. " not just emotionally, but also financially, because, in case of a preterm, you will have to put them in the NICU, which is scary as well as expensive. I hope you have a management of about 2-3 lakhs".
Of ourse we did not. But faith is all that kept us afloat, and btw, only one of my babies needed to be in the NICU, that too for just one day. So i couldn't thank the lord enough.
She also had a very small clinic with no emergency or NICU facilities so she asked us to find a new doctor.
But there were different times too!
There were times when I'd see my belly grow all over the place and I'd find it so interesting and nice. Everyone hated me but I did take some pictures of my belly. It was huge and I loved it, despite the fact that till the 7th month, I did not gain a gram, in fact, lost 8 kgs of weight. This one is when I was almost 7 months pregnant.
I had stretch marks like some wild animal scratched my skin. Broad, red stripes. I used to find them interesting because I knew no one else had such marks, I was gifted!!
I named my kids Ishu and Mishu while they were still inside.
Both my babies were in transverse position with little hope to move. They barely had space and one settled on the top while one on the lower side of the belly. Now the one on the lower side of the belly was a rather nasty guy. He'd kick my bladder so much every day, I used to scold him (even called him stupid, or donkey because he used to hurt me)! Soon I thought of these names which seemed gender neutral to me. So the first-born or the one who lied below was Ishu and the one who was born after was named Mishu. Their names continue till date.
Soon I thought of these names which seemed gender neutral to me. So the first-born or the one who lied below was Ishu and the one who was born after was named Mishu. Their names continue till date.
Complications that saw no end!
Throughout my pregnancy, I was warned that I could lose one or both kids any minute. And that fear haunted me. I used to be in excruciating pain throughout. Like I'd deliver any minute. Some days I even screamed in pain. Walking or even sitting was such a horrible task, I cannot even begin to describe. I was warned of developing high sugar and High Bp throughout pregnancy. So leave cravings, all I ate was low salt and no sugar food.
My face structure had changed, I began looking very different. My shoe size also increased.
I managed to keep my health quite on track, but I couldn't avoid feeling hot. Even in November and December, I'd sleep with the AC and the Fan on.
I was almost always breathless, asthamatic and would always have a horrible cold. I communicated that to my children as soon as they were born. But let's keep the birth story for another day!
---
If you liked this article, don't forget to share it with your friends, especially your girl gang!
You may also like to read Are You Happy being a Woman in today's times
I would like to introduce my readers to my friend & co-blogger Jasmeet Kaur. Her blog talks about interesting parenting mantras and simple DIY activities for toddlers, making parenting a breeze! You can read her blog on the prompt for today at  Mommy Voyage.
This blog is a part of the #9daysofwomanhood blogathon where 25 bloggers have joined hands to celebrate the essence and strength of Being a Woman!
Hosted By :
#MyLittleMuffin
#TheMomSagas
#Mummasaurus
#TheReadingMomster