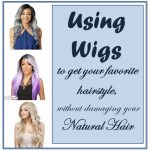 Using Wigs is undoubtedly one of the most undermined fashion accessories. I bet, once you read about wigs, you think of balding actors of Bollywood, from way back in the 90s. But wigs have come a long way after that. Particularly trending in Urban India, wigs offer a great solution to people who want to style their hair on a temporary basis, without having to go through treatments or therapies on their natural hair.
Disclaimer: This post is a sponsored post, but the views and opinions stated are of the author alone.
Certain Facts one must know about Using Wigs
Using Wigs is the most convenient way to change your styling. From coloring your hair with fancy colors to cutting them to a length of choice – Wigs are a great way to do it.
Wigs are a great way to know if a certain hairstyle would suit you or not. You can conveniently use one without making a permanent change in your natural hair. This proves to be a great alternative for people who like to experiment with their locks.
Using Wigs is as easy as it can get. There are multiple videos on YouTube that explain how to use wigs of various types.
Wigs come in a very affordable range. One can keep multiples and change them as per choice, or as per the preferred styling for the day
You can also be using wigs that adjust to the kind of hairstyle you like. For example, thin hair may not do well with holding curls. Probably curly hair won't hold a blunt bob too well. But with wigs, all hairstyles are possible for all individuals.
Wearing wigs can also save you time if you want to get to an event and do not have enough time left to go to the parlor or style your hair even at home.
It is also a good idea to rely on wigs if your natural hair has been thinning. Scalp infections, psoriasis and other problems that make the scalp look bad can also be covered up with wigs
It is a myth that wigs make you feel very hot and cause damage to the scalp. There are various kinds of wigs that do not hamper or harm your natural hair.
If you want to know where to start, check out Divastress. They are an online website that believes that everyone should feel like a diva. Their collection of wigs is really nice and highly customizable. So you can get them cut as per your choice, and some of them can be ironed out too. From options like having a half, full or an absolutely new look, they have you covered.
If you liked reading this article, share it with your friends
You May also like to read Here's Why Anti Hair fall Remedies Don't Work on You