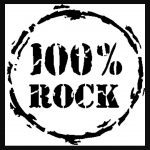 In the recent times, I have been happy and proud of being able to connect with the best of Bloggers through the medium of Blogchatter. And to take that a notch up, Blogchatter arranged for a Bloggers meet at 100% Rock.
As we enter the lounge, we are greeted by a huge Metal Sculpture that immediately builds an aura that you're going to have fun here.
Read more at www.Mummasaurus.com
We were served the following:
Veg Starters at 100% Rock
Onion Rings: The onion rings had a very crunchy and crispy outer layer with a nice and soft onion ring within. It was served with a mayo dip. The overall snack tasted nice. I liked the bite and crunch of the rings.
Veg Pizza: The veg pizza had a thin crust and a lot of toppings!! It tasted WOW!
Hara Kebab: The Hara kebab was presented beautifully and had a mild flavoring to it. I'm not a Hara Bhara Kebab Fan per se, but i liked this one.
Paneer Chilly: This is a MUST ORDER if you at 100% Rock!! The paneer was soft, the sauce was bursting with flavours, the seasoning was just right. This was the best thing served to us and  I just couldn't have enough of it!
Pita Bread with Hummus: Pita bread is a bland dish anyway. So the bread was nice and soft and the hummus was grainy and velvety – but yummy nevertheless. It tasted quite nice.
Garlic Bread: The garlic bread was somewhat dry and the layer of cheese was no fun. This one was average.
NON-VEG STARTERS at 100% Rock
Chicken Lollipop: Was just about average in flavours & softness. Nothing very interesting or tempting.
Chicken Salt & Pepper: This looked very pretty, and was moderately crunchy. It was moderately spicy but the seasoning and granishes on the top took it to a different level altogether.
Chicken Pizza: Again, nothing very great with the pizza. The crust was thin and the pizza did not seem quite flavourful or juicy on the palate.
Fish Fingers: Fish fingers had a somewhat crispy outer layer and a soft fillet of fish within. The flavours were bang on.
Chicken Malai Kebab: The malai kebabs were excellent!! Soft, flavourful and juicy – everything about these kebabs was bang on! The taste of these kebabs lingered on in the mouth for a while and we kept craving for more!!
Drinks at 100% Rock
Cold Coffee: Phenomenal Cold Coffee!! Strong, frothy, fairly sweet, creamy, thick and absolutely Chilled!! You can't ask for more for it has everything you need!!
Mojito: The Mojito seemed great but could have used some more sweetening. The aerated version was appealing and chilled while serving. Loved it!!
Iced Tea: The iced tea was more sour than sweet and did not seem to hit the right notes in the mouth. I would miss this one next time.
Overall Ambience & Service
The place is moderately lit and has colourful spot lights. The seating area is comfortable, so as to suit a lounge set up. The service was nice and quick, except for the drinks, where they took too long to make them and serve. Other services were quick though. The staff was friendly and prompt. The cutleries were pretty but regular, nothing very extravagant about the cutleries.
Mummasaurus' Verdict
Would I go there again? YES! The food was good and the feel of the place was fun.
If you liked what you read, do leave me a comment in the section below.
Don't forget to SHARE this review with your friends & Family
You may also like to read my review for Trend at Ansal Plaza, Khel Gaon.