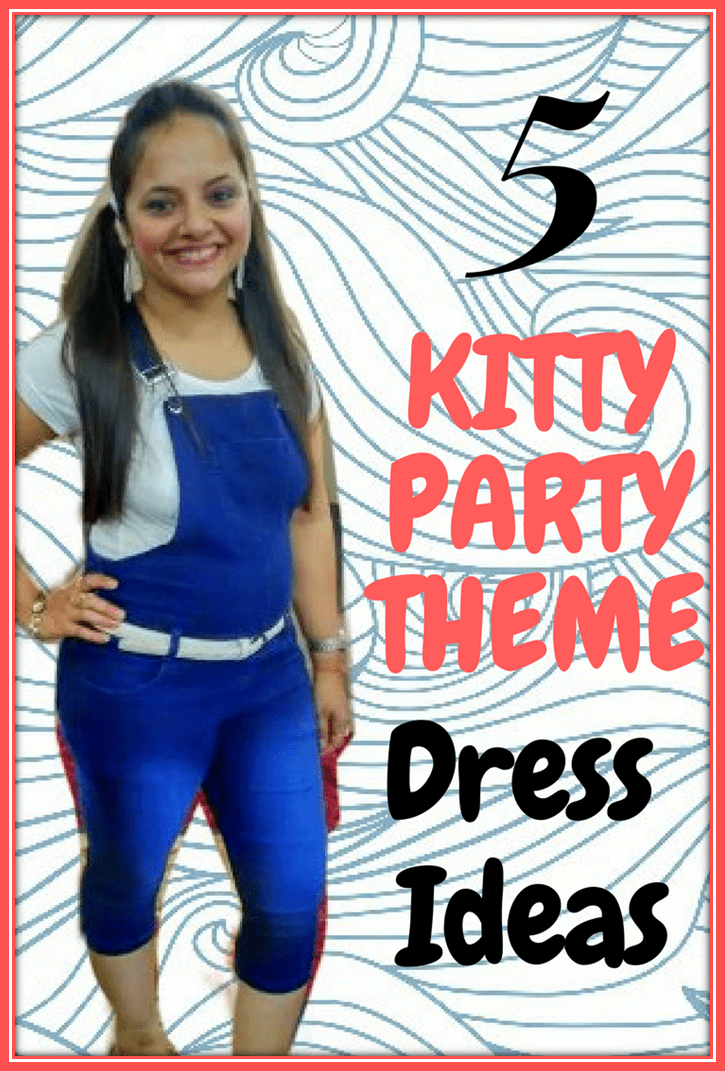 Let's Face it! The monthly catch- up sessions with your girls, is part game and part fun. Every member is looking forward to it, and wondering what to wear, to draw all stare!  But it's even more complicated for the one who's going to decide – What theme next?!! Bollywood Movies is one of the most common themes and we often get stuck as to what to wear! So to make this a tad bit easy for you, and a lot more fun for your circle of girls, here are 5 Indian Kitty Party Theme Dress Ideas for you.
The Tapori Kitty Party Theme
You have just no idea how much fun this could be for all the girls. To the invite, add the dress code as torn, tattered jeans, with a sharp color vest (fluorescents are your best bet) and a checkered shirt fastened with a knot, and you are done. Tie up your hair and wear a reversed cap. Don't forget the sunglasses or a rolled handkerchief for the added 'drama'!! If it is a contest, pull off the 'aati kya khanadala step' and you will be the best!! Such kitty party themes are usually the easiest to fix and the most fun to do!
source: tumblr
2. The Politician Theme
The no fuss, no make up outfit is the Politician!! Fitting perfectly in the Bollywood Movies theme, simply because Bollywood has a certain way of portraying its politicians. Look at Katrina's Look from the movie 'Raajneeti' and you will know how to look absolutely stunning in simple Khadi, cotton or south silk saree, wear the most basic of jewelry and a simple lipstick to do the trick. Also works if you are practically getting late for the Kitty party. Easy peasy, and just what fits amazingly into almost any Kitty party theme idea!!
Source: http://ttlstatic-a.akamaihd.net/s3fs/k5CWdaY.gif
3. The Maharani Sa
Trending these days, all thanks to Deppika Padukone, is the Maharani Sa look. This kitty party theme is one of the most popular among groups that really like to dress up and play that game pretty well! Heavy lehenga, heavy jewelry, and the best of makeup –  you have got to have your dressing up skills on point for this one. Just a tad bit of a flaw can throw your game off the charts. In case you are looking for the exact lehengas or any outfit, that Bollywood movie actresses wear, you can try charmboard. From the outfit to jewelry, to accessories and even footwear, Charmboard can lead you to all of those!
source: giphy
4. The Back-to-childhood Kitty Party Theme
It's time to pull out the old outfits and fit into frocks, skirts, and funky hairdo!! Remember the days when the 'Sagar pleats' were such a thing? Adorn your hair with the cutest of clips and rubber bands, even if you have to raid your little one's collection for that! Wear the 'bellies' and add some ribbons to your two ponytails or pleated tails and you are sorted!! If you are not a fan of makeup – in this look you can totally give it a miss!! A pair of glasses also would add on to the fun!
Of all the things, if you really want to win this kitty party theme, adorn a pair of dungarees, similar to Kajol in Kuch Kuch Hota hai – and you will be the hands-down winner, at least for the cuteness quotient! Check out the featured Image of this post, featuring my dear friend Nupur Sarda, sporting a pair of dungarees with a classic white tee, and two pig tails!! super cute, isn't it?!!
source: Mensxp.com
5. The Retro Theme
Pompadours, bouffant and voluminous updos – if you walk in with a hairdo of that sort, everyone immediately knows that the Retro game is on!! Draping a polka dot saree, preferably in neon colors will fill in the blank spaces. A distinctive sign of the 80s and 90s get up is the thick, cat eyeliner. Be sure to never miss that, as you hold a total shimmery gold clutch and adorn a set of matching peep-toes!! You get the picture don't you!
No matter how often this kitty party theme idea is used, it is still one of the most fun themes and the easiest to sport.
Source: tumblr.com
Kitty parties are really fun. They serve as a good break from everyday family life and help Moms build a fun community of like-minded moms. Adding themes to kitties enhance the fun manifold. It may get overwhelming to decide what to wear for your party, but I truly hope that these dress up ideas help you sail through the kitty party theme contests. So which look did you like the most? The Bollywood movies or the any other? Share with me in the comments section below.
If you liked reading this article, do SHARE it ahead!
Disclaimer: The feature picture has been used by permission and is a property of www.mummasaurus.com. Any reuse, with or without modification is strictly prohibited.