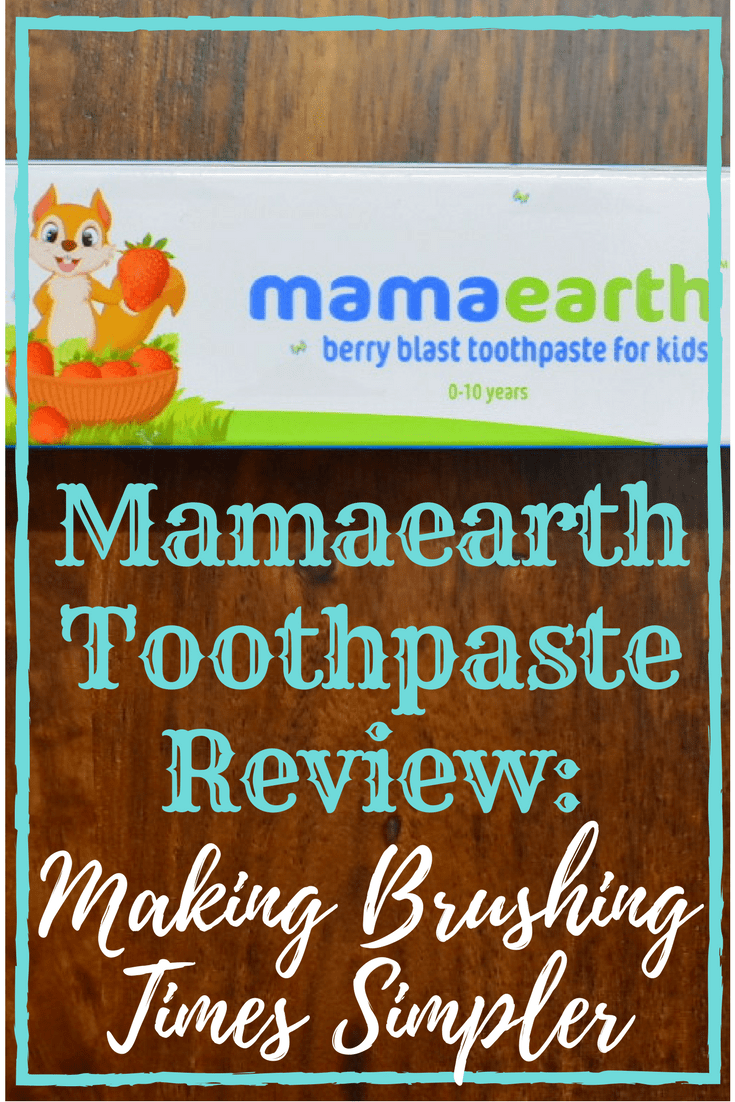 How many times have you witnessed a dollop of toothpaste on the brush, that never made it out of your child's mouth? Countless isn't it?!! It is as it is a struggle to drag them out of bed, even tougher to convince them to manage to scrub their teeth, and then comes the struggle of making them spit out the toothpaste. I recently came across Mamaearth toothpaste for kids. Mamaearth is truly a brand that does not need an introduction and with this latest addition to their range, they are sure to win us all over. So let's check out my experience with the Mamaearth toothpaste and see if it appeals to my Twinadoes.
About Mamaearth Toothpaste
Mamaearth toothpaste claims to have these below-mentioned features:
Made of 100% Natural Ingredients
SLS Free
Flouride Free
Free of Phthalates
Free of Petrochemicals
Paraben Free
Made Safe Certified
Certified Toxin Free
Promotes Healthy Gum and Teeth
Fruity Flavor
Prevents built up of plague
Cleanses teeth and the oral cavity perfectly
Safe, if swallowed by little children
The Product is Priced at INR 149
This Toothpaste is Available in s Single size 50g pack
The Color and Consistency of Mamaearth Toothpaste is a slightly tinted clear gel, Almost transparent.
The Product is available in a single flavor named Berry Blast
The Toothpaste is suitable for children 0 to 10 years.
My Experience with Mamaearth Toothpaste
My experience with Mamearth Toothpaste has been a mixed bag. I absolutely loved the Toothpaste, except for a couple of things. Let's elaborate on them below:
The Flavor of the toothpaste is extremely yummy. My twinadoes loved the flavor, making brush time tad bit easier
It is ok if the kids swallow some toothpaste, which is a BIG PLUS. In fact, Mamaearth is the only brand that says that it is OK to swallow a small amount of toothpaste. The struggle with little kids is real, it is impossible to make them spit out the entire quantity that they put on their toothbrush.
It is 100% Natural, free of all kinds of Toxins – do I need to elaborate more?
I feel the absence of fluoride makes it less favorable for  kids older than 2.5 – 3 years
The Price is affordable. Other kinds of toothpaste in this range are fairly expensive
Toothpaste is available in just one variant (even though this variant is really yummy!) It ay be a problem with kids who do not enjoy berry flavors
The toothpaste is very easily available on leading shopping and parenting sites like Mamaearth, Babychakra, Amazon, Firstcry, Nyka and so on.
Mummasaurus' Verdict
Overall I love the toothpaste and how fuss-free brushing times have become. However, it would be great if a fluoride variant (or whichever ingredient can resolve to better tooth cleaning) should also be available, as older kids need stronger cleaning.
If You liked reading this article, DO SHARE it ahead.