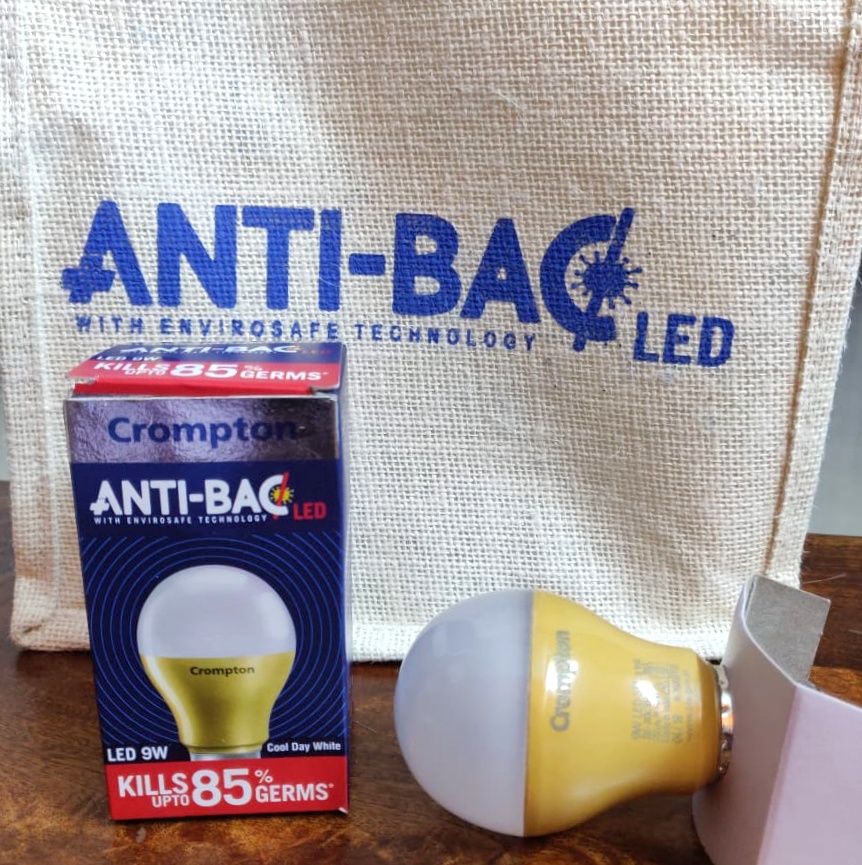 An Anti-Bac LED bulb? So, a bulb that not only saves electricity, and gives out great light but also kills
germs? Sounds impossible right?! That pretty much sums up how I felt when I heard about the
Crompton Anti-Bac LED Bulb. But This LED Bulb from Crompton is well Equipped to tackle the germs
in and around your house. It is potent enough to kill germs and provide a safe environment for us
and our families.
Why use an Anti-Bac LED in the first place?
If you are thinking if you even need this, let me tell you, you do! Being a mother, it is always a bother to take care of the many illnesses your child could fall prey to. A random stomach ache, a few sneezes or a fever are enough to rattle and shake you. We all know that with times, more and more germs have begun to thrive in our environment. It is practically impossible to always shield your child. Every mother struggles with getting her kids to wash their hands before the meal, or to take a bath, nice and quick.
With the heat, sweat and the associated Humidity, we pretty much host a party for germs on our skin. Bacterial infections are not limited to children alone, but adults too. Whether one is working a full- time job, work from home professional or a homemaker – as grown-ups, we just cannot afford to take a break that too for an illness. Somehow, we are always running short of leaves and have a lot of chores planned up for us well in advance and an added illness just makes things worse.

An Additional Step towards Germ Protection
As new parents or expectant parents, germs are a serious threat to our little ones, especially, since their Immune systems are still building. Much to parents' relief, Crompton released a revolutionary product, the Crompton Anti-Bac LED. It is the first of its kind and is here to make our living spaces safer and healthier.
Prime Features of the Crompton Anti-Bac LED
Prime features of the Crompton Anti-Bac LED Bulb are:
– It has been tested effective & recommended by the Indian Medical Association.
– It comes with advanced Envirosafe technology, providing LED light and killing bacteria and
germs.
– Further to the testing done by NABL accredited Lab, the Anti-Bac LED Bulb from Crompton is effective in killing germs like the aspergillus niger, Escherichia coli, bacillus cerus, staphylococcus aurus, molds, yeast and other wide spectrum of harmful germs and bacteria, thereby killing up to 85% germs within 4 hours of continuous use.
– The Crompton Anti Bac LED does not emit any harmful rays like the Ultraviolet or Infrared Radiations. Therefore, it is absolutely safe for humans, pets, and even the foods we consume
– The Bulb is a great and simple way to protect our loved ones from germs, bacteria, molds and mildew that tend to accumulate in the house, especially in fine crevices.
Product Variants & Pricing
The Crompton LED Anti Bac bulb is currently available in the Cool Day White Lite, in 7W & 9 W wattages. These are priced at INR 180 and INR 190 respectively. The Brand is soon to launch in a Warm White Light as well.
Crompton seems to have brought about a revolutionary product, being the pioneers in Anti Bacteria lighting devices. The Bulb seems promising and quite essential for everyday use. Great bright white light, that kills germs and is not harmful to members of the house – now who doesn't like that!
I received the Anti Bac LED as part of a hamper with a few other products that came in a lovely jute bag. These products include Kara face wipes, a fragrance diffuser, and a sanitizer- all eco-friendly products. Wonderful to see Crompton make a step towards a cleaner and greener environment!
Do Share this blog with friends & Family, especially new parents or expectant parents to ease their worry about protecting their little one from Germs & Bacteria.