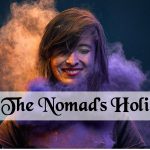 Moving out of home for studies, then a job and then marriage and kids, it's been decades since I was home for Holi. Which also means that it has been decades since I celebrated Holi with water, colors and well… Friends. I have been through crazy days where you would scrub your skin with all kinds of soap (including the ones meant for clothes). Now, I sometimes contemplate if I should even take a bath in this confused weather.
Life has definitely taken a different path.
I miss the old days – when we'd spend an hour or so applying oil or varnish all over our skin. Those layers made the color slip off, making it easier to clean ourselves later. Then meeting our friends with platefuls of yummy food…
My mom almost always made the papdi chaat which I could never have without any color splattered in it. Running around, screaming, as if you did not want to be colored… the pretense that added the fun in the celebration.
I think I can still hear the screaming, that surprise I felt, not knowing someone emptied a pack of color on my head. I'd only realize when some water was poured over me. Those colored nails I got because I applied too much colour on my hands, hiding and waiting for a friend to come to the side.  They'd anticipate and move away and the coloured nails told everyone about the wild Holi I played for days to come…!!

All that makes up my Holi now is food. Gujias, paapdi and drinks. We just spend the day lazing around, eating good food and ending the day with drinks. It does affect me that our Holi is only limited to our family of 4, including two 3-year-olds. We barely go out and socialize with a circle of friends. It seems appropriate to wait for some more years before our babies are old enough to play sensibly.  May be some years later, we can take them with us and enjoy some coloring with friends.
Whatever it may be like, I know that it won't to be like the Holi of our younger selves. Those times when we never cared about the color being 'organic'. The era where taking pictures was not the only fun part of the festival. We moved out of our house colored in silver varnish, hoping to get so badly colored that it would take a while for our parents to recognize us when we are back home. The care free times when the color would not come off for days!!wonder if any more
I wonder if any more Holis are going to be that carefree, that uncivil… or that fun. Only time will tell!
If you enjoyed reading this article, do leave a comment in the section below.
You may also like to read Why I Wouldn't let my Twins eat a Full Chocolate Bar