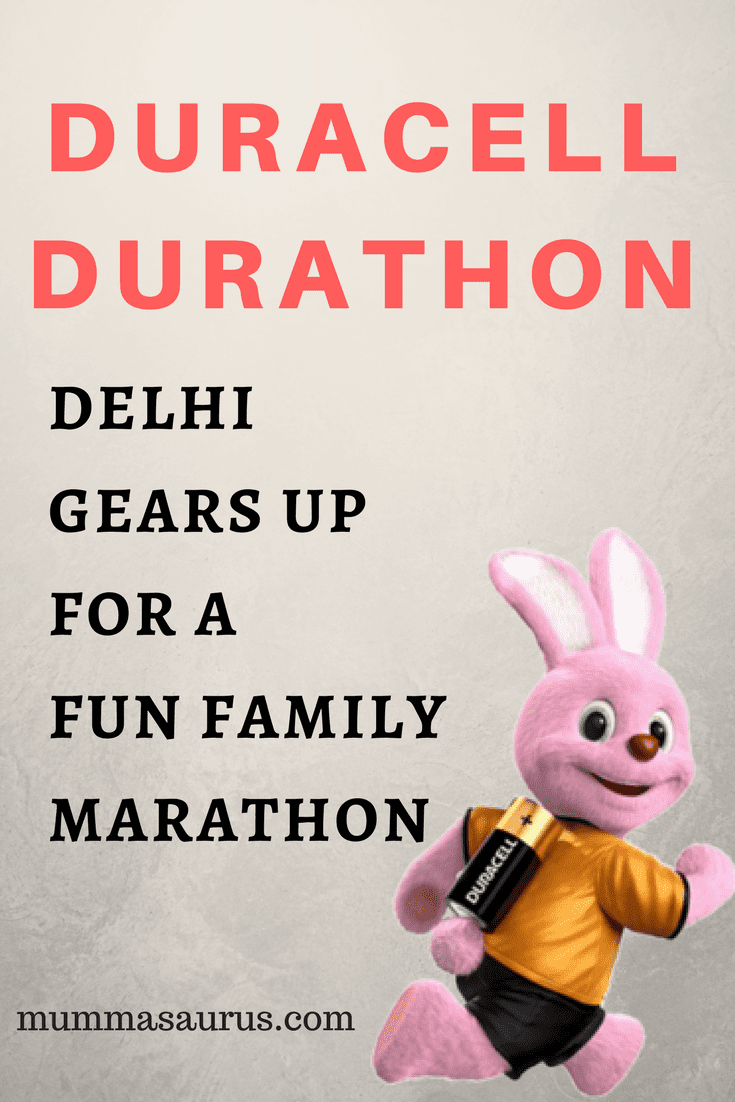 Imagine a TV without a functional remote, or your child's musical toy without sound. From grooming products to everyday utility items, to even Toys – we rely on batteries for a lot more than we acknowledge! A lot of everyday items run on power, often supplied by those mini powerplants we know as Duracell Batteries! I attended an event organized by Duracell last week. The panel at the event spoke about how Batteries are an everyday need. Duracell is also organizing a Durathon, a family running event, where families bond together while they participate in a fun marathon. Let's know more about the Duracell Durathon – a Family Marathon to be held in Delhi, this March!
Duracell? Durathon? What's the connection?
Duracell is a brand that needs no introduction. The copper and black batteries are very common,  in every household and we all pretty much rely on them, especially moms, whose happiness lies in watching their child play with their favorite toys.
 Source: Pixabay.com
While living in Delhi, you often run out of fun things to do with family. Duracell Durathon is a perfect platform wherein the families can spend quality fun time by running together along with the iconic Duracell bunny.
We as parents do understand how difficult it is to find an activity that is age-neutral, gender-neutral, and yet great fun. This is where Durathon comes to rescue! Durathon has been organized so that the entire family runs together. And by family, they not just mean Parents and children, but nieces, nephews, cousins, grandparents, aunts, uncles and the like can join in the fun – the more the merrier, isn't it?!
The Delhi Duracell Durathon Bloggers Meet
After a successful Duracell Durathon held in Mumbai in 2017, the Duracell Durathon has now come to Delhi. A panel of Mom bloggers was invited to attend the event and it was a delightful experience. It was interesting as well as pleasant to hear about some amazing facts and figures about Duracell, shared with us by David Abraham.
David Abraham, Duracell Marketing Director for the Middle East and India said, "As a brand empowering people and their devices to run stronger for longer, we are proud and excited to motivate Delhiites to
come together, unlock their power and run. We were overwhelmed with the number of people
participating in the first Durathon in Mumbai. That's why we are very confident that we will get a great
response from Delhi families as well. This is a great opportunity for them to bond, unlock their inner power
and run like the Duracell Bunny – our famous brand icon."
The Duracell Bunny & Mandira Bedi – The star factors of the Duracell Durathon
David Abraham also shared with us how Mandira Bedi, the super mommy who is also an actress, a designer, a model and an anchor, was super excited after running the Durathon with her son in Mumbai. She will also be running the Delhi Durathon on 25th March, 2018. Mandira Bedi said, "Being a fitness enthusiast and a mom, I am very excited to be a part of Duracell Durathon's Delhi edition, where I will get an opportunity to run along with my son. My experience with last year's Durathon in Mumbai was great, where I discovered my son to be a runner as he comfortably completed the 2kms run with me. We both
are super excited to run together again, this time in Delhi. In fact, my son loves the idea of getting to run
alongside Duracell's iconic bunny."
Source: www.mediainfoonline.com
Duracell Durathon Details
Duracell has made appropriate changes in their Delhi edition of the Durathon vis-a-vis the one held in Mumbai. These changes ensure that the Duracell Durathon accommodates runners of all kinds – the enthusiastic ones and the athletic ones!
The Durathon will be held on the 25th of March, 2018, which is a Sunday! (So no more excuses!)
The Duracell Durathon has been split into 2 categories:
The 5 KM run
Time: 6:30 AM
Location: The 5 KM run would start from Central Park, Barakhamba Road to Mandi House, and back.
The 2 KM run
Time: 7:00 AM
Location: The 2 KM run will be a Full Circle run of the Central Park, Connaught Place.
Registration Links for the Durathon are as mentioned below
For more details, SMS DRUN FAMILY to 56677
Alternatively, connect with the team on their email id – durathonduracell@gmail.com
What is in it for me?
The numero Uno answer to this questions has to be "Quality Family Time".
It is also a great chance to test your physical strength and motivate yourself to reach a path of fitness! It has to start, wouldn't you agree?!
Along with prize distribution, there will be plenty of on-ground activities and goodies for the participants.
Families can showcase their inner power, just like the Duracell Bunny. They can demonstrate how to go stronger for longer by finishing a 2 KM or 5 KM run along with their loved ones. Yet, the star component of the event shall continue to be Selfies with the Duracell Bunny, while wearing bunny ear headbands. I'm so sure my twinadoes are going to love these sweet memories for a long time to come!
You can, for sure, expect lots of pictures of the twinadoes, Papasaurus and Me on my Insta handle @mummasaurus1 or, you can make it to the event and we'll get clicked together! Don't forget to get some Pom Poms  😀
Sounds like fun??
Then head on to the registration links shared above and book your entry tickets right away!!
---
If you liked reading this article, give it a thumbs up and SHARE ahead!
You may also like to read my views on how Global Indian International School, Noida is changing the face of education systems.