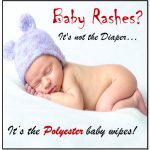 Some days I really feel like I deserve an award… I not just became a parent, but I became a parent to Twins. No one, even in my far, extended family, knew zilch about parenting two kids at a time. It became even more difficult with modern day parameters like gentle parenting, no cows milk or water until 6 months or even usage of diapers. Now since I had twins to raise, who were born in the peak of winters of Northern India, it got me to a critical border of my sanity, trying to give them cloth nappies. Not just changing these, but washing and drying these during winters was also a challenge. Disposable diapers came to my rescue but along with them came rashes. It took me a while to get the rashes part right, and to our surprise Rashes are not caused by diapers alone, but polyester baby wipes play a major role. Read more about rashes and their prevention in detail, below.
Diapers and Rashes – Connection Kya hai?
The moment you make friends with diapers, a lot of unsolicited advice pours over, even though none of them is right!!!
it will cause impotency in the child (yes, I constantly got that advice!!)
it with cause urinary tract infections (not necessarily!)
the skin will not be able to breathe (to some extent, yes, but that can be managed)
the rashes are because of the diaper (to some extent, yes)
the baby is crying because of the diaper (no way, unless you have forgotten to change a soiled diaper)
So basically, there isn't much of a connection at all!!
Rashes, What's The truth?
Have you ever had a chub rub? I bet you have!! Did you wear a diaper? Of course not!
One reality about rashes is that they are caused because of dampness in a certain area, where air did not pass or the skin wasn't dry enough. Since the skin is warm, has certain bacteria present, and if any moisture is left back it becomes the PERFECT PARTY VENUE for bacteria. These bacteria cause rashes or even infections, leading to issues like itching, redness, or even severe infections.
Sometimes, baby poop also contains certain acids or allergens that cause the skin to corrode or seem 'burnt'. If any of your children have had a gluten or lactogen allergy during infancy, or when you introduced cow milk to a breastfed baby you would know how severe rashes can get. These rashes are usually caused by severe diarrhea, appearing like burns on their gentle skin.
So how do we avoid Rashes?
As simple as it may sound, these easy-to-manage tips can help you combat rashes with ease.
After you have discarded a loaded diaper, keep the baby free of a diaper or nappy for 10-15 minutes. It is crucial that you do this at every diaper change. We called this Air Time.
It is useful to apply a barrier between the skin and any moisture that may come from a diaper ir a nappy. Whatever you may choose for your child, apply a barrier like a diaper rash cream or simply, coconut oil. My pediatrician recommended a half and half mixture of both. We applied this mixture every time we gave baby's skin some air time during a diaper change.
Treat Diarrhea as soon as you can.
Don't beat yourself over your baby's rashes. It is not your fault. Baby skin is very sensitive and even the slightest of moisture can harm the baby
When you remove the diaper, clean your baby well with clean, running water, or even baby wipes. It is crucial to choose bamboo-based organic wipes.
Choosing your wipes right – Mamaearth Baby Wipes
From one of the most widely trusted brands in India, one is Mamaearth. From their reasonable and effective baby care range to effective and interestingly curated Mommy range – the brand has won millions of hearts.
Mamaearth has introduced an excellent new range of wipes that are proven mild for our baby's sensitive skin. They are beneficial as they are bamboo based wipes. Even the best of brands sell wipes that are made up of polyester – which is not just extremely harmful to your baby's skin but also takes forever to decompose. So if you cringed on the pollution scenario of the country, your discarded wipes did add a teeny weeny contribution to what we have done to our country and it's atmosphere.
Mummasaurus' Experience with Mamaearth Wipes
We love the wipes for several reasons.
it comes in a plastic packet that has a lid. This keeps the wipes from drying up too quick
The plastic cover under the lid is also strongly adhesive, so that is added protection to your pack of wipes
The wipes from Mamaearth are bamboo – based and organic in nature. That earns them the trust of being the best for your baby. They are MadeSafe Certified, clinically tested to be safe on baby's skin.
They are perfume free
The wipes are free of any harmful chemicals, including alcohol
They include amazing ingredients like Lamond oil, aloe vera extracts, lavender oil, and shea butter. This not just cleans the skin of the baby, but also nourishes it by drying up tremendously. Dry skin can also cause a lot of stretching and discomfort if the baby has rashes.
The wipes are multipurpose – they can be used to clean up baby's hands, face and other parts, in case a clean up is required and water is not accessible. I also use them as my make up remover. It is gently and the essential oils in the wipes make removing make up a very easy job.
The pack is only available in a Large size of 72 wipes, not in a pack of 10 or 20 wipes.
The big pack is also too bulky to carry in your diaper bag or when traveling. Smaller packs would have come in handy.
Price: INR 249 for a pack of 72 wipes.
Availability: Currently available only on the Mamaearth website. To purchase the wipes, click here.
Mummasaurus' Verdict
I highly recommend the product to all parents, and women who like using make up.
Have you Tried Mamaearth wipes yet? How has your experience been? Do let me know in the comments section below.
If you liked this article, DO SHARE it with your friends and family.
You may also like to read: Gaia Organic Baby Products Review