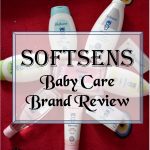 There may be several baby care brands out there and each one boasts of being the best. And why shouldn't they? Every seller has a buyer and everyone has an audience that ends up being the loyal one for the brand. But sometimes I guess, it's on the Blogger Moms to bring the best of their reviews to their readers in order to introduce them to the 'newer' ones in the block, and talk about how effective or not so effective were they. Having said this, I would like to extend a Huge Thank You to Softsens for sharing their Hamper with me, and for my friends who have come here to read my review. This only goes on to tell the faith of the Brand and my readers in my writing!
Thank you!
About Softsens
Softsens is an Indian brand for baby care products. They have also recently launched their Organic clothing line. Read more about them here.
The Hamper
Softsens has launched a complete baby range and shared them in a full-fledged hamper with me:-
Baby Wash, Baby Shampoo, Baby Massage Oil, Baby Cream, Baby Wipes, Baby Soap, Baby lotion and Baby Powder
Why Softsens
Softsens brings to you well-crafted products that are in line with the requirements of a new born's gentle skin. The products are:
Recommended for Newborn and older, suitable for all skin types
Hypoallergenic and Dermatologically tested, making it 100% safe
Free of Parabens, Sulphates, Alkali and other such harmful chemicals
Free of synthetic colors
Biodegradable
These have never been tested on animals, are GMP free, and have been tested in Europen Labs.
Twinadoes & Softsens
Here is how our experience turned out for my twins. One of my kids has normal skin and one has very dry skin.
Baby Oil:
The twinadoes are 4 years old, so we don't message them anymore. I used the baby Oil for massaging their head. The oil is light and not as dense as coconut or olive oils. It is enriched with Vitamin E, helpful in providing nourishment to the boys. So if you like to keep oil on your kids' hair for a day or two, this is a Good choice as it isn't sticky or too greasy. It is very light.
MRP:  Rs 100 for 100 ml 
Softsens Baby Wash:
The baby wash is a clear fluid and has a moderately strong fragrance. It is slightly runny, which is a benefit as it mixes well with water and is easy to apply all over the skin. You don't need to rub it a lot and still, you can see some lather. A coin-sized amount was enough for my 4years old.  It washes off well from skin and no spay feeling after the wash. It did not leave the skin dry. The fragrance of the wash stays on for some time even after it was rinsed. I liked the product.
MRP: Rs 150 for 200 ml
Baby Shampoo
The baby shampoo is my favorite of the lot. It is thick and dense, and a very small quantity is needed for the hair. The baby shampoo left the hair really soft and shiny and I kept playing with their hair for the rest of the day. It is a tear-free formula, and safe to use every day.
MRP: Rs 165 for 100 ml
Baby Lotion
The baby lotion is very runny and is also greasy. It takes a few minutes for it to absorb completely. Being runny, ensure that you only squeeze out a small amount, or you may have to rub it in the skin for long. This may be difficult if your toddler is like my super active twinnies and difficult to pin down. It does feel greasy for some 10-12 minutes after application, but then you don't need to reapply in 24 hours!! It is very effective even on my dry-skinned boy.
The baby lotion too has a moderately strong smell which stays on for some time and fades then. I'm totally fine with that as the smell is a little strong for my liking, but it's a pleasant smell so I don't mind.
MRP: Rs 150 for 200 ML
Baby Cream
Softsens baby cream is a nice cream and moisturizes well. The fragrance is moderate too.
The package, however, is very thin and feels like it would tear any moment. It is a tube, yet the cream is not dense enough. This means that one slight push and a lot of cream squeezes out. The mouth of the tube is too wide for a cream of this consistency. Again, if it reaches your toddler by mistake –!! You know the drill. The entire tube can be vacated in seconds. This one, not my favorite because of the packaging.
MRP: Rs 135 for 100 gm
Baby Soap
Unlike other soaps in this budget line, this soap is extremely wonderful! Moderate-strong smell, and a cream and milky feel to it. One of my twinadoes has very dry skin, so I'd avoid using the soap on him every day. Once in 2 days, his skin an handle. The soap dissolves easily in water – which is a good thing because you can quickly get done with the soap application. But it also tends to get a bit slippery and may get over a bit sooner than average baby soaps. But I like how it does not rob the skin of its softness.
MRP: Rs 45 for 75 g 
Baby Wipes
We loved the wipes from Softsens. They are well moistened and very soft. The material is slightly stretchable too. The pack was a handy pack of 20, so no trouble of drying up before the pack is over. The sticky cover has as strong enough adhesive to keep it from drying. Again, that moderately – strong smell of Softsens that is a great add-on feature to this product.
MRP: Rs 65 for pack of 20 wipes
What I Loved about Softsens
I have already raved about the fragrance of the product. It is a bit strong for me, but I like it
The Products re budget friendly despite being great quality
The product is required in very small quantities, making it a value for money buy
The packaging of the products is interesting. The shampoo and wash are not just differently colored, but also differently shaped so we don't confuse the two in haste. All items are packaged in different colors, not needing you to read the labels carefully everytime.
Things that went amiss with Softsens
The packaging and consistency of the cream did not appeal to me at all.
The cream and lotion are slightly greasy and take a while to absorb. Even though the moisturizing is great, it may require your baby to feel a little greasy for some 10-12 minutes.
Mummasaurus' Verdict
The Baby Wash, Shampoo, Body Lotion & Wipes are worth the try!!! We loved them.
If you liked the review, do SHARE it with your friends.
You may also like to read my review on Palmer's Coco Range of Baby Products.
I'm taking my Alexa to the next level with blog chatter. What about you?!!