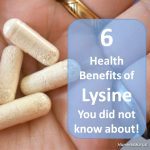 For all those who read the title and wondered what Lysine is in the first place, here is your answer! Lysine, also popularly known as L-Lysine, is an essential amino acid. It is useful for building many other crucial proteins. These proteins play an important role in building up immunity, increase digestion, and other such bodily functions. It increases absorption of calcium builds protein in the muscle, helps produce hormones, enzymes, and antibodies. Therefore, today, I'd like to talk about 6 Health Benefits of Lysine you did not know about!
Symptoms of L-Lysine Deficiency
Its deficiency is usually very subtle and the symptoms are not loudly pronounced. But many of the below mentioned symptoms, if exist together, it indicates that Lysine deficiency could be a probability.
Problems in the reproductive system of the body
Fatigue
Loss of appetite
Poor digestion
Kidney stones
Mood swings
Anemia
Hair Loss
Bloodshot eyes
Lack of focus
Extreme restlessness
Probably stunted growth
Nausea
Dizziness
Feelings of general discomfort
Anxiety in some cases
6 Health Benefits of L-Lysine
This protein may not be a very 'famous' or highlighted component but it has immense benefits for the body. 6 of those benefits are as listed below:
1.  Promoting Growth in Children
L-Lysine tends to promote natural, effective growth of children. Lysine, along with arginine is known to stimulate growth hormones that prevent stunted growth in children.
2. Heart Function
Lysine is known to promote better heart function. It is known to produce bodily carnitine. Carnitine is known to fight the condition of atherosclerosis(hardening of the walls of heart's arteries due to a bad cholesterol (LDL) build up)
If taken along with Vitamin C, it can phenomenally improve the heart health of an individual.
3. Reduces Diabetes Complications
High blood sugar in diabetic patients damages the proteins and lipids, leading to damage to eyes and nerve cells. It can prevent this phenomenon and reduce damages that result as a side effect of diabetes
4. It Helps Reduce Anxiety
In developing countries, diets are more grain-based, which means they are more lysine deficit. Anxiety and related reactions like diarrhea can be improved with the help of supplementation.
5. It helps to Form Collagen
We did discuss earlier that it helps builds various essential proteins, of which, one is Collagen. The collagen – calcium bond makes bones stronger and live longer. Collagen helps build cartilage and the connective tissues.
6. It helps treat Herpes
If you come in contact with herpes-infected saliva, chances are that you'd get those cold sores or blisters around your lips too. Lysine helps with lowering chemicals that cause herpes and associated symptoms in the body.
How to Increase L-Lysine consumption
There are 3 simple ways to increase the consumption of Lysine by the body.
Through Ointments – This is more commonly used for symptoms, like cold sores
Through Food that is rich in Protein: Nuts, seeds, eggs, meat, cheese, soybeans and its products, shrimp, fish, pumpkins, white beans and the like
Supplementation with oral medicines
Supplementing with Zenith Nutrition Supplements
Zenith Nutrition offers a suitable supplement. Each capsule consists of 500 mg per capsule. Zenith is a good choice for supplementation because:
L-lysine is an Essential Amino Acid

It supports Collagen Synthesis

It helps to build a healthy Immune Function

Dietary Supplement

No added Flavors and colors
No Sugar or Salt
FSSAI approved
No Animal Sources for their Nutrients
Free of Metals
No Gluten
Free of Toxins
Easily available
Price & Availability
Price of a Jar of 120 capsules of L-Lysine supplements from Zenith costs INR 920
The product is available on all leading websites and Chemists.
You can buy it from Amazon here.
If you liked reading this article, do SHARE it with your friends.
You May also like to read Hypomagnesemia: all you need to know about Magnesium Deficiency.