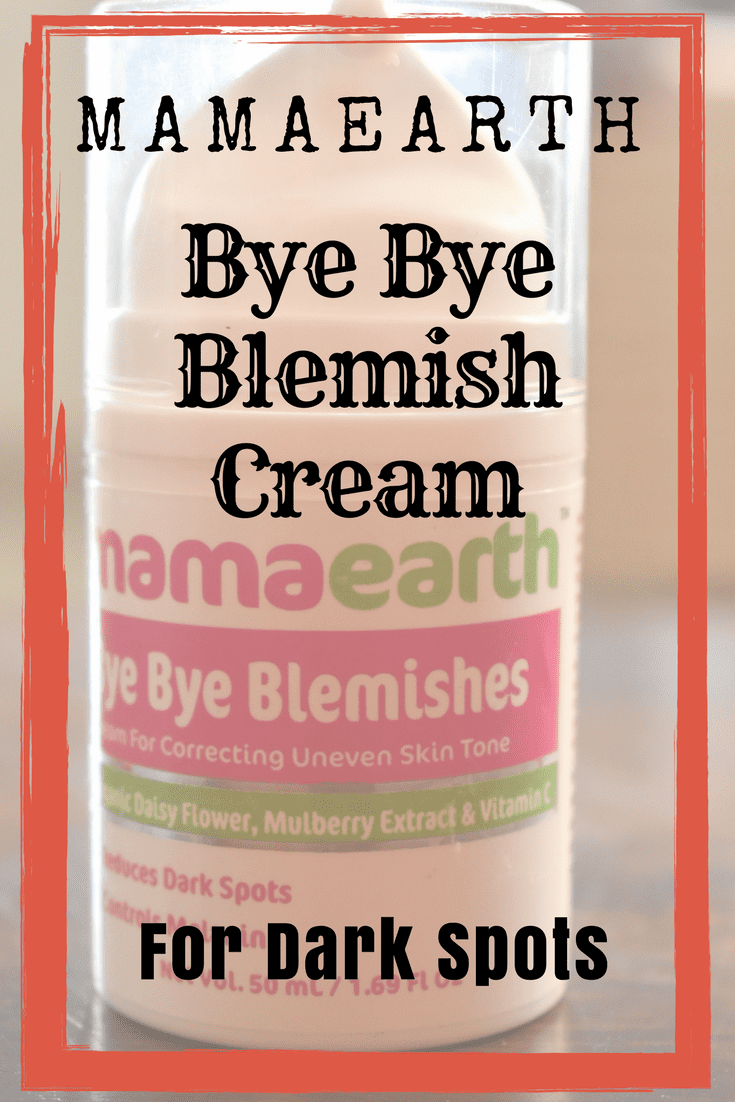 "Mumma, you have so many dark spots!! Put some cream". My world shook as my 4-year-old said that to me (trust me, this did happen and I have no clue where he learned this from!) But in a way, he wasn't wrong. Ageing, hormonal changes, stress and a hap-hazard lifestyle have been destructing my skin. It had been too long since I had been ignoring it but yes, my skin was aging, dying and spotting. Mamaearth is a brand that does not need an introduction anymore. A brand that always thinks about the minutest problems mothers face, and curates products accordingly has recently launched Mamaearth Bye Bye Blemish Cream. I happened to sample the cream on my skin. I have used the Bye Bye Blemish cream for about 15 days and here is my Review for the same.
My Skin Type
I have oily skin, with minimal to no breakouts. My skin is usually very clear, with a slight layer of oil that works like gleam. I usually avoid using any cream or lotion on my face due to my skin type. I also, often do not require any cream treatments. I occasionally apply some moisturizer during winters, when I feel that my skin has dried out too much. I do not have any remnant marks from the 'pimple' days. However, due to aging and recent changes in skin, I have developed slight pigmentation. Even though it is visible to others only when they look very closely, it is visible to me.
The Bye Bye Blemish Cream from Mamaearth
The Mamaearth Bye Bye Blemish cream is suited for all skin types. It contains power ingredients like Mulberry Extract, Organic Daisy Flower Extract, and Vitamin C. The cream claims to be able to fight melanin deposits and reduce blemishes or dark spots.
Mamaearth claims that
The cream is non-greasy
It can suppress or correct sun damage 
The cream nourishes skin, thus strengthening it and improving skin quality
It is MADE SAFE certified, which is an international certification that the product is free of harmful chemicals. 
Mamaearth Bye Bye Blemish cream is free of
Mineral Oil

SLS

Parabens

Synthetic Colors

Synthetic Perfumes

Artifical Preservatives

Petroleum
My experience with Mamaearth Bye Bye Blemish Cream from Mamearth
I have been using the cream for about 15 days. Here is my review for Mamaearth Bye Bye Blemish cream
Packaging:
The Bye Bye Blemish cream from Mamaearth comes in a cute-sy tiny jar. It has a pump mechanism to give out about a medium sized drop of the cream. Usually, one dot is sufficient, unless your skin is really drying out.
Texture:
The cream is lotion like – white in color. The texture is smooth and soft. It absorbs quickly into the skin.
Method of application
Simply pump the bottle to get out a small quantity. Apply the cream in gentle circular motion on a cleansed face. the cream gets absorbed within seconds. It is recommended that the Mamaearth Bye Bye Blemish cream should be used twice a day, on a cleansed face. I used it once a day, before bedtime, as that is the only few minutes I get to myself.
Expectations from the Mamaearth Blemish cream and Results
The cream definitely lives up to the expectations.
After the first week itself, my spots began to lighten.
The Blemish cream from Mamearth did not make the skin very oily or greasy, which is a big thumbs up!
It has a mild fragrance, that gives out odors of natural ingredients. It may not be the most pleasant, but it is definitely not laden with artificial perfumes. Another thumbs up there!
It did, however, take away some smoothness of the skin. The skin appeared slightly coarse after application from Day 1. But my skin is a bit sensitive to any kind of cream, so that could be a reason.
Pricing & Availability
The product is available in a single size package.
50 ml jar costs INR 599
The product is available on many sites, here are a few:
Mamaearth.in
Babychakra.com
Amazon.com
Nykka.com
Mummasaurus' Verdict
I give a 4 out of 5 to the cream. I'm taking away a point simply because my skin did get a little coarse after using it. But that could be the problem of my skin, not of the cream per se. Totally depends on the kind of skin you have! I recommend the cream to my readers and would like to hear their experience of using the cream.
If you liked the review of Bye Bye Blemishes Cream from Mamaearth, Do SHARE this post!
You may also like to read Probiotics, Enzymes, and other Jibber-Jabber around a Healthy Digestive System