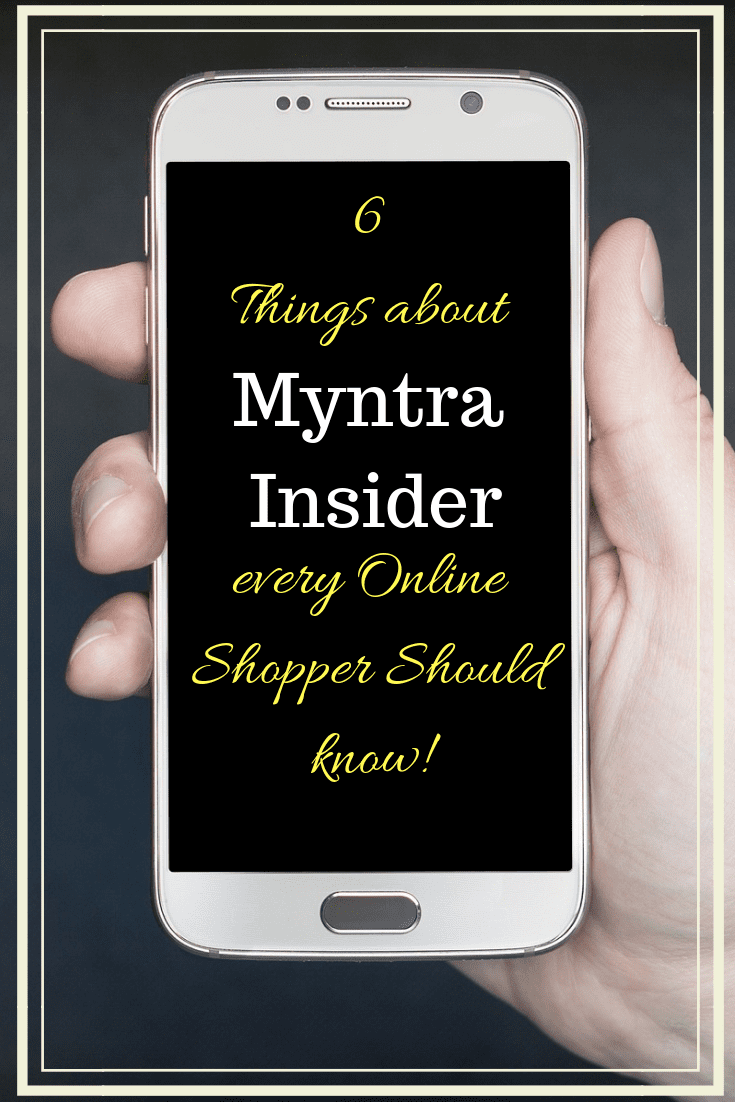 Myntra has recently started with its Myntra Insider program and the game just got a lot more interesting. Everyone loves Myntra for many reasons! The great quality of products, quick deliveries even before the expected dates, even quicker returns and refunds and finally, there is genuine, good quality material. Now, who doesn't like that!
But recently, Myntra Insider program was launched and it just couldn't get better. Let's learn how:
What is the Myntra Insider Program?
For every 10 rupees that you spend on the platform, you earn a point for the Insider Program. So, on a purchase of Rs 250, you get 25 points. You can join the program for free (isn't that amazing!) and use the points to avail many more offers and discounts. These offers and discounts are listed in the 'insider' section of the Myntra app.
How is Myntra's Insider Program a game changer?
Loyalty points and loyalty programs for recurrent customers is not a new thing. But what makes Myntra Insider a game changer?? Read on to know more!
1. Value for Myntra Insider currency
Usually, loyalty programs are a pain, simply because everything they have as rewards costs a lot of points. You need to have thousands of points to buy something that is worth just a few hundred. A lot of times it is very frustrating and users stop checking on the points or using them at all. With Myntra Insider, there are offers and discounts are seamlessly integrated with various niches with zero hassles in availing them.
2. A lot of options to choose from
Many a time, loyalty points tend to give you a very restricted list of options to redeem your loyalty points. Myntra Insider points can be redeemed for food, beauty services, entertainment, car services, discounts or premium memberships from Myntra's partners like Zomato, Hotstar, Zoomcar and so on. There is a huge variety of things you can do with the insider points. You can also avail more services on Myntra like free delivery on items that won't ideally be delivered free.
3. Simple, one clicks transactions for Myntra Insider Offers
There is no tedious back and forth to redeem the points. No card swiping and no number generation. Just as you select a service to redeem your points, you can simply click on it and redeem your points.
4. Easy to Gain Currency
You do not have to do multiple transactions or a lot of expenses to earn points. Insiders get 1 point on every 10 rupees spent on the platform to purchase a product. You also get a lot of activities to do that help you earn points daily.
5. Levels In Insider Program
As you keep earning points and spending points, you get to upgrade your tier. So, with no points, you are in the Insider tier. With 250 points, you get into the Select tier. With 2000 points, you become the Elite tier and with 5000 Insider points, you get to the Icon tier. Each tier has added benefits like priority customer support, early access to upcoming sales, becoming a Myntra style influencer and even being featured on Zoom TV.
6. Additional benefits
You can come face to face with your celebrity, by using a brand endorsed by them (like HRX by Hrithik, and I so wish to meet him!) You can participate in contests, become a Fan council member and suggest fashion tips/ideas to Myntra among other benefits.
With the Myntra Insider program, Myntra has given us umpteen reasons of being an avid fan of their services, just in case we weren't anyways! So, head over to Myntra and click on the insider tab. Register for the Insider program for free, and then as they say – Happy Shopping!!
If you liked this article, do SHARE it ahead!