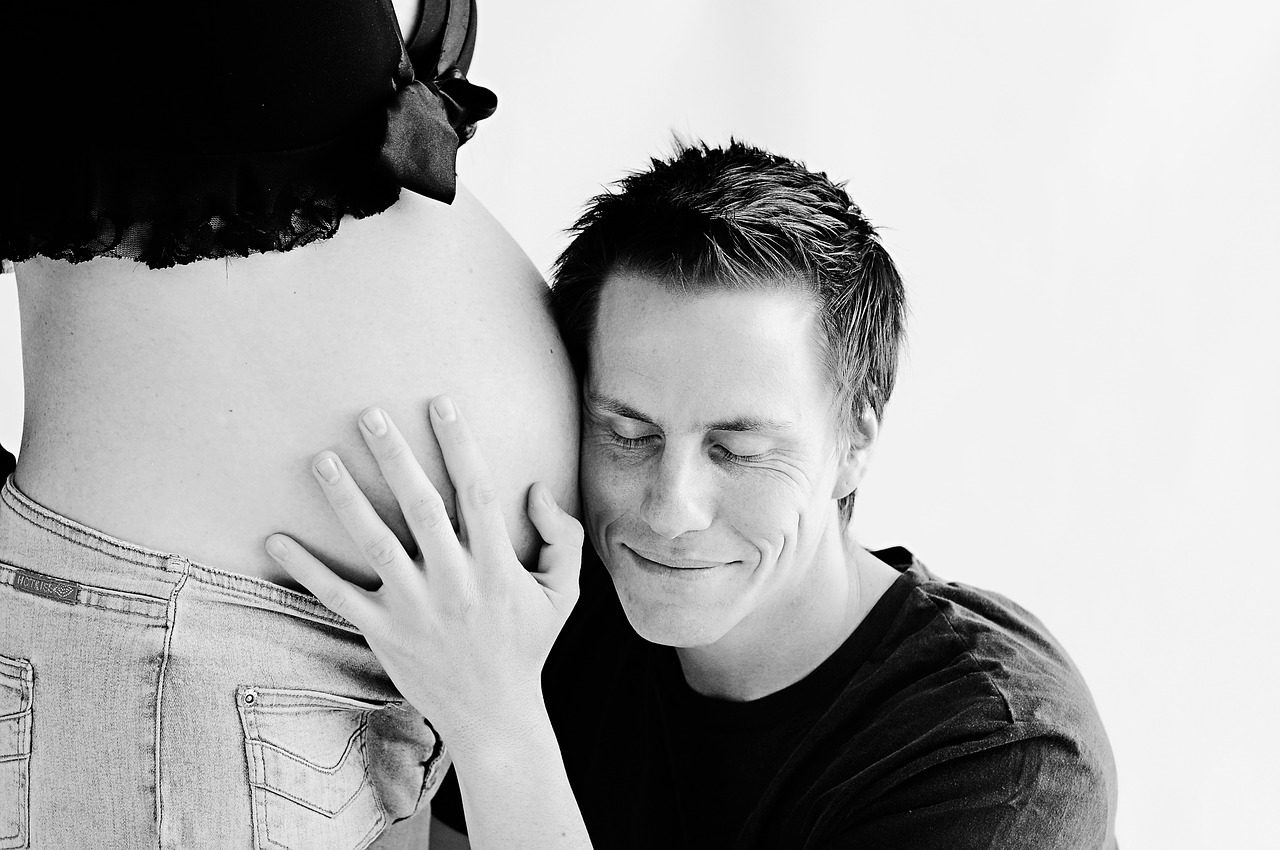 She knew she was going through a lot – a complicated pregnancy, a lack of company and the overwhelming hormones. It wasn't easy to be on a bed rest for a very long time to come. She knew that it simply meant that she cant go out, eat out or even watch a series on TV sitting up straight. but that was something she could still deal with.
What she couldn't deal with, was his distance.
The hormones wanted her to get crazy but he wasn't emotionally available even for a hug! Every day when he'd reach home, he'd go, change, have his dinner, sometimes with her and then he'd be off to sleep.
She kept on thinking what's up with him. Is there a girl she didn't know about?? The moment she thought of this, she realized how ridiculous it sounded. Like really? The first question you ask about his unavailability is , "is he with another girl?". But nevertheless, it kept on chewing in on her, like a very hungry caterpillar that only eats heart veins. that constant gnawing feeling…
She wanted to stop feeling it, and kept thinking what's so wrong with him? Is his new job even more ridiculous? Is he finding it difficult to cope with the expenses of the pregnancy? Does he even want it? Did I even ask him or forced him to plan a child? Am I so heavily unattractive that he doesn't even want to be near me?
She spent days and days asking herself the worst of questions. And needless to say, she spent her days crying, and her nights crying. She would sleep with a wet pillow, and wake up with a bloated face that told her story – not that any one was asking her.
One day she promised herself, she is going to ask him.
If he does not want her, she will leave. She's an educated girl and will not be ignored at such a sensitive point. She no longer cared if this was pregnancy hormones, a full fledged depression, or if it was simply over thinking. She wanted her answers.
Her mind was made up, as she waited for him to come back. When he did, he looked so battered… like someone had been insulting him and had broken his heart so bad… looked like his world was ending.
She saw tones of sadness on his face everyday, but she thought it was because he no longer loved her. But it was the worst today. She held back her thoughts of talking to him. For a change she just sat there with him on the sofa. She wasn't allowed to, but to hell with that!
She fetched him a glass of water somehow. As she looked at him, he had rested his head on his hands, like it was so heavy his neck couldn't support it any longer. He took a few gulps and literally broke down in to tears. he sat on the floor, hugged her around the belly as she sat on the sofa. He wailed and wailed, so much that she could feel the tears on the skin of her legs.
She had a total change of heart. From the depressed wife who didn't know what was going wrong, she transformed in to the ferocious protector who would kill if anyone had harmed him. She asked him, what happened?
He managed to control himself, and sat still for a while.
It looked like he did want to talk, but he could not… Like his lips were shivering, his words were stuttering and he couldn't muster to say whats wrong. She went through a ball of emotions – protective, fierce, sad upset, worried, confused, nervous – and then she wanted to pee. So, she had no choice but to excuse herself. She felt awful, but that gave them both a moment.
As she came back, he looked a little better. He lifted her tee shirt and revealed the belly. He hugged her, kissed hr belly, and said – " You know, you are the best thing that happened to me… and the baby is the next best thing. Everyday, I spend a really stressful day at work. But when I come home, it gives me relief to see that you two are doing okay".
Tears rolled down her eyes. There's nothing she wanted more. She hugged him back and said – " what has been keeping you so distant? I thought you didn't love me anymore!"
He told her that he had been facing extreme amounts of guilt. Every time he wanted to hug back, he felt like he was inadequate, not strong enough to provide for them. He had been having a really, really tough time at his new job. Everyday his boss would pick on him, knowing that he was new, and had a vulnerability of keeping a job – as losing a job while his wife was pregnant would not be possible for him. He was going thorough actual Torture.
She thought for a moment, and then said, " You know, you don't have to go through such a torture if you can't take it. I have some savings from the time I was in a full time job, enough to pull us through 2-4 months. We always save for 'those times' and if these are not 'those times' THEN WHAT IS?!
You don't need to worry.
Speak with your supervisor and ask him to tone down. May be he does not understand what he is doing. If he doesn't change, put down your papers. That would buy us some notice time and you can search for jobs meanwhile. I am with you, I just need you to see that and realize that we are in this together."
They both opened their hearts out that night. He told her everything, she told him everything. They both realized that they have both been somewhat in depressive states and should get themselves appropriately assessed. They did that next and life did take a turn for the better.
Many a times, we are so overwhelmed with our troubles, that we do not realize that may be our spouse is going through a little too much. Notice signs of detachment and give them their space and time. Talk & communicate – these are the best remedies to any life situation.
This post is a part of the #LetsBlogwithPri Campaign, initiated by me. Please click on the links in the linky party below to read all the blogs written in the second week of April, 2019
Hosted By :Prisha LalwaniMummasaurus.comIG: @mummasaurus1
FB: /mummasaurus1
Plz Add your LInks Below:
You are invited to the Inlinkz link party!